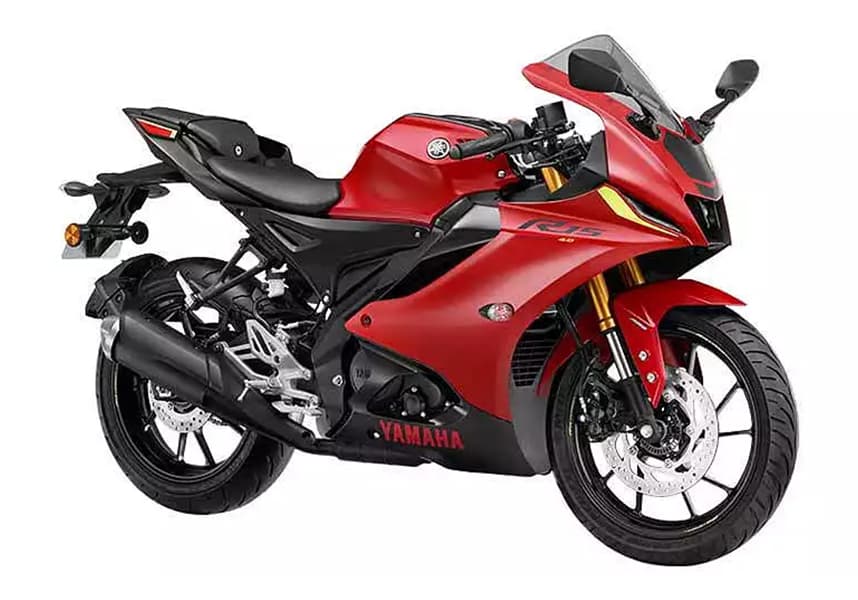 image
---
Yamaha YZF R15 V4
Metallic Red
---
Yamaha YZF R15 V4 Metallic Red Colors
Yamaha YZF R15 V4 Variants with Price
On-road Price
Apply for Loan
---
---
---
Overview of
Yamaha YZF R15 V4 Metallic Red
| | |
| --- | --- |
| Mileage | 45 kmpl |
| Displacement | 155 cc |
| Max Power | 18.1 bhp @ 10,000 rpm |
| Max Torque | 8.8 Nm @ 5500 rpm |
| Braking Type | Single Channel ABS |
| Starting | Kick and Self Start |
| ABS | No |
| Speedometer | Digital |
---
About
Yamaha YZF R15 V4 Metallic Red
The Yamaha YZF R15 V4 is an embodiment of advanced engineering and cutting-edge design that redefines the boundaries of sport motorcycle performance. At the heart of the YZF R15 V4 lies a liquid-cooled, 4-stroke, SOHC, 4-valve engine that sets new standards for power and efficiency. With a displacement of 155 CC, this powerhouse delivers a maximum horsepower of 13.5 kW (18.4 PS) at 10,000 RPM, providing an adrenaline-pumping surge of acceleration that commands attention. The torque, reaching a peak of 14.2 Nm (1.4 kgfm) at 7,500 RPM, ensures an effortlessly responsive performance, whether you're navigating city streets or conquering open highways. Unveiling the pinnacle of versatility, the YZF R15 V4 is E20 compatible, embracing modern environmental standards without compromising on performance. The Variable Valves Actuation (VVA) system stands as a hallmark of engineering ingenuity, optimizing torque delivery even at low RPMs. The YZF R15 V4's design is a testament to its aerodynamic prowess, seamlessly integrating form and function. Experience unparalleled connectivity with the Yamaha Y-Connect App, seamlessly integrated with your instrument cluster. Stay informed with call alerts, which notify you of incoming or missed calls, and receive SMS and email notifications directly on your bike's display. Stay updated on your bike's connectivity status with the Y-Connect app on your phone, and monitor your phone's battery level status for added convenience.
You can apply for loan for YZF R15 V4 - Metallic Red on OTO and receive approval within just 30 minutes. The downpayment and EMI for YZF R15 V4 starts as low as Rs 34918/- and Rs 7669/-.
---
Specs & Features of
Yamaha YZF R15 V4 Metallic Red
Ride Comfort

The front suspension system, characterized by the Telescopic Upside Down Fork (USD Fork), takes center stage in the YZF R15 V4's pursuit of ride comfort. This innovative suspension setup absorbs road irregularities with finesse, offering a plush and controlled ride that mitigates bumps and vibrations. Complementing the front suspension is the Linked-Type Monocross Suspension at the rear. This advanced suspension technology maintains a harmonious balance between comfort and performance, providing riders with optimal control and cushioning. Adding to the convenience is the Side Stand Engine Cut-Off Switch, a thoughtful feature that enhances ride comfort and rider awareness. This intelligent system prevents accidental engine starts when the side stand is engaged, ensuring that the motorcycle remains steady and secure.

Yamaha YZF R15 V4 Maintenance

Maintaining the Yamaha YZF R15 V4 is a crucial aspect of preserving its peak performance, longevity, and reliability. 1st Free Service (1000 km/30 days): This initial service marks the beginning of your motorcycle's journey. It's a critical checkpoint where technicians inspect and fine-tune various components to ensure optimal performance. 2nd Free Service (5000 km/150 days): As your YZF R15 V4 accumulates more miles, this service is essential to address wear and tear, perform necessary adjustments, and maintain the motorcycle's overall efficiency. 3rd Free Service (9000 km/270 days): At this stage, technicians conduct a comprehensive examination to ensure that critical systems are functioning as intended, extending your motorcycle's operational life. Beyond the free services, Yamaha recommends paid services every 4000 km or 120 days from the previous service, whichever comes earlier.

Safety

Equipped with a powerful front and rear disc brake system, the YZF R15 V4 delivers exceptional stopping power and control. The 282 mm disc brake at the front and the 220 mm disc brake at the rear work in tandem to provide responsive and precise braking performance, empowering the rider with the ability to modulate speed effortlessly and effectively. The inclusion of a dual-channel ABS (Anti-lock Braking System) amplifies the motorcycle's safety credentials. This advanced technology prevents wheel lock-up during sudden or hard braking, ensuring that the wheels maintain traction with the road. One of the standout safety features of the R15 V4 is the Traction Control System. This innovative electronic system detects and mitigates wheelspin, reducing the likelihood of loss of traction.

Colors Available for Yamaha YZF R15 V4

The Yamaha YZF R15 V4 offers an enticing array of color options, allowing riders to infuse their personality and style into their two-wheeled companion. 1. Metallic Red 2. Dark Knight 3. Racing Blue 4. Intensity White Each color option for the Yamaha YZF R15 V4 offers a distinct visual identity, allowing you to choose the shade that resonates most with your style and persona.

Best For

Riders who crave a thrilling and dynamic riding experience will find the Yamaha YZF R15 V4 to be an ideal choice. Its sporty design, responsive engine, and agile handling make it a perfect companion for those who relish the excitement of spirited riding, whether on twisty roads or on the track. As a popular choice among younger riders and enthusiasts, the YZF R15 V4 offers an accessible entry point into the world of sport motorcycles. Its manageable power, approachable size, and contemporary design make it an attractive option for those new to riding or looking to upgrade from smaller displacement bikes.

Vehicle Height

The thoughtfully designed vehicle height of 1135 mm with a ground clearance of 170 mm provides riders with an ideal blend of commanding presence and confident maneuverability.

Vehicle Weight

This light weight of 141 kg enhances the motorcycle's responsiveness, allowing riders to effortlessly navigate through corners, make quick directional changes, and enjoy a dynamic riding experience that amplifies the thrill of every twist and turn.

Seat Length

The well-considered seat length of 815 mm offers a comfortable and supportive perch for riders, promoting a relaxed and enjoyable ride.

Seat Width

The spacious seat width of 725 mm enhances rider comfort by providing ample room for movement and adjustment during rides.
---
USER REVIEWS & RATINGS OF
Brand Rating
(3.9 Ratings, 1 Reviews)
---
1 month ago
|
Using this from 6-12 months
Very comfortable for riding. The look is awesome, performance is wonderful. Overall fit and finish are good. Though the headlamp looks good, the visibility is not very good
Was this review helpful ?
---
Yamaha YZF R15 V4 Metallic Red SHOWROOMS
Preferred
Pacer Yamaha - Rajajeshwari Nagar
#468, HBCSS, IDEAL HOMES LAYOUT, BEHIND GOPALAN ARCADE, RAJAJESHWARI NAGAR, BENGALURU-560098
Yamaha Automotives - T.C.Palya Signal
#26 to 29, T.C.Palya Signal, Old Madras Road, Bangalore
Panache Enterprises - Indiranagar
No 09, Panache Enterprises, CMH Road, Binnamangala, Indiranagar, Karnataka-560038
Vinayak Motors - Domlur
No. 10, Service Road, HAL Road, Domlur Layout, Domlur, Bangalore
Whitefield Yamaha - Mahadevpura
Site No P-1, Devasandra Industrial Estate, White Field Main Road, Mahadevapura, Bangalore
ashith motors - Doddaballapura
no 66, DVV Complex, 1, D Cross Rd, near LIC Office, Doddaballapura, Karnataka 561203
---
FREQUENTLY ASKED QUESTIONS
The on-road price of Yamaha YZF R15 V4 varies between ₹ 2,37,768 for the lowest variant and ₹ 2,54,327 for the highest variant

Yamaha R15 V4 comes with 5 variants which includes Yamaha R15 V4 Metallic Red, Yamaha R15 V4 Dark Knight, Yamaha R15 V4 Racing Blue And Intensity White, Yamaha R15 V4 M World GP 60th Anniversary, Yamaha R15 V4 M.

Yamaha R15 V4 M is the best variant. It has carbon fiber-look bodywork, USD front forks, and a rear monoshock. It also has a digital instrument cluster with blue backlighting and Bluetooth connectivity.

R15 V4 is available in 4 colour options: Racing Blue, Thunder Grey, Dark Knight (Black), Metallic Red

Yamaha YZF-R15 V4 typically has a mileage ranging from 35kmpl to 45kmpl

Yamaha YZF-R15 V4 had an engine displacement of 155cc. This engine is a single-cylinder, liquid-cooled, four-stroke unit that offered a good balance between performance and efficiency.

The overall height of the Yamaha YZF-R15 was approximately 1,135 mm

The Yamaha YZF-R15 V4 is equipped with an Electric Start system.

The top competitors of Yamaha YZF-R15 V4 are KTM RC 125, Kawasaki, Ninja 250, Bajaj Pulsar RS200, TVS Apache RTR 200 4V, and Suzuki Gixxer SF250

Yamaha YZF-R15 V4 is a highly regarded bike known for its sporty design, agile handling, and performance-oriented features, making it a popular choice among riders seeking a dynamic and thrilling riding experience. Its advanced technology and aesthetics contribute to its positive reputation in the sportbike segment.

Yes, you can avail loan for Yamaha R15 V4 on OTO. OTO offer competitive discounts and 35% lower EMI which makes it easy for you as a customer to purchase your dream bike.

For Yamaha R15 V4 it takes approximately 30 minutes for the application to be approved once you have provided all the required details.