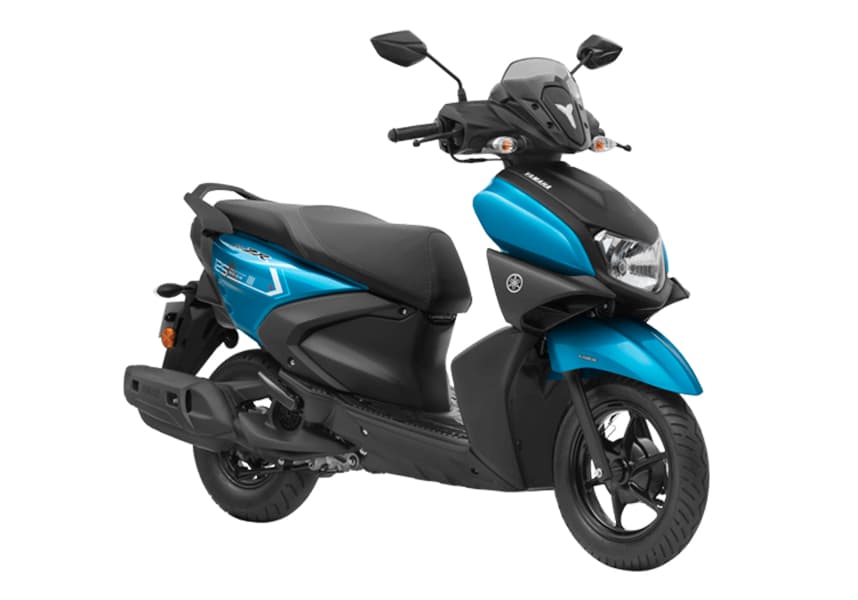 image
---
Yamaha Ray ZR
Hybrid DRUM
---
Yamaha Ray ZR Hybrid DRUM Colors
Yamaha Ray ZR Variants with Price
On-road Price
Apply for Loan
---
---
---
Overview of
Yamaha Ray ZR Hybrid DRUM
| | |
| --- | --- |
| Mileage | 49 kmpl |
| Displacement | 125 cc |
| Max Power | 8.04 bhp @ 6500 rpm |
| Max Torque | 10.3 Nm @ 5000 rpm |
| Braking Type | Unified Brake System |
| Starting | Kick and Self Start |
| ABS | No |
| Speedometer | Analogue |
| Range | None Km/Charge Km/Charge |
| Charging Time | None Kmph Hours |
| Top Speed | None Hours Kmph |
---
About
Yamaha Ray ZR Hybrid DRUM
The Yamaha Ray ZR 125 Fi with Hybrid Power Assist is a futuristic scooter that redefines urban mobility with its advanced technology and eco-friendly features. Powered by an air-cooled, fuel-injected (Fi) 125 cc blue core engine, this scooter is designed to deliver a smooth and efficient ride. One of the standout features of the Ray ZR 125 Fi Hybrid is its innovative "Automatic Stop & Start System." This intelligent system prevents unnecessary engine idling by automatically shutting off the engine when the scooter comes to a stop. To further enhance the rider's experience, the Ray ZR 125 Fi Hybrid comes equipped with the "Smart Motor Generator (SMG)." This cutting-edge technology ensures a quieter engine start without the need for a separate conventional electric starter, reducing noise pollution and adding to the scooter's overall refinement. Safety and visibility are paramount, and the Ray ZR 125 Fi Hybrid addresses these concerns with its LED Position Light integrated into the headlight. This feature provides enhanced visibility to ensure that the rider can navigate through busy city streets with confidence, even during low-light conditions. The futuristic appeal extends to the scooter's instrument cluster, which features a Digital Meter Console. In addition, the Y-Connect Bluetooth connectivity creates a seamless connection between the scooter and rider. Through the Yamaha Y-Connect App, the rider gains access to a wealth of information and features displayed directly on the instrument cluster screen. The Ray ZR 125 Fi Hybrid is engineered to be environmentally responsible, as it is E20 Fuel Compatible. Using E20 fuel significantly reduces emissions, making it a commendable option for those seeking to contribute to cutting down pollution while enjoying the convenience of a scooter. The Yamaha Ray ZR 125 Fi is available in two distinct variants: RayZR Drum and RayZR Disc. These variants offer riders a choice based on their preferences and requirements.
You can apply for loan for Ray ZR - Hybrid DRUM on OTO and receive approval within just 30 minutes. The downpayment and EMI for Ray ZR starts as low as Rs 15568/- and Rs 3419/-.
---
Specs & Features of
Yamaha Ray ZR Hybrid DRUM
Ride Comfort

The Yamaha Ray ZR 125 Fi with Hybrid Power Assist offers an exceptional ride comfort, thanks to its well-engineered and innovative suspension system. The scooter utilizes telescopic suspension at the front, which plays a significant role in enhancing the overall riding experience. The telescopic suspension setup is designed to provide a comfortable and controlled ride, regardless of the terrain you choose to ride on. Whether you're navigating through city streets, tackling uneven roads, or cruising on highways, the Ray ZR's front suspension ensures that every road feels like a smooth ramp, no matter its condition.

Yamaha Ray ZR Boot Space

The Yamaha Ray ZR 125 Fi with Hybrid Power Assist offers a generous boot space of 21 liters, making it one of the most practical and convenient scooters in its class. This ample storage capacity is designed to accommodate various belongings, ensuring that riders can carry their essentials with ease and convenience.

Yamaha Ray ZR Leg Space

The generous leg space allows the rider to adopt a relaxed and comfortable riding posture. Riders can stretch their legs freely, reducing fatigue during extended rides. This thoughtful design ensures that the Ray ZR 125 Fi caters to riders of varying heights, accommodating different leg lengths with ease.

Yamaha Ray ZR Maintenance

Yamaha provides a well-structured maintenance schedule, including both free and paid services, to keep the scooter running smoothly and efficiently throughout its lifecycle. The first free service is valid for 1000 kilometers from the date of purchase or within 60 days, whichever comes first. The second free service is valid for 4000 kilometers from the date of purchase or within 150 days, whichever comes first. The third free service is valid for 7000 kilometers from the date of purchase or within 240 days, whichever comes first. In addition to the free services, regular paid services are required to maintain the scooter's performance. Each paid service should be availed within every 3000 kilometers or 90 days from the previous service, whichever comes earlier.

Safety

The Yamaha Ray ZR 125 Fi with Hybrid Power Assist prioritizes safety with its well-thought-out features, including the Front Disc Brake with UBS (Unified Braking System). The scooter is equipped with a front disc brake, which is known for its superior braking performance compared to conventional drum brakes. The UBS is an intelligent braking system that complements the front disc brake. It synchronizes the braking force between the front disc brake and the rear drum brake, ensuring balanced and controlled braking.

Colors Available for Yamaha Ray ZR

The Yamaha Ray ZR 125 Fi with Hybrid Power Assist comes in a range of captivating color options for both its Drum and Disc variants, allowing riders to choose a style that complements their personality and preferences. The RayZR Drum is available in 3 colors: 1. Metallic Black 2. Cyan Blue 3. Matte Red. The RayZR Disc is available in 5 colors: 1. Cyan Blue 2. Matte Red 3. Metallic Black 4. Racing Blue 5. Dark Matte Blue. With such a diverse array of color options, riders can find the perfect match for their personal style and taste.

Best For

The Ray ZR 125 Fi is an ideal companion for daily urban commuting. Its agile and compact design, along with the efficient 125 cc engine, makes it easy to navigate through city traffic and congested streets. The ample boot space also adds to its practicality for carrying essentials during daily commutes. With its sporty and stylish design, the Ray ZR 125 Fi appeals to young riders looking for a scooter that reflects their vibrant personality. The range of color options allows them to express their individuality, making it a popular choice among youth.

Vehicle Height

The scooter's vehicle height of 1190 mm with a ground clearance of 145 mm makes it well-suited for navigating through city traffic and tight spaces, allowing riders to easily maneuver and filter through congested roads.

Vehicle Weight

With a weight of 99 kg, the Yamaha Ray ZR 125 Fi is classified as a lightweight scooter. The low weight contributes to the scooter's agility and responsiveness, making it nimble and easy to handle, especially during low-speed maneuvers and city commuting.

Seat Length

The seat length of 785 mm ensures that the rider's weight is evenly distributed on the scooter, contributing to better balance and control while riding.

Seat Width

The adequate seat width of 685 mm allows the rider to sit comfortably without feeling cramped or confined, enhancing overall comfort during rides.
---
USER REVIEWS & RATINGS OF
Brand Rating
(4.3 Ratings, 1 Reviews)
---
1 month ago
|
Using this from > 1 Year
This is the lightest 125 scooter in India, which gives it many advantages over others like Power: Weight, Fuel Efficiency, and Acceleration. The styling is an eye-catcher too.
Was this review helpful ?
---
Yamaha Ray ZR Hybrid DRUM SHOWROOMS
Preferred
Pacer Yamaha - Rajajeshwari Nagar
#468, HBCSS, IDEAL HOMES LAYOUT, BEHIND GOPALAN ARCADE, RAJAJESHWARI NAGAR, BENGALURU-560098
Yamaha Automotives - T.C.Palya Signal
#26 to 29, T.C.Palya Signal, Old Madras Road, Bangalore
Panache Enterprises - Indiranagar
No 09, Panache Enterprises, CMH Road, Binnamangala, Indiranagar, Karnataka-560038
Vinayak Motors - Domlur
No. 10, Service Road, HAL Road, Domlur Layout, Domlur, Bangalore
Whitefield Yamaha - Mahadevpura
Site No P-1, Devasandra Industrial Estate, White Field Main Road, Mahadevapura, Bangalore
ashith motors - Doddaballapura
no 66, DVV Complex, 1, D Cross Rd, near LIC Office, Doddaballapura, Karnataka 561203
---
FREQUENTLY ASKED QUESTIONS
Yamaha Razy ZR price ranges between ₹ 1.03 Lakh for the lowest variant to ₹ 1.15 Lakh for the highest variant in Bangalore.

Yamaha RayZR Hybrid comes with 4 variants which includes Yamaha RayZR 125 Fi Hybrid Drum, Yamaha RayZR 125 Fi Hybrid Disc, Yamaha RayZR 125 Fi Hybrid DLX Disc, Yamaha RayZR 125 Fi Hybrid Street Rally.

RayZR 125 Fi Hybrid Disc has a good balance of features, performance, and price. It is also a good choice for those who want a stylish and practical motorcycle.

Yamaha RayZR is available in 9 different colours - Metallic Black, Cyan Blue, Racing Blue, Cyan Blue, Sparkle Green, Matt Red, Metallic Black, Matt Copper, Reddish Yellow Cocktail.

The ARAI-claimed mileage of the Yamaha Ray ZR is 58 kmpl.

The engine displacement of Yamaha Ray ZR is 125 cc.

The overall height of Yamaha Ray ZR is 1080 mm.

The Yamaha Ray ZR has an electric start only.

The top competitors of Yamaha Ray ZR are Hero Passion Plus, Honda Activa 6G, Suzuki Access 125, TVS Ntorq 125

Yamaha Ray ZR is generally considered a good scooter. It offers a sporty and stylish design, decent performance, and features that cater to urban commuting. The scooter's lightweight build, comfortable seating, and maneuverability make it suitable for navigating through city traffic.

Yes, you can avail loan for Yamaha Ray ZR on OTO. OTO offer competitive discounts and 35% lower EMI which makes it easy for you as a customer to purchase your dream bike.

For Yamaha Ray ZR it takes approximately 30 minutes for the application to be approved once you have provided all the required details.