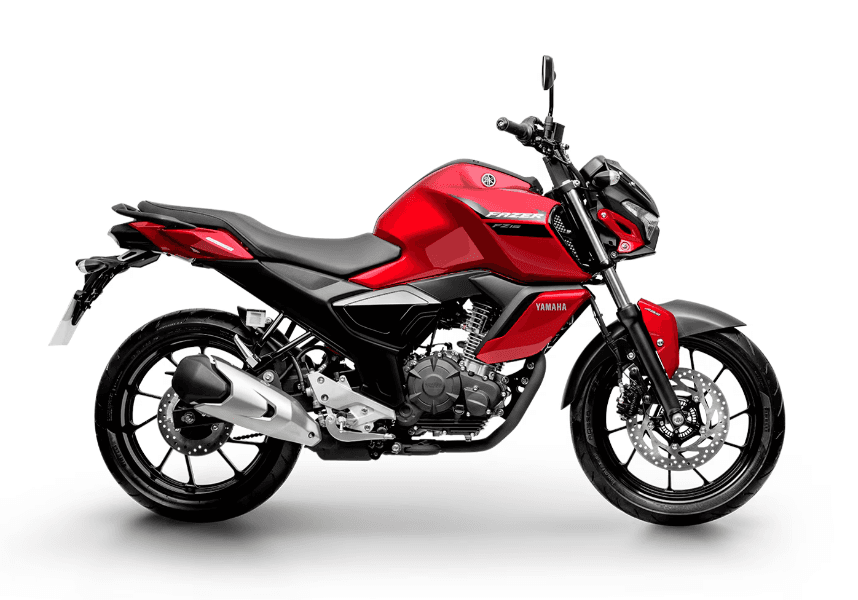 right view
---
---
Yamaha FZ 15 Variants with Price
On-road Price
Apply for Loan
---
---
---
Overview of
Yamaha FZ 15 Std
| | |
| --- | --- |
| Mileage | 46 kmpl |
| Displacement | 149 cc |
| Max Power | 12 hp @ 7,500 rpm |
| Max Torque | 13.3 Nm @ 6,000 rpm |
| Braking Type | Single Channel ABS |
| Starting | Kick and Self Start |
| ABS | Yes |
| Speedometer | Digital |
---
The Yamaha FZ 15 is a testament to Yamaha's commitment to delivering an exhilarating and stylish riding experience. At the heart of the Yamaha FZ 15 lies a spirited 149 cc, single-cylinder engine that ignites the thrill of the open road. This powerplant is a symphony of engineering precision, capable of producing a robust 12.2 bhp in gasoline mode and an impressive 12.4 bhp in ethanol mode, both peaking at 7500 rpm. Notably, this marks an enhancement from the previous 7250 rpm, showcasing Yamaha's dedication to elevating performance. While the torque figures have been refined from 13.3 Nm to 12.7 Nm, the FZ 15 remains a spirited companion on every ride. The FZ 15's head-turning presence is accentuated by its radial-looking headlamp design, which features cutting-edge full LED lighting. Incorporating a design that resonates with both form and function, the FZ 15 boasts faux air vents adorning its muscular fuel tank, adding a touch of dynamic flair to its aesthetics. The single-piece seat and the short exhaust canister contribute to its compact and agile profile, allowing riders to effortlessly maneuver through urban landscapes and spirited rides alike.
You can apply for loan for FZ 15 - Std on OTO and receive approval within just 30 minutes. The downpayment and EMI for FZ 15 starts as low as Rs 18984/- and Rs 4169/-.
---
Specs & Features of
Yamaha FZ 15 Std
Ride Comfort

The Yamaha FZ 15 is designed with a sophisticated suspension system that prioritizes ride comfort, stability, and agile handling. This advanced suspension setup ensures a smooth and controlled ride, making every journey a pleasurable and enjoyable experience. By meticulously engineering the suspension components, Yamaha has created a motorcycle that strikes a remarkable equilibrium between comfort and performance. The suspension system of the FZ 15 is a testament to Yamaha's commitment to providing riders with a well-rounded and enjoyable riding experience, ensuring that you can embark on your journeys with confidence and comfort, mile after mile.

Yamaha FZ 15 Maintenance

Maintaining the Yamaha FZ 15 is a vital aspect of ensuring the motorcycle's longevity, performance, and safety. Regular maintenance not only preserves the bike's optimal functionality but also enhances your riding experience. Regularly inspect your Yamaha FZ 15 for any signs of wear, damage, or abnormalities. Check components such as brakes, tires, lights, and fluid levels to ensure they are in proper working condition. Addressing issues promptly can prevent more extensive problems and contribute to your safety on the road. Refer to the owner's manual for specific maintenance schedules, recommendations, and guidelines provided by Yamaha. Adhering to the manufacturer's guidelines ensures that your motorcycle receives the care it needs.

Safety

Among the notable safety enhancements is the inclusion of Pirelli Diablo Rosso 2 tires, a feature that significantly contributes to the motorcycle's stability, grip, and maneuverability. The Yamaha FZ 15 now comes standard with Pirelli Diablo Rosso 2 tires, renowned for their exceptional performance and traction capabilities. The choice of these premium tires underscores Yamaha's dedication to rider safety and optimal handling. The front tire, with a 100-section profile, complements the motorcycle's agility and responsiveness, while the rear tire, with a wider 140-section profile, ensures enhanced grip and stability during acceleration and cornering. The 17-inch wheels that encapsulate these high-performance tires contribute to the FZ 15's confident and balanced stance on the road. These wheels play a pivotal role in distributing weight effectively, promoting stability, and maintaining consistent contact with the road surface.

Colors Available for Yamaha FZ 15

The Yamaha FZ 15 offers a selection of captivating color options, allowing riders to personalize their motorcycle to match their style and preferences. 1. Blue 2. Red 3. Black With these captivating color choices, the Yamaha FZ 15 becomes a canvas for your self-expression, allowing you to showcase your personality and make a lasting impression.

Best For

The Yamaha FZ 15's nimble and agile nature makes it an excellent choice for navigating through city traffic. Its comfortable riding position, responsive engine, and efficient maneuverability allow riders to effortlessly weave through congested streets, making it an ideal companion for daily commuting. Riders who embark on short-distance rides or weekend getaways will appreciate the FZ 15's balance of comfort and agility. Its capable engine, responsive handling, and ergonomic design make it well-suited for exploring nearby destinations and enjoying scenic routes.

Vehicle Height

The Yamaha FZ 15's carefully calibrated vehicle height strikes a harmonious balance between commanding road presence and rider accessibility. This height provides a confident and upright riding posture, allowing riders to maintain clear visibility of their surroundings while effortlessly maneuvering through traffic or navigating tight spaces.

Vehicle Weight

The precisely balanced vehicle weight of the FZ 15 is a testament to Yamaha's engineering finesse. This optimal weight distribution enhances the motorcycle's stability and agility, ensuring that riders can confidently navigate corners, switch lanes, and enjoy a responsive and engaging riding experience, whether on city streets or open highways.

Seat Length

The FZ 15's comfortable seat length is designed to accommodate riders of varying heights and body types. This thoughtful dimension provides ample room for riders to find their preferred seating position, ensuring extended comfort during daily commutes or longer rides. The ergonomic seat length promotes a relaxed and enjoyable riding experience.

Seat Width

The generous seat width of the Yamaha FZ 15 enhances rider comfort and freedom of movement. This spacious dimension allows riders to shift their weight during turns, adjust their position, and find the perfect balance between control and comfort. The seat's width contributes to a comfortable and accommodating riding experience for both city rides and longer journeys.
---
Yamaha FZ 15 Std SHOWROOMS
Preferred
Pacer Yamaha - Rajajeshwari Nagar
#468, HBCSS, IDEAL HOMES LAYOUT, BEHIND GOPALAN ARCADE, RAJAJESHWARI NAGAR, BENGALURU-560098
Yamaha Automotives - T.C.Palya Signal
#26 to 29, T.C.Palya Signal, Old Madras Road, Bangalore
Panache Enterprises - Indiranagar
No 09, Panache Enterprises, CMH Road, Binnamangala, Indiranagar, Karnataka-560038
Vinayak Motors - Domlur
No. 10, Service Road, HAL Road, Domlur Layout, Domlur, Bangalore
Whitefield Yamaha - Mahadevpura
Site No P-1, Devasandra Industrial Estate, White Field Main Road, Mahadevapura, Bangalore
ashith motors - Doddaballapura
no 66, DVV Complex, 1, D Cross Rd, near LIC Office, Doddaballapura, Karnataka 561203
---
FREQUENTLY ASKED QUESTIONS
Yamaha FZ 15 is a highly popular Bike in India, available at a price ranging between ₹ 1.14 Lakh to ₹ 1.14 Lakh

The different variants of Yamaha FZ 15 are FZ 15 V3.0, FZ 15 BS6, FZ 15 FI, FZ-S, FZ-S FI

FZ 15 V3.0 is the best overall. It has all the features that you would expect from a modern motorcycle, such as fuel injection, disc brakes on both wheels, and a comfortable ride. It also has a stylish design and a powerful engine.

The color options of Yamaha FZ 15 are Matte Black, Race Blue, Darknight, Matte Green, Matte Grey, Race Red, and Yellow

The FZ 15 can get a mileage of around 40-45 kmpl in the city and 50-55 kmpl on the highway.

The Yamaha FZ 15 has a 149cc, single-cylinder, air-cooled engine.

The overall height of Yamaha FZ 15 is 1080 mm

The Yamaha FZ 15 has a kick start and an electric start.

The top competitors of Yamaha FZ 15 Bajaj Pulsar NS160, Honda CB, Shine SP, Hero Glamour, Suzuki Gixxer, and TVS Apache RTR 160 4V

Yamaha FZ 15 is a well-regarded motorcycle known for its sporty design, agile handling, and reliable performance, making it a popular choice among riders seeking a versatile and stylish commuter.

Yes, you can avail loan for Yamaha FZ 15 on OTO. OTO offer competitive discounts and 35% lower EMI which makes it easy for you as a customer to purchase your dream bike.

For Yamaha FZ 15 it takes approximately 30 minutes for the application to be approved once you have provided all the required details.