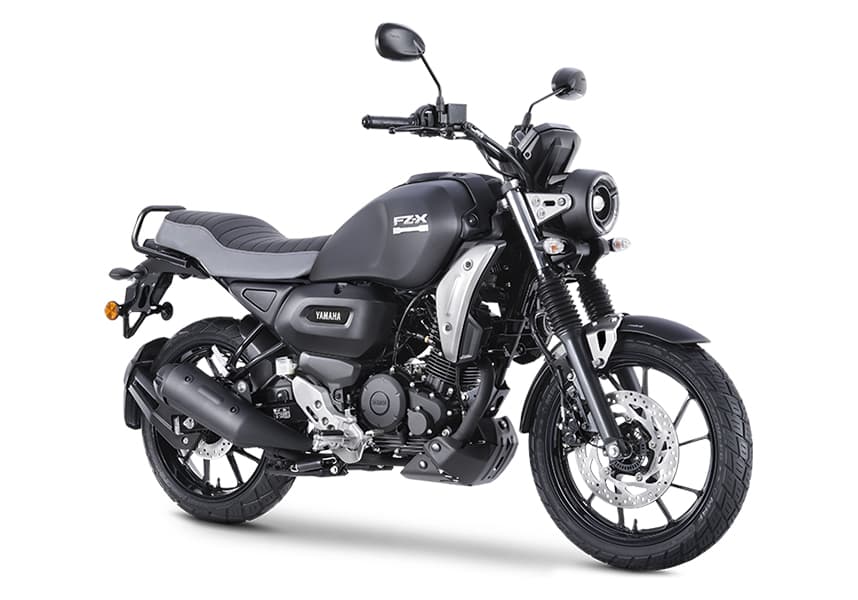 image
---
---
Yamaha FZ X Bluetooth Colors
Yamaha FZ X Variants with Price
On-road Price
Apply for Loan
---
---
---
Overview of
Yamaha FZ X Bluetooth
| | |
| --- | --- |
| Mileage | 48 kmpl |
| Displacement | 149 cc |
| Max Power | 12.2 bhp @ 7,250 rpm |
| Max Torque | 13.3 Nm @ 5,500 rpm |
| Braking Type | Single Channel ABS |
| Starting | Kick and Self Start |
| ABS | Single Channel |
| Speedometer | Digital |
---
About
Yamaha FZ X Bluetooth
The Yamaha FZ is a prominent member of Yamaha's FZ series, renowned for its sporty appeal, powerful performance, and cutting-edge features. Launched by Yamaha Motor India, the FZ has become a favorite among motorcycle enthusiasts for its dynamic design and superior engineering. The Yamaha FZ is powered by a 149cc BS6 engine, which develops a power of 12.2 bhp, a torque of 13.3 Nm, and a fuel capacity of 13 liters. The feature list includes: A single-channel ABS. An LED headlight. A 140 mm wide rear radial tire. A two-level single-piece saddle. The bike's bold and edgy styling is complemented by its sharp headlamp unit, chiseled fuel tank, and sporty alloy wheels. The safety net has been enhanced with the addition of a side-stand engine cutoff function. The FZ's overall design reflects a perfect balance of form and function, catering to riders who value both aesthetics and practicality. With its robust build, advanced technology, and responsive handling, the Yamaha FZ stands as a symbol of Yamaha's commitment to delivering a fantastic riding experience.
You can apply for loan for FZ X - Bluetooth on OTO and receive approval within just 30 minutes. The downpayment and EMI for FZ X starts as low as Rs 26011/- and Rs 5713/-.
---
Specs & Features of
Yamaha FZ X Bluetooth
Ride Comfort

Ride comfort is one of the critical attributes of the Yamaha FZ, making it a favorite among riders seeking an enjoyable and fatigue-free experience. The bike's suspension setup, featuring telescopic forks at the front and a mono-shock suspension at the rear, effectively absorbs road irregularities, providing a smooth ride on various terrains. Whether cruising on city streets or tackling rough roads, the FZ maintains stability and balance, ensuring a comfortable and composed ride. The ergonomics of the Yamaha FZ are thoughtfully designed to offer a comfortable riding posture. The well-padded seat and strategically positioned handlebars and footpegs reduce strain on the rider during long journeys. The bike's upright and relaxed riding position also promotes better control and confidence, making it an excellent companion for short commutes and extended trips.

Yamaha FZ X Maintenance

Yamaha has always been synonymous with reliability and low maintenance requirements, and the Yamaha FZ lives up to this reputation. The bike's engine is engineered for durability, requiring minimal servicing and regular maintenance. Routine checks and timely oil changes are all it takes to keep the FZ running in top-notch condition. Yamaha's widespread service network ensures that FZ owners can access authorized service centers and genuine spare parts if required. This hassle-free ownership experience adds to the appeal of the Yamaha FZ, making it a cost-effective and reliable choice for riders.

Safety

Safety is a top priority for Yamaha, and the Yamaha FZ has several features to ensure rider security. The bike features a front disc brake and a rear drum brake, delivering reliable and responsive braking performance. Additionally, Yamaha's Anti-Lock Braking System (ABS) further enhances braking control, ensuring safer and more stable stops. The FZ's chassis is engineered for superior stability and control, allowing riders to maneuver through tight corners and challenging terrain. The bike's wide and grippy tubeless tires provide excellent traction, reducing the risk of sudden deflation and enhancing overall safety.

Colors Available for Yamaha FZ X

The Yamaha FZ offers a diverse and attractive range of colors that cater to various rider preferences and personalities. The 2 colors available are: 1) Racing Blue 2) Metallic Black Whether you prefer a bold and vibrant Racing Blue or a sleek, classic, and elegant Metallic Black, the FZ's color options allow riders to express their individuality and style on the roads.

Best For

The Yamaha FZ is a versatile motorcycle that caters to a wide range of riders and riding preferences, making it an ideal choice for various riders. With its comfortable ergonomics, smooth performance, and excellent fuel efficiency, the FZ is a perfect daily commuter, allowing riders to navigate city traffic quickly and conveniently. The FZ's sporty design, powerful engine, and dynamic performance make it popular among young riders seeking an exciting and thrilling two-wheeler. Riders looking to embark on long-distance journeys will also appreciate the FZ's comfortable seating and smooth performance, ensuring a fatigue-free experience. The FZ's agile and nimble nature allows riders to navigate through congested city streets and busy urban areas easily.

Vehicle Height

The Yamaha FZ boasts an ideal vehicle height of around 1080 mm and a ground clearance of 165 mm, striking a balance between a commanding presence and rider accessibility. The elevated stance enhances road visibility for the rider, promoting safety during rides. The FZ's well-balanced height also adds to the bike's visual appeal, making it an attractive sight on the roads.

Vehicle Weight

The Yamaha FZ's weight distribution is carefully engineered for optimal agility and control. With a kerb weight of 135 kg, the bike feels agile and responsive, allowing riders to maneuver confidently through traffic and tight spaces. This balanced weight distribution ensures stability during high-speed rides, enhancing control and confidence.

Seat Length

The Yamaha FZ features a comfortable seat with a length of around 790 mm to accommodate the rider comfortably. The elongated seat allows for easy adjustment during long journeys, reducing fatigue in the back and legs. Riders can enjoy extended rides without feeling cramped, making the FZ suitable for both daily commuting and long-distance touring.

Seat Width

The FZ's seat width of 780 mm strikes a perfect balance between rider support and comfort. The well-cushioned seat provides a snug fit, preventing unnecessary movement during rides and ensuring the rider maintains control and stability. This feature adds to the overall riding experience, especially during high-speed maneuvers or sharp turns.
---
Yamaha FZ X Bluetooth SHOWROOMS
Preferred
Pacer Yamaha - Rajajeshwari Nagar
#468, HBCSS, IDEAL HOMES LAYOUT, BEHIND GOPALAN ARCADE, RAJAJESHWARI NAGAR, BENGALURU-560098
Yamaha Automotives - T.C.Palya Signal
#26 to 29, T.C.Palya Signal, Old Madras Road, Bangalore
Panache Enterprises - Indiranagar
No 09, Panache Enterprises, CMH Road, Binnamangala, Indiranagar, Karnataka-560038
Vinayak Motors - Domlur
No. 10, Service Road, HAL Road, Domlur Layout, Domlur, Bangalore
Whitefield Yamaha - Mahadevpura
Site No P-1, Devasandra Industrial Estate, White Field Main Road, Mahadevapura, Bangalore
ashith motors - Doddaballapura
no 66, DVV Complex, 1, D Cross Rd, near LIC Office, Doddaballapura, Karnataka 561203
---
FREQUENTLY ASKED QUESTIONS
Yamaha FZ-X is available in 4 different colours - Matte Black, Matte Copper, Dark Matte Blue, Metallic Blue.

The mileage of FZ X is 45 kmpl

The displacement of FZ X is 149 cc

The Yamaha FZ X is 1115 mm in height

The Yamaha FZ X has an electric start only

The top competitors of Yamaha FZ X are Bajaj Pulsar NS 200, Hero Xtreme 200R, TVS Apache RTR 200 4V, Suzuki Gixxer SF 250, KTM Duke 200

The Yamaha FZ X is a versatile bike known for its rugged design and comfortable ergonomics, making it suitable for both city commuting and light off-road adventures, offering a balance of style and practicality

Yes, you can avail loan for Yamaha FZ X on OTO. OTO offer competitive discounts and 35% lower EMI which makes it easy for you as a customer to purchase your dream bike.

The on-road price of FZ X is ₹ 1,75,223

Yamaha FZ-X comes with 2 variants which includes Yamaha FZ-X Bluetooth, Yamaha FZ-X Dark Matte Blue.

Yamaha FZ-X Bluetooth motorcycle comes with the latest technology and a great look.

For Yamaha FZ X it takes approximately 30 minutes for the application to be approved once you have provided all the required details.