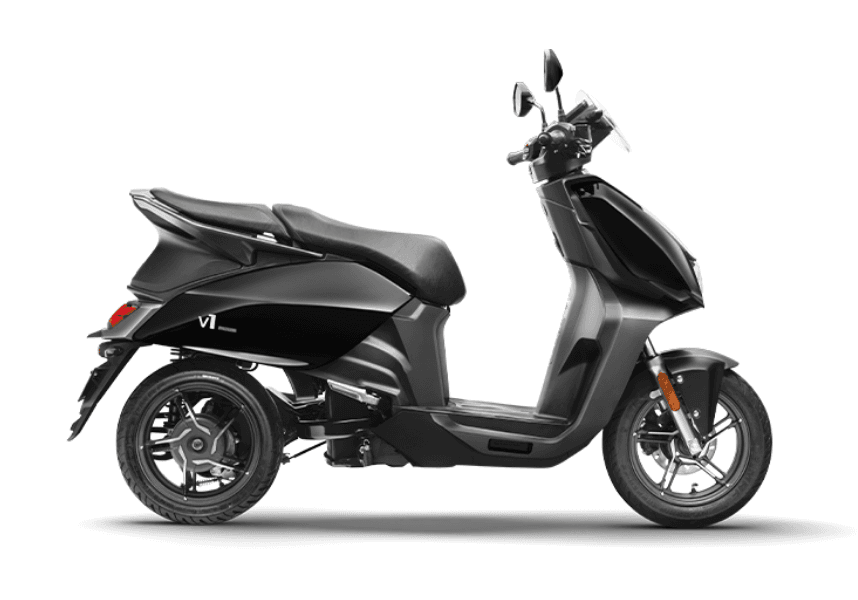 image
---
---
Vida V1 Variants with Price
On-road Price
Apply for Loan
---
---
---
| | |
| --- | --- |
| Ride Modes | |
| Range | 110.0 Km/Charge |
| Top Speed | 80.0 Kmph |
| Charging Time | 8.0 Hours |
| Battery Type | Two Removable Batteries |
---
Introducing the Scooter Hero Vida V1, an electric bike that seamlessly blends futuristic design with impressive power. With a mighty 6000 W motor, the Vida V1 delivers a thrilling performance, promising an electrifying ride like no other. One glance at the Vida V1, and you'll be captivated by its cutting-edge aesthetics. The scooter boasts a sleek and modern apron mountain LED headlight, illuminating the path ahead with clarity and style. Completing the front-end appeal is a small smoked visor, adding a touch of sophistication to the bike's overall look. LED turn indicators not only enhance visibility but also lend a tech-savvy edge to the Vida V1's design, making it stand out from the crowd. One of the standout features of the Vida V1 is its advanced keyfob technology, which allows keyless entry and control. Say goodbye to traditional keys - with the smart keyfob, you can effortlessly lock and unlock your scooter, giving you unparalleled convenience and peace of mind.
You can apply for loan for V1 - Pro on OTO and receive approval within just 30 minutes. The downpayment and EMI for V1 starts as low as Rs 22839/- and Rs 5016/-.
---
Specs & Features of
Vida V1 Pro
Ride Comfort

The Scooter Hero Vida takes ride comfort to a whole new level, offering an array of innovative features designed to enhance your riding experience. With its telescopic front forks and single rear shock, the Vida ensures a smooth and stable ride, effortlessly absorbing bumps and undulations on the road. Whether you're navigating through city streets or cruising on highways, the suspension setup provides excellent comfort, making every journey enjoyable and fatigue-free. The Vida caters to diverse riding preferences with its multiple riding modes: Sport, Ride, Eco, and Custom. Whether you seek a thrilling and dynamic ride or a more energy-efficient and leisurely experience, the Vida allows you to customize your ride to suit your mood and needs. For added convenience and ease of use, the Vida features cruise control, allowing you to maintain a constant speed on highways without having to keep your throttle engaged continuously. This feature is perfect for long-distance cruising, reducing rider fatigue and adding an extra layer of comfort during extended rides.

Vida V1 Boot Space

The boot space of 26 liters would be suitable for storing small personal items like a helmet, small bags, or other essentials.

Vida V1 Leg Space

When it comes to passenger comfort, the Hero Vida doesn't disappoint. The scooter provides ample leg space for the driver and a footrest for the pillion rider. Whether you're embarking on a short drive or a long journey, passengers can relax and enjoy the ride without feeling cramped.

Vida V1 Maintenance

The Scooter Hero Vida is not only built for a thrilling ride but is also designed for hassle-free maintenance and peace of mind. The Vida comes with an overall warranty of 5 years or 50,000 kilometers, whichever comes earlier. In addition to the overall warranty, the battery pack, which is a crucial component of any electric vehicle, comes with a separate warranty of 3 years or 30,000 kilometers, whichever comes earlier. This dedicated warranty coverage for the battery ensures that you can rely on its performance and durability for a substantial period of time.

Safety

Safety is of utmost importance, and the Scooter Hero Vida prioritizes rider protection and security with a host of advanced safety features, ensuring a secure and confident riding experience. It is equipped with a reliable braking system that ensures quick and efficient stopping power. The combination of front and rear brakes offers optimal control, reducing the risk of accidents and skidding. Additionally, the Vida comes with geo-fencing capabilities, allowing riders to set virtual boundaries for the scooter's operation. If the scooter strays beyond the predefined area, an alert is triggered, enhancing security and preventing unauthorized usage. Moreover, for emergency situations, the Vida is equipped with an SOS switch, which allows riders to seek immediate assistance. This feature provides peace of mind, knowing that help is just a press away in critical situations.

Colors Available for Vida V1

The Scooter Hero Vida offers riders the freedom to express their personal style with a captivating range of five stunning colors: White, Orange, Red, Cyan, Black. With this diverse range of colors, the Scooter Hero Vida allows riders to choose the shade that best represents their personality and individuality.

Best For

The Scooter Hero Vida is a versatile electric scooter that caters to a wide range of riders and preferences. For environmentally-conscious individuals who seek eco-friendly transportation options, the Vida provides a sustainable and green commuting solution. Its electric power ensures zero-emission rides, reducing your carbon footprint and contributing to a cleaner environment. Moreover, the Vida is an excellent choice for urban commuters who navigate through city traffic regularly. Its compact size, agile handling, and efficient electric powertrain make it ideal for weaving through congested streets and reaching destinations with ease.

Vehicle Height

With a ground clearance of 155 mm, the Scooter Hero Vida ensures a smooth ride even on uneven road surfaces. This generous ground clearance allows the scooter to glide over speed bumps and minor obstacles comfortably, providing stability and reducing the risk of scraping the undercarriage.

Vehicle Weight

Weighing in at 125 kg, the Vida strikes a balance between being sturdy and nimble. The moderate weight contributes to the scooter's stability and handling while remaining easy to maneuver and control, especially during city commuting.

Seat Length

The Vida comes with a comfortable seat length of 780 mm, providing ample room for the rider to sit comfortably. The well-cushioned seat ensures a relaxed and fatigue-free ride during long journeys or daily commutes.

Seat Width

The seat's width is designed to offer ample room for the rider, allowing them to sit in a relaxed and natural position. The well-padded seat provides adequate support to reduce pressure points, making every ride enjoyable and pleasant.
---
Preferred
Sai Bikes - Peenya Indl. Area
NO. P-6E, 1st Cross, 1st Stage, Tumkur Road, Peenya Indl Area, Lakshmidevinagar, Bengaluru (Bangalore) Urban Karnataka, 560058
Preferred
Vaayuratha Hero - Marathhalli
5D, 25, Outer Ring Rd, Brindavan Extension, Anand Nagar, Doddanekkundi, Marathahalli, Bengaluru (Bangalore) Urban, Karnataka, 560037
---
FREQUENTLY ASKED QUESTIONS
Yes, you can avail loan for Hero Vida on OTO. OTO offer competitive discounts and 35% lower EMI which makes it easy for you as a customer to purchase your dream bike.

Hero Vida comes with a on road price of Rs. 1,41,746 in Bangalore

Now, the Vida V1 is available in two variants: V1 Plus and V1 Pro

Hero Vida V1 Pro is the best variant. It comes with 3.94 kWh battery capacity

Vida V1 is available in 5 different colours - Black, White, Orange, Red, Cyan.

Hero Vida has a mileage of 143 - 165 Km/Full Charge.

Hero Vida comes with 6000w motor power

The exact height of Hero Vida is 1.08 m

Hero Vida comes with self start only

Top competitors of Hero Vida are Ola S1 Pro and Ampere Magnus EX

Hero Vida is a good scooter known for its comfortable ride, practical features, and fuel-efficient engine, making it a reliable and budget-friendly choice for daily commuting and city rides

For Hero Vida it takes approximately 30 minutes for the application to be approved once you have provided all the required details.