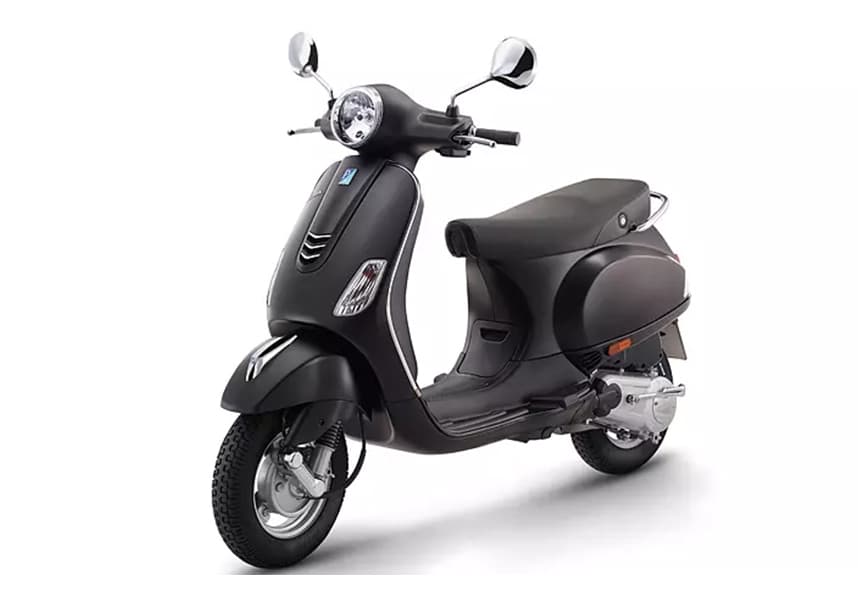 image
---
---
Vespa Vespa LX 125 CBS Colors
Vespa Vespa Variants with Price
On-road Price
Apply for Loan
---
---
---
Overview of
Vespa Vespa LX 125 CBS
| | |
| --- | --- |
| Mileage | 45 kmpl |
| Displacement | 125 cc |
| Max Power | 9.78 bhp @ 7,500 rpm |
| Max Torque | 8.8 Nm @ 5500 rpm |
| Braking Type | Combined Braking System |
| Starting | Kick and Self Start |
| ABS | Yes |
| Speedometer | Analogue |
---
About
Vespa Vespa LX 125 CBS
In the realm of iconic two-wheelers, Vespa has etched its name as a timeless symbol of elegance, innovation, and Italian craftsmanship. Among its notable offerings, the Vespa 149 Elegante stands out as a prime example of Vespa's commitment to superior engineering and unparalleled riding experience. The Vespa 149 Elegante is a stylish masterpiece from every angle. The front has the iconic rectangular headlamp that adds a touch of nostalgia, while the sleek body and chrome details keep it in tune with today's style. The Vespa 149 Elegante boasts a 58mm x 56.6mm bore and stroke, setting the stage for its impressive performance on the road. Its comes with an i-get 149.5cc Single cylinder 4 stroke, air-cooled, SOHC, 3 valves FI engine that brings forth a remarkable power output of 10.79 PS at 7100 rpm, ensuring an exhilarating ride with every twist of the throttle. But it's not just about power; the Vespa 149 Elegante strikes a perfect balance, delivering a maximum torque of 11.26Nm at 5300 rpm, which translates to smooth and responsive acceleration, whether you're zipping through urban streets or taking on scenic routes. With a fuel tank capacity of 7.4 liters, it can take you on long journeys without the frequent need for refuelling. The convenience of both kick starter and electric starter ensures that starting up your Vespa is effortless, offering options to suit your preference. The digital odometer offers the advantage of real-time information on the fuel gauge, low fuel indicator, low battery indicator, clock, etc. It's worth noting that the Vespa 149 Elegante and the 150 variant share much of their aesthetic allure. However, the key differentiator lies under the hood. The engine of the Elegante 149 is BS VI compliant, aligning with modern emission standards for a cleaner and more environmentally conscious ride. This signifies Vespa's commitment not only to performance and elegance but also to sustainability and responsible manufacturing. In essence, the Vespa 149 Elegante is a perfect combination of classic charm and cutting-edge technology. With its meticulously engineered dimensions and impressive power output, it's a scooter that's poised to redefine your riding experience.
You can apply for loan for Vespa - LX 125 CBS on OTO and receive approval within just 30 minutes. The downpayment and EMI for Vespa starts as low as Rs 17566/- and Rs 3858/-.
---
Specs & Features of
Vespa Vespa LX 125 CBS
Ride Comfort

The Vespa 149 Elegante has an aircraft-derived hydraulic single-side arm design for a front suspension that not only ensures stability but also comes with anti-dive characteristics. This feature enhances the scooter's handling by minimising the front-end diving motion during braking, translating to a smoother and more controlled ride. Complementing this, the rear suspension features a dual-effect hydraulic shock absorber with four-position adjustability, allowing riders to fine-tune the suspension settings according to their preferences and road conditions. With a wheelbase of 1290mm, the Vespa 149 Elegante strikes the perfect balance between agility and stability, contributing to confident manoeuvrability on various terrains.

Vespa Vespa Boot Space

The Vespa 149 Elegante understands the importance of carrying essentials on the go. Its spacious under-seat storage compartment offers ample room to stow away a helmet, small bags, or other items, making it perfect for short trips to the grocery store or quick errands around town.

Vespa Vespa Leg Space

A comfortable ride requires sufficient legroom, and the Vespa 149 Elegante ensures just that. The thoughtfully designed leg space provides enough room for riders of varying heights to stretch their legs without compromising on riding posture.

Vespa Vespa Maintenance

Keeping up with the 149 Elegante is easy and smooth, all thanks to Vespa's helpful service options. Upon purchasing the scooter, owners are entitled to free services for a specific period or kilometre range, whichever condition gets satisfied earlier from the date of purchase. This period is designed to cover the initial stages of ownership and ensure that the scooter operates at its optimal performance.

Safety

When it comes to safety, the Vespa 149 Elegante leaves no room for compromise. At the front, an ABS disc brake measuring 200mm, complete with hydraulic control and a calliper, delivers exceptional stopping power and precision. This advanced braking system not only minimises the risk of skidding during sudden stops but also provides enhanced control over braking forces. The rear brake, a drum brake with a 140mm diameter, further contributes to the scooter's overall braking performance. Safety is also upheld through innovative engineering solutions. The Vespa 149 Elegante incorporates forced air circulation cooling, which maintains the engine's optimal temperature, ensuring reliable performance and preventing overheating during long rides or in traffic. Additionally, the scooter's tire configuration plays a pivotal role in maintaining stability and grip. The tubeless front tire, sized at 110/70-11 45L, and the tubeless rear tire, sized at 120/70-10 54L, work harmoniously to provide reliable traction, minimise road vibrations, and enhance overall road grip. These combined safety features create an environment where riders can confidently navigate diverse terrains, assured of the knowledge that the Vespa 149 Elegante prioritises their safety at every turn.

Colors Available for Vespa Vespa

The Vespa 149 Elegante is available in a range of captivating colours: 1. Blue 2. Beige

Best For

The Vespa 149 Elegante is the ideal companion for those who seek a seamless blend of style, performance, and practicality in their two-wheeled journeys. Whether you're going on a daily commute or embarking upon an adventurous ride, this scooter caters to a diverse range of riders. Its timeless design, coupled with advanced features and a balanced 149.5cc engine, ensures that both novice riders and seasoned enthusiasts alike can revel in the joy of riding while making a bold style statement on the road.

Vehicle Height

The scooter's relative height of 1140 mm and a ground clearance 155 mm of adds to its stability and ease of handling. It makes manoeuvring through traffic or parking in tight spaces effortless, adding an extra layer of convenience to urban commutes.

Vehicle Weight

Weighing in at 115 kg, the Vespa 149 Elegante strikes a harmonious balance between stability and agility. The lightweight design contributes to nimble handling while maintaining a sturdy feel on the road.

Seat Length

The Vespa 149 Elegante's two-piece leather seat of 770 mm accommodates both the rider and the passenger comfortably. Whether you're cruising solo or sharing the journey with a friend, the extended seat ensures a cosy experience for both.

Seat Width

The Vespa 149 Elegante offers ample room for the rider to sit comfortably. The width of 690 mm, combined with the ergonomic design, enhances rider comfort during both short rides and longer journeys.
---
USER REVIEWS & RATINGS OF
Brand Rating
(4.2 Ratings, 1 Reviews)
---
1 month ago
|
Using this from 6-12 months
Unique look but makes terrible sound on street, dealer expierence was okay okay, but it's a powerful scooter
Was this review helpful ?
---
Vespa Vespa LX 125 CBS SHOWROOMS
1 Racing Moto - HBR Layout
No. 1024, 1st Stage, 4th Block, HBR Layout, Bengaluru
Falcon Mobikes - Banashankari
 # 187 100 FEET RING ROAD, CROSS, Banashankari 3rd Stage, Hosakerehalli, Bengaluru
MM Motors - Hoskote
No 100-2, BDO Office Rd, Kote, Hoskote, Karnataka
Flash Piaggio - FAZERE TOWN
#no 35/29-2,Rajat Towers II,11th Main , 5th Block, Jayanagar, Bangalore
Navin Associates - Koramangala
---
FREQUENTLY ASKED QUESTIONS
Vespa comes with a on road price of Rs. 1,29,000 in Bangalore

Vespa comes in 6 variants - SXL 150, VXL 150, SLX 125, VXL 125, Elegance, Vespa LX 125

Vespa LX 125 is the best variant. It comes with 9.92 PS power and drum brakes

Vespa is available in 10 different colours - Classic Matte Black, White, Tuscany Orange Classic, Matt Red, Midnight Blue Sport, Sports Matte Yellow, Midnight Blue Classic, Green, Pearl White Classic, Tuscany Orange Sport.

Vespa has a mileage of 36 km/l

Vespa comes with engine diceplacement of 124.45 cc

The exact height of Vespa is 1140 mm

Vespa comes with Kick and Self Start option

Top competitors of Vespa are Suzuki Avenis, TVS Jupiter 125, Yamaha RayZR 125 Fi-Hybrid, Honda Activa 125, Honda Dio 125, Suzuki Access 125

Vespa is a good bike due to its timeless design, smooth handling, and fuel-efficient engine, making it a stylish and practical choice for urban commuting and short trips.

Yes, you can avail loan for Vespa on OTO. OTO offer competitive discounts and 35% lower EMI which makes it easy for you as a customer to purchase your dream bike.

For Vespa it takes approximately 30 minutes for the application to be approved once you have provided all the required details.