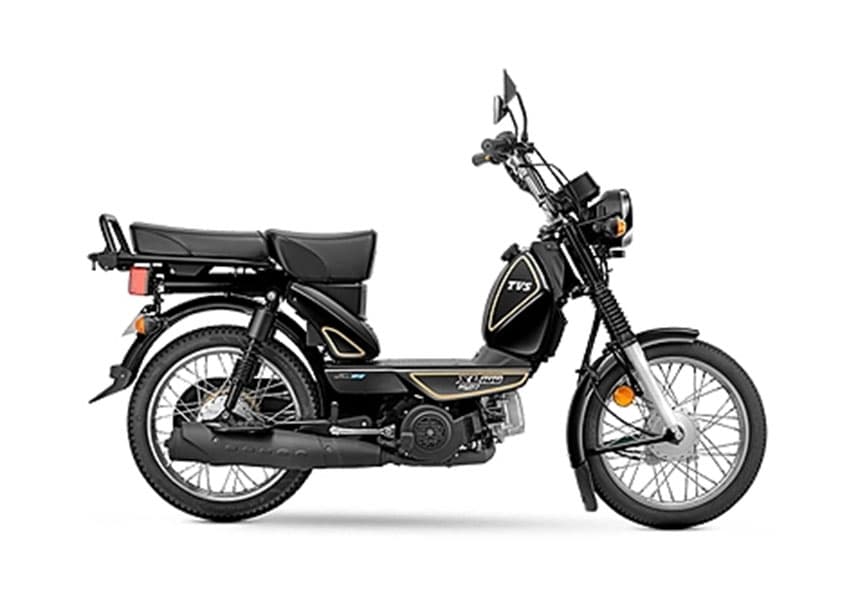 image
---
---
TVS XL 100 HD Kick Start Colors
TVS XL 100 Variants with Price
On-road Price
Apply for Loan
---
---
---
Overview of
TVS XL 100 HD Kick Start
| | |
| --- | --- |
| Mileage | 52.5 kmpl |
| Displacement | 99 cc |
| Max Power | 4.3 bhp @ 6000 rpm |
| Max Torque | 6.5 Nm @ 3500 rpm |
| Braking Type | Synchronised Braking Technology |
| Starting | Kick and Self Start |
| ABS | No |
| Speedometer | Analogue |
| Range | None Km/Charge Km/Charge |
| Charging Time | None Kmph Hours |
| Top Speed | None Hours Kmph |
---
About
TVS XL 100 HD Kick Start
The TVS XL 100 is a rugged and dependable two-wheeler designed to cater to the needs of both urban commuters and rural users. The TVS XL 100 is powered by a 99.7cc BS6 engine, which develops a power of 4.3 bhp and a torque of 6.5 Nm. Its robust build and practical design have made it popular among delivery personnel, farmers, and small business owners. It has a fuel capacity of 4 liters, providing good fuel efficiency. TVS has given it a design that looks extremely utilitarian. The tall handlebar, large single seat, and round headlamp – are all present to make the moped look functional. The tires have a skinny profile, but the target audience has no problem with it. This moped stands out as an economical and fuel-efficient option, boasting a sturdy frame and a reliable engine, making it suitable for various purposes.
You can apply for loan for XL 100 - HD Kick Start on OTO and receive approval within just 30 minutes. The downpayment and EMI for XL 100 starts as low as Rs 8558/- and Rs 1879/-.
---
Specs & Features of
TVS XL 100 HD Kick Start
Ride Comfort

The TVS XL 100's ride comfort is notably impressive, considering its utilitarian nature. The bike's telescopic front suspension and hydraulic rear suspension effectively absorb bumps and undulations on the road, ensuring a relatively smooth ride even on uneven surfaces. The well-cushioned and wide seat offers adequate support for the rider, reducing fatigue during long journeys. The ride is considerably plush and strikes a balance between comfort and practicality.

TVS XL 100 Boot Space

The TVS XL 100 boasts a generously-sized front-mounted luggage rack, providing ample boot space to carry goods or personal belongings. The rack's sturdy construction allows users to secure their loads with ease, making it a practical choice for small business owners and delivery services. Additionally, the rack's load-carrying capacity enhances the bike's overall utility, further adding to its appeal as a reliable workhorse.

TVS XL 100 Leg Space

One of the key advantages of the TVS XL 100 is its legroom. The design allows for easy leg movement, enhancing rider comfort during extended rides. This is particularly beneficial for users who often carry heavy loads or use the vehicle for commercial purposes. The ample leg space contributes to the bike's overall user-friendly design, making it accessible to a wide range of riders.

TVS XL 100 Maintenance

One of the standout features of the TVS XL 100 is its low maintenance requirements. The bike's simple and robust design reduces the likelihood of frequent breakdowns and minimizes maintenance costs. The engine is easy to service, and spare parts are readily available, making it convenient for owners to keep the vehicle in excellent condition. As a result, the TVS XL 100 offers an economical ownership experience, saving users both time and money in the long run.

Safety

While the TVS XL 100 focuses primarily on utility and practicality, it does not compromise on safety. The bike is equipped with a reliable braking system that includes a drum brake at the front and rear, providing adequate stopping power. The tires offer a good grip on various surfaces, enhancing stability during rides. The braking system has drum brakes on both sides.

Colors Available for TVS XL 100

TVS offers a diverse range of color options for the XL 100, catering to the varied preferences of its customers. The 2 available colors include these classic shades: 1) Grey Black 2) Red Black The choice of colors allows buyers to opt for a hue that suits their personality and style, giving the bike a touch of personalization.

Best For

The TVS XL 100 is best suited for individuals and businesses seeking a reliable, cost-effective, and versatile two-wheeler for daily commuting and carrying heavy loads. Its durable construction, comfortable ride, and spacious boot make it ideal for small traders, farmers, delivery personnel, and individuals with regular transport needs. The bike's fuel efficiency also makes it an excellent choice for those looking to save on fuel expenses.

Vehicle Height

The TVS XL 100 features a comfortable vehicle height of 1077 mm, making it easily manageable for riders of varying heights. The specific measurements may vary slightly depending on the model and variant, but generally, the bike's height falls within a user-friendly range. The balanced height contributes to its stability, especially when carrying heavy loads, ensuring riders feel confident and in control.

Vehicle Weight

The TVS XL 100 is relatively lightweight compared to many other two-wheelers in its category. The weight of the bike is around 86 kg. This characteristic further enhances the bike's agility, making it easy to maneuver through congested city streets or tight rural pathways.

Seat Length

The seat length of 781 mm on the TVS XL 100 provides adequate room for comfortable seating, accommodating both the rider and a pillion passenger with ease. The design of the seat ensures that riders have enough space to adjust their position during extended rides, reducing any discomfort that may arise from long hours of sitting.

Seat Width

The TVS XL 100 offers a well-designed seat width of 670 mm that strikes a balance between rider comfort and practicality. The seat's width is sufficient to allow comfortable seating for most individuals, including those with varying body sizes. This consideration is especially important for riders who use the bike for long hours or carry heavy loads, as a wider seat ensures proper weight distribution and minimizes fatigue.
---
USER REVIEWS & RATINGS OF
Brand Rating
(4 Ratings, 1 Reviews)
---
1 month ago
|
Using this from 3-6 months
Supper Style, Good Model, Good Mileage. Everything Supper, Color Lighting, Self Start Is Excellent.
Was this review helpful ?
---
TVS XL 100 HD Kick Start SHOWROOMS
Preferred
Solar TVS - Nayandahalli
9/1-2, opposite RR NAGAR Arch, Nayandahalli, RR NAGAR
Preferred
Bengaluru Motors - Harlur
Komal Tower 117/115A,2nd Cross Vidya Nagar,Opp SKF,Hosur Main Road ,Bommasandra Industrial Area,Bangalore-560099
Dhancharan TVS - Doddakalsandra
kanakapura road bangalore
Suryaprathap Automobiles - Ramamurthy nagar
No.1, Ramamurthy Nagar Main Road Opp SAIL, next to UNILET Showroom, Bengaluru,
Hemanth TVS - Yehlahanka, New Town
17-9, 10,11 and 12 opp. Railwheel Factory Doddaballapura Road A Sector, Yehlahanka New town
Bridgewell motors LLP
No. 615, Dr Rajkumar Rd, Prakash Nagar, Rajajinagar, Bengaluru, Karnataka
---
FREQUENTLY ASKED QUESTIONS
TVS XL 100 comes in 5 variants TVS XL100 Comfort, TVS XL100 Heavy Duty, TVS XL100 Comfort i-touch start, TVS XL100 Heavy Duty i-touch start, TVS XL100 Win Edition

Yes, you can avail loan for TVS XL 100 on OTO. OTO offer competitive discounts and 35% lower EMI which makes it easy for you as a customer to purchase your dream bike.

For TVS XL 100 it takes approximately 30 minutes for the application to be approved once you have provided all the required details.

TVS XL 100 comes with a on road price of Rs. 57,622 in Bangalore

TVS XL 100 Comfort i-Touch Start is the best variant. It comes with 4.4 PS power and drum brakes.

TVS XL100 is available in 15 different colours - Black, Sparkling Silver, Red Black, Grey Black, Red, Blue, Coral Silk, Brown, Mint Blue, Green, Black, Luster Gold, Green, Mineral Purple, Beaver Brown.

TVS XL 100 has a mileage of 67 km/l

TVS XL 100 comes with engine diceplacement of 99.7 cc

The exact height of TVS XL 100 is 1.115 m

TVS XL 100 comes with self start (electric start) option

Top competitors of TVS XL 100 are TVS Scooty Pep Plus, Honda Dio, Hero Pleasure Plus, Honda Activa, TVS Jupiter

The TVS XL 100 is a good bike because of its sturdy build, excellent fuel efficiency, and easy maneuverability, making it an ideal choice for short-distance commuting and carrying light loads in urban and rural areas. Additionally, its low maintenance and affordable price make it a practical and reliable option for budget-conscious buyers.