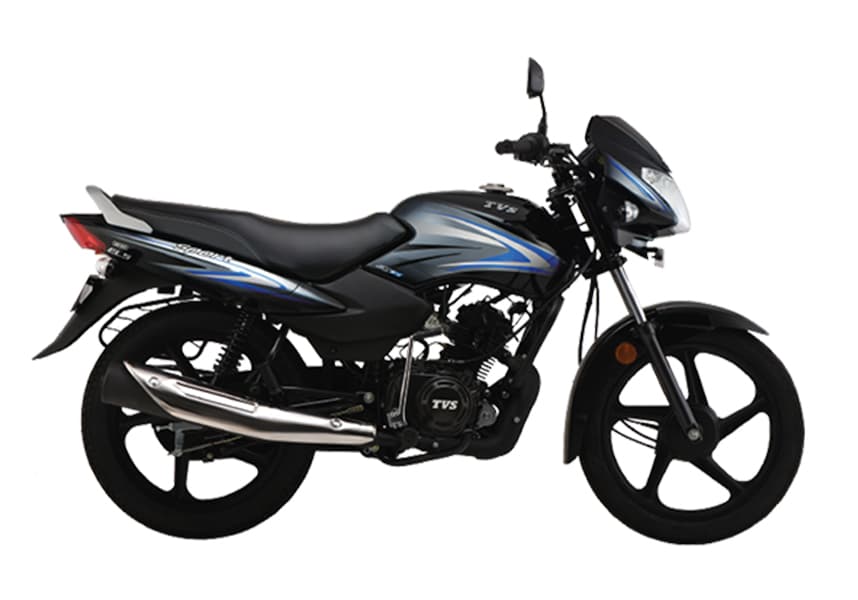 image
---
---
TVS Sport KLS BSVI Colors
TVS Sport Variants with Price
On-road Price
Apply for Loan
---
---
---
Overview of
TVS Sport KLS BSVI
| | |
| --- | --- |
| Mileage | 70 kmpl |
| Displacement | 109.7 cc |
| Max Power | 8.18 bhp @ 7350 rpm |
| Max Torque | 8.7 Nm @ 4500 rpm |
| Braking Type | Synchronized Braking Technology |
| Starting | Kick and Self Start |
| ABS | No |
| Speedometer | Analogue |
---
The TVS Sport is a popular commuter bike, well-received for its reliability, fuel efficiency, and affordable price. It falls under the 100-110 cc segment, making it ideal for daily commuting and short-distance rides. The TVS Sport is powered by a 109.7 cc BS6 engine, which develops a power of 8.18 bhp and a torque of 8.7 Nm. While first launched as a 100cc offering, TVS updated it with a larger 110 cc motor during the BS6 transition. The standard features of the bike include a two-pod instrument cluster and LED DRLs accompanying the conventional bulb-type headlamp. TVS launched the TVS Sport to provide the masses with a budget-friendly and efficient mode of transportation.
You can apply for loan for Sport - KLS BSVI on OTO and receive approval within just 30 minutes. The downpayment and EMI for Sport starts as low as Rs 11734/- and Rs 2577/-.
---
Specs & Features of
TVS Sport KLS BSVI
Ride Comfort

The TVS Sport offers good ride comfort, especially considering its price range. The bike features a comfortable seat, which provides adequate support for short to medium rides. The TVS Sport sports a single-downtube frame fitted with a telescopic fork and twin shocks. The suspension setup does an excellent job of absorbing minor bumps and undulations on the road, ensuring a smoother ride. Whether navigating through pothole-ridden streets or cruising on uneven terrain, the TVS Sport keeps the rider relatively cushioned from jolts and vibrations, contributing to a pleasant overall riding experience.

TVS Sport Maintenance

TVS Sport comes with low maintenance costs. The bike is known for its robust build quality and reliable components, reducing the frequency of repairs and replacements. TVS has an extensive service network, making it convenient for owners to get their bikes serviced and repaired promptly. The engine's accessibility and clear layout make it straightforward for owners to perform basic maintenance tasks, such as oil changes and air filter replacements, without requiring specialized tools or professional assistance. This saves money and empowers owners to take better care of their bikes, leading to increased longevity and optimal performance.

Safety

The TVS Sport prioritizes safety with the inclusion of crucial safety features. Braking is handled by 130 mm front and 110 mm rear drum units, with a Combined Braking System as standard. Additionally, the bike incorporates synchronized braking technology, enhancing overall braking performance and stability. The synchronization of the front and rear brakes optimizes the braking force distribution, significantly reducing the chances of skidding or losing control during emergency braking situations.

Colors Available for TVS Sport

TVS offers the Sport in a variety of appealing color options to cater to different customer preferences. It is available in the following colors: For Self-Start (ELS): 1) Black Blue 2) Black Red 3) White Purple 4) Metallic Blue For Self-Start (ES): 1) All Black 2) All Grey 3) All Red This wide selection allows buyers to choose a color that resonates with their personality, giving them a sense of personalization and individuality when owning the TVS Sport.

Best For

The TVS Sport is best suited for urban commuters and college students seeking an affordable and reliable mode of transportation. Its fuel-efficient engine, low maintenance costs, and comfortable ride make it an ideal choice for daily commuting within the city and nearby areas. Whether commuting to work, running errands, or navigating through city traffic, the TVS Sport excels as a practical and economical choice for those seeking a stress-free daily commuting experience. Moreover, riders who are budget-conscious and seek a cost-effective mode of transportation will appreciate the TVS Sport's affordability and low maintenance costs. Its fuel-efficient engine helps save money on fuel expenses, making it a practical choice for those looking to maximize their savings.

Vehicle Height

The TVS Sport has an average height of approximately 1080 mm and a ground clearance of 175 mm, ensuring a comfortable riding position for most riders. This height strikes a balance between easy accessibility and adequate leg extension. Whether you're a novice rider or an experienced commuter, the TVS Sport's height facilitates easy manoeuvrability, allowing riders to confidently handle the bike in various riding conditions.

Vehicle Weight

Weighing in at around 112 kg, the TVS Sport is a lightweight commuter bike. This makes it agile and nimble in city traffic, allowing riders to manoeuvre easily through congested streets and tight spaces. The bike's light weight enhances its handling characteristics and contributes to better fuel efficiency, making it an economical choice for daily usage.

Seat Length

The seat length of the TVS Sport is around 790 mm, providing sufficient space for the rider and pillion. The slightly elongated seat design contributes to enhanced comfort during extended rides. Whether riding solo or with a pillion, the Sport's seat length offers ample room for a comfortable riding posture, reducing strain on the back and ensuring an enjoyable ride for both the rider and passenger.

Seat Width

The seat width of the TVS Sport is approximately 705 mm, offering ample space for the rider to move around and find a comfortable position. The broad seat design also ensures better weight distribution, adding to the bike's overall stability. Additionally, the contoured seat enhances comfort during long hours of riding, making it an excellent choice for riders looking for a hassle-free and fatigue-free commuting experience.
---
TVS Sport KLS BSVI SHOWROOMS
Preferred
Solar TVS - Nayandahalli
9/1-2, opposite RR NAGAR Arch, Nayandahalli, RR NAGAR
Preferred
Bengaluru Motors - Harlur
Komal Tower 117/115A,2nd Cross Vidya Nagar,Opp SKF,Hosur Main Road ,Bommasandra Industrial Area,Bangalore-560099
Dhancharan TVS - Doddakalsandra
kanakapura road bangalore
Suryaprathap Automobiles - Ramamurthy nagar
No.1, Ramamurthy Nagar Main Road Opp SAIL, next to UNILET Showroom, Bengaluru,
Hemanth TVS - Yehlahanka, New Town
17-9, 10,11 and 12 opp. Railwheel Factory Doddaballapura Road A Sector, Yehlahanka New town
Bridgewell motors LLP
No. 615, Dr Rajkumar Rd, Prakash Nagar, Rajajinagar, Bengaluru, Karnataka
---
FREQUENTLY ASKED QUESTIONS
TVS Sport comes with a on road price of ₹ 81,512 in Bangalore

TVS Sport comes with 3 variants which includes TVS Sport Self Start Alloy Wheel New, TVS Sport Kick Start Alloy Wheel, TVS Sport Self Start Alloy Wheel.

The top variant is TVS Sport Self Start Alloy Wheel which is the best variant

TVS Sport is available in 6 different colours - All Black, All Red, All Grey, Black Blue, Metallic Blue, White Purple.

TVS Sport comes with a mileage of 75 km/l

TVS Sport comes has engine displacement of 99.7cc

TVS Sport has the height of 1.08 m

TVS Sport comes with both self and kick start

The Top compeitors for TVS Sport are Honda CD 110 Dream, Hero Super Splendor, Hero Passion Pro BS6, TVS Radeon, Honda SP 125, Hero Glamour BS6, Bajaj CT 125X, Hero Splendor Plus, Hero HF Deluxe and Honda Livo

It has been designed to be easy to ride, as well as durable. It also has a lot of features that make it easy for you to use. It might not be the best option if you are looking for speed or comfort, but it is still an excellent choice.

Yes, you can avail loan for TVS Sport on OTO. OTO offer competitive discounts and 35% lower EMI which makes it easy for you as a customer to purchase your dream bike.

For TVS Sport it takes approximately 30 minutes for the application to be approved once you have provided all the required details.