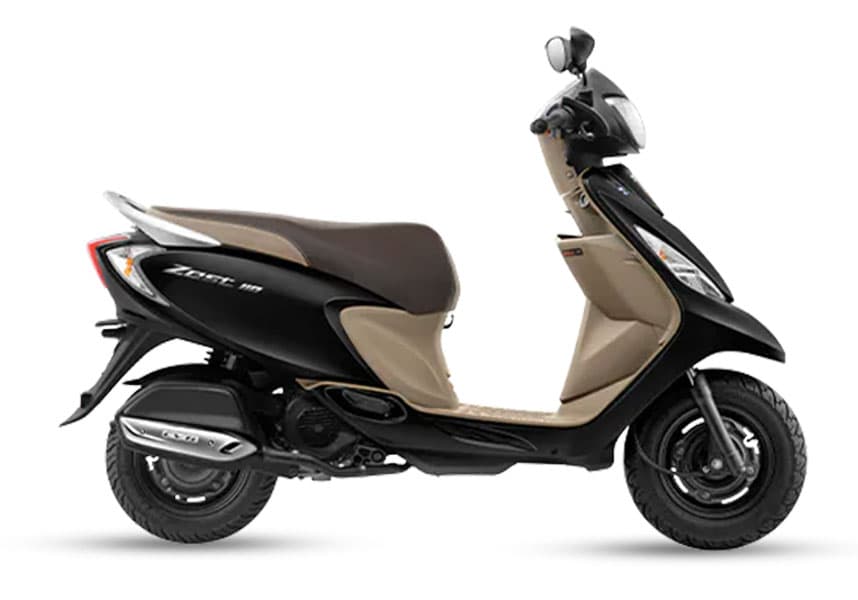 right side view
---
---
TVS Scooty Zest Std Colors
TVS Scooty Zest Variants with Price
On-road Price
Apply for Loan
---
---
---
Overview of
TVS Scooty Zest Std
| | |
| --- | --- |
| Mileage | 48 kmpl |
| Displacement | 110 cc |
| Max Power | 7.71 bhp @ 7500 rpm |
| Max Torque | 8.8 Nm @ 5500 rpm |
| Braking Type | Synchronised Braking Technology |
| Starting | Kick and Self Start |
| ABS | No |
| Speedometer | Analogue |
| Range | None Km/Charge Km/Charge |
| Charging Time | None Kmph Hours |
| Top Speed | None Hours Kmph |
---
The TVS Scooty Zest, a stylish and performance-packed scooter designed to elevate your riding experience to new heights. Under the hood, this beauty boasts a robust SINGLE CYLINDER, 4 STROKE, AIR COOLED SPARK IGNITION SYSTEM, with a displacement of 109.7 cc. Get ready to feel the power of the road as the Scooty Zest delivers a torque of 8.8Nm @ 5500 rpm and a mighty 5.75kW @ 7500 rpm of power, ensuring an exhilarating ride every time you hit the throttle. Beyond its impressive engine, the Scooty Zest flaunts captivating features that catch the eye. The finese premium 3D logo adds a touch of sophistication and elegance, setting it apart from the crowd. The scooter embraces modernity with an LED Tail lamp, not only enhancing visibility but also adding a distinct flair to its design. One of the most remarkable features is the ETFI technology (Ecothrust Fuel Injection), which takes performance and efficiency to a whole new level. Get ready to experience enhanced overall performance across startability, rideability, power, and mileage. In fact, you can revel in the joy of achieving 15% more mileage, making every journey more cost-effective and eco-friendly.
You can apply for loan for Scooty Zest - Std on OTO and receive approval within just 30 minutes. The downpayment and EMI for Scooty Zest starts as low as Rs 13392/- and Rs 2941/-.
---
Specs & Features of
TVS Scooty Zest Std
Ride Comfort

One of the key contributors to its smooth ride is the carefully designed suspension system. At the front, the Telescopic suspension effortlessly absorbs bumps and undulations on the road, ensuring a stable and comfortable ride even on uneven terrains. The Telescopic suspension enhances the scooter's maneuverability, allowing riders to navigate through city traffic with ease and grace. At the rear, the Double Rated Hydraulic Mono Shock further enhances the scooter's stability and comfort. This advanced suspension setup ensures that the rear wheel maintains constant contact with the road, reducing vibrations and providing a plush ride experience. In addition to its exceptional suspension, the Scooty Zest features an easy center stand that is engineered for convenience. With a 30% reduction in effort, putting the scooter on the center stand becomes a breeze.

TVS Scooty Zest Boot Space

The 19-liter boot space is a standout feature, offering ample room to carry various belongings securely. Whether it's your daily essentials, groceries, or a small backpack, the Scooty Zest provides enough space to accommodate your needs, making it an ideal choice for urban commuters and those who need to carry their belongings on the go.

TVS Scooty Zest Leg Space

With sufficient leg space, the Scooty Zest enables riders to stretch their legs comfortably, reducing fatigue and enhancing the overall riding experience. This unrestricted movement enhances comfort and helps riders maintain a relaxed and natural riding posture.

TVS Scooty Zest Maintenance

The TVS Scooty Zest sets a benchmark in customer-centric maintenance with its exceptional service and warranty offerings. The Scooty Zest comes with a 5-year warranty at no additional cost. This warranty coverage provides peace of mind to owners, ensuring that the scooter is protected against manufacturing defects and related issues for an extended period. The first service is scheduled between 500-750 kilometers or within 1 month from the date of sale, whichever comes first. The second service is due at 2500-3000 kilometers or within 3 months from the date of sale. The third service is scheduled between 5000-6000 kilometers or within 6 months from the date of sale.

Safety

When it comes to safety, the TVS Scooty Zest makes no compromises, equipping riders with an array of features to ensure a secure and stable riding experience. One of the key safety highlights is the Parking Brake, which plays a vital role in facilitating easy stoppage. This feature enables riders to park the scooter securely, especially on inclined surfaces or in tight parking spaces. Enhancing the safety quotient further are the Antiskid Tubeless Tyres. The Scooty Zest comes equipped with 90/100 - 10 tubeless front and 90/90 - 10 tubeless rear tyres, ensuring exceptional grip on the road. These wider tyres provide enhanced stability and reduce the risk of skidding, even during sudden braking or navigating through slippery surfaces. The Scooty Zest also boasts SBT braking (Synchronized Braking Technology), a cutting-edge safety feature. The SBT braking system ensures safe and efficient stability during braking by intelligently synchronizing the application of both front and rear brakes.

Colors Available for TVS Scooty Zest

The TVS Scooty Zest comes in an array of captivating colors, allowing riders to choose a shade that perfectly matches their style and personality. 1. Matte Black 2. Matte Blue 3. Purple 4. Turquoise Blue With these four appealing color options, the TVS Scooty Zest ensures that riders can express their individuality and personal taste while cruising through city streets.

Best For

The TVS Scooty Zest is a scooter that is exceptionally well-suited for female riders. Its design, features, and performance make it an ideal choice for female riders seeking a convenient and empowering two-wheeled companion. Its compact design and lightweight construction make it easy to handle and maneuver, especially in city traffic and tight spaces. Its user-friendly nature ensures that female riders can confidently navigate through busy streets with grace and ease.

Vehicle Height

With a height of 1139 mm and a ground clearance of 150 mm, the Scooty Zest falls within the category of a compact and easy-to-handle scooter. This moderate height allows riders to maintain a commanding view of the road, ensuring a confident and safe riding experience.

Vehicle Weight

With a weight of 103 kg, the Scooty Zest strikes a balance between being lightweight and providing stability. This optimal weight distribution enhances the scooter's maneuverability and makes it easy to handle, especially during city commuting and tight turns.

Seat Length

The seat height of 760 mm ensures a comfortable and accessible seating position for riders of varying heights. This balanced seat height allows riders to easily reach the ground with their feet, contributing to better stability and confidence while stopping or at low speeds.

Seat Width

The seat width of 660 mm provides adequate space for riders to sit comfortably. The wider seat offers ample support and allows for better weight distribution, ensuring a relaxed and fatigue-free ride during long journeys.
---
USER REVIEWS & RATINGS OF
Brand Rating
(4 Ratings, 1 Reviews)
---
1 month ago
|
Using this from > 1 Year
The scooter is the best budget friendly scooter for daily commute with decent amount of mileage for daily commute. But it offers excellent riding experience and comfort.
Was this review helpful ?
---
TVS Scooty Zest Std SHOWROOMS
Preferred
Solar TVS - Nayandahalli
9/1-2, opposite RR NAGAR Arch, Nayandahalli, RR NAGAR
Preferred
Bengaluru Motors - Harlur
Komal Tower 117/115A,2nd Cross Vidya Nagar,Opp SKF,Hosur Main Road ,Bommasandra Industrial Area,Bangalore-560099
Dhancharan TVS - Doddakalsandra
kanakapura road bangalore
Suryaprathap Automobiles - Ramamurthy nagar
No.1, Ramamurthy Nagar Main Road Opp SAIL, next to UNILET Showroom, Bengaluru,
Hemanth TVS - Yehlahanka, New Town
17-9, 10,11 and 12 opp. Railwheel Factory Doddaballapura Road A Sector, Yehlahanka New town
Bridgewell motors LLP
No. 615, Dr Rajkumar Rd, Prakash Nagar, Rajajinagar, Bengaluru, Karnataka
---
FREQUENTLY ASKED QUESTIONS
The TVS Scooty Zest is a reliable and lightweight scooter, well-suited for urban commuting. Its peppy engine, comfortable ride, and compact design make it easy to maneuver through traffic. With decent fuel efficiency and a user-friendly nature, it's a good choice for those seeking a practical and efficient city scooter.

TVS Scooty Zest comes with a price point of ₹ 91,419 in Bangalore

TVS Scooty Zest is offered in 2 variants - Gloss and the top variant Scooty Zest Matte Series

The top variant is TVS Scooty Zest Matte Series which comes at a price tag of Rs. 74,713.

TVS Scooty Zest is available in 4 different colours - Matte Blue, Turquoise Blue, Matte Black, Purple.

The mileage of TVS Scooty Zest is 48 km/l

TVS Scooty Zest comes with engine displacement of 109.7 cc

The exact height of TVS Scooty Zest is 1.139 m

TVS Scooty Zest comes with both Kick start and Self start option

The Top compeitors for TVS Scooty Zest are Honda Dio, Honda Activa 6G, Hero Destini 125 XTEC, TVS Jupiter and Honda Activa 125

Yes, you can avail loan for TVS Scooty Zest on OTO. OTO offer competitive discounts and 35% lower EMI which makes it easy for you as a customer to purchase your dream bike.

For TVS Scooty Zest it takes approximately 30 minutes for the application to be approved once you have provided all the required details.