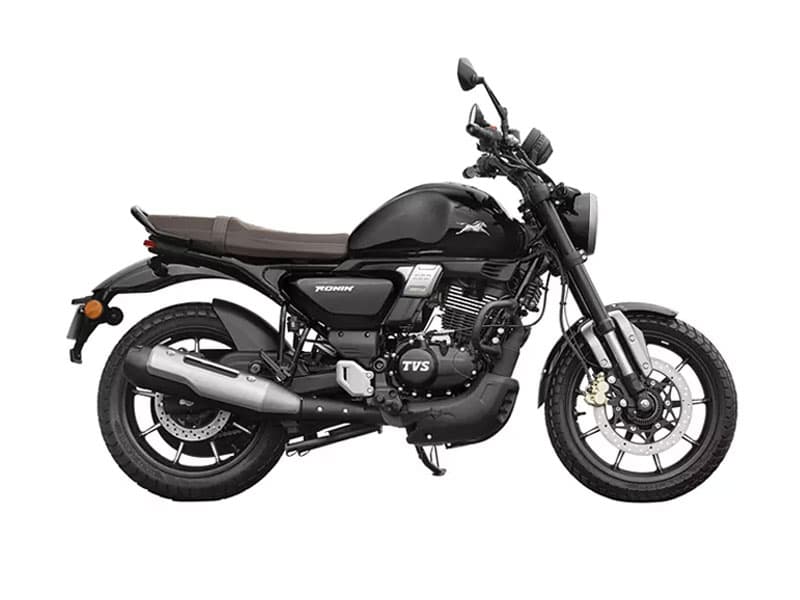 image
---
TVS Ronin
SS - Single Channel ABS
---
TVS Ronin SS - Single Channel ABS Colors
TVS Ronin Variants with Price
On-road Price
Apply for Loan
---
---
---
Overview of
TVS Ronin SS - Single Channel ABS
| | |
| --- | --- |
| Mileage | 40 kmpl |
| Displacement | 225.9 cc |
| Max Power | 20.12 bhp @ 7750 rpm |
| Max Torque | 10.5 Nm @ 5500 rpm |
| Braking Type | Single Channel ABS |
| Starting | Kick and Self Start |
| ABS | No |
| Speedometer | Digital |
---
About
TVS Ronin SS - Single Channel ABS
The TVS Ronin is a powerful and stylish two-wheeler, embodying the essence of a modern-day cruiser motorcycle. Introduced by TVS Motor Company, this bike combines classic design elements with cutting-edge technology, offering riders a unique blend of performance, style, and comfort. The TVS Ronin is powered by a 225.9cc BS6 engine which develops a power of 20.1 bhp and a torque of 19.93 Nm and has a fuel tank capacity of 14 liters. The new Ronin 225 is TVS Motor's first-ever neo-retro scrambler-style motorcycle. The feature list on TVS Ronin includes full-LED lighting, an asymmetrically-mounted LCD instrument cluster with TVS SmartXonnect Bluetooth module, two ABS modes – Rain and Road, a slipper clutch, and the Glide Through Technology. Meanwhile, the styling cues comprise a round headlight, a curvy fuel tank, a single-piece seat, an engine cowl, alloy wheels, and a side-slung exhaust. The Ronin stands out with its striking aesthetics, imposing stance, and roaring engine, making it a captivating choice for motorcycle enthusiasts.
You can apply for loan for Ronin - SS - Single Channel ABS on OTO and receive approval within just 30 minutes. The downpayment and EMI for Ronin starts as low as Rs 28849/- and Rs 6336/-.
---
Specs & Features of
TVS Ronin SS - Single Channel ABS
Ride Comfort

You can feel the thoughtful ergonomics at play when you settle into its saddle. With its generous length and width, the well-crafted seat provides an excellent riding position, reducing fatigue during extended rides. Whether embarking on a solo adventure or cruising with a pillion, the Ronin's spacious seat accommodates the rider and passenger comfortably. Additionally, the suspension system is well-tuned to ensure a plush ride. The hardware comprises upside-down front forks, a 7-step preload-adjustable mono-shock, a 300 mm disc at the front, and a 240 mm rotor at the back. This adaptability enhances the riding experience, making the Ronin suitable for smooth highways and rough terrains.

TVS Ronin Maintenance

Owning a TVS Ronin is a delightful experience, thanks to its low-maintenance design. TVS Motor Company has engineered the bike with reliable components and advanced technology, ensuring it runs efficiently and remains durable. The heart of the Ronin is its well-engineered engine, which incorporates cutting-edge technology to optimize fuel efficiency and minimize wear and tear. Riders can confidently take on long journeys without worrying about frequent stops for refuelling. Moreover, the company's widespread service network is a boon for Ronin owners. Whether in the heart of the city or exploring remote regions, you can find a TVS service center nearby, providing prompt and reliable service. Genuine spare parts are readily available, ensuring the Ronin remains in top-notch condition throughout its lifespan.

Safety

Safety is of paramount importance in the TVS Ronin's design. The bike comes equipped with a comprehensive set of safety features to protect the rider and ensure a secure journey. One standout safety feature is the presence of disc brakes on both the front and rear wheels, providing responsive and reliable stopping power. An Anti-lock Braking System (ABS) further enhances braking control, preventing wheel lock-ups during sudden stops or slippery road conditions. The Ronin's robust chassis and well-engineered structure offer excellent stability, even during high-speed manoeuvres. This stability inspires confidence in the rider, allowing them to focus on the thrill of the journey without compromising on safety. The bike's powerful headlamp ensures ample illumination on dark roads, enhancing visibility and reducing the chances of mishaps during nighttime rides.

Colors Available for TVS Ronin

TVS Ronin offers various vibrant and attractive color options to match every rider's taste. TVS Ronin is available in 6 color options: Magma Red Lightning Black Delta Blue Stargaze Black Galactic Grey Dawn Orange Each shade complements the bike's design, enhancing its visual appeal on the roads and allowing riders to express their individuality.

Best For

The TVS Ronin is best suited for adventurous souls seeking performance and style in their motorcycles. Whether you're a seasoned rider or an enthusiast longing for memorable weekend getaways, the Ronin has you covered. Its powerful engine and comfortable ergonomics make long-distance cruising a breeze, allowing riders to embrace the thrill of the open road with unmatched excitement. Whether roaring through city streets or cruising on scenic highways, the bike garners attention and admiration wherever it goes. The TVS Ronin is more than just a motorcycle; it's a statement of individuality and a symbol of freedom.

Vehicle Height

The TVS Ronin boasts an imposing stance with a tall and commanding vehicle height of 1170 mm and ground clearance of 181 mm. This adds to the bike's visual appeal and contributes to better road visibility, ensuring that riders have a clear view of the surroundings. The elevated height and comfortable seat provide an enhanced riding experience, instilling confidence in the rider.

Vehicle Weight

Despite its commanding presence, the TVS Ronin manages to strike a balance in weight, weighing around 160 kg. The bike's clever engineering and use of lightweight materials result in a nimble and agile ride. Manoeuvring through traffic and tackling tight corners become effortless, making it suitable for urban commuting and adventurous trips.

Seat Length

The TVS Ronin boasts a seat of around 795 mm that comfortably accommodates both the rider and pillion. The elongated seat length ensures ample space for riders to adjust their position during long rides, reducing fatigue. Additionally, the well-padded seat provides adequate cushioning, making extended journeys enjoyable for the rider and the passenger.

Seat Width

The TVS Ronin strikes the perfect balance between seat width and rider control. The seat is 805 mm wide to accommodate the rider comfortably, providing support and promoting a relaxed posture. At the same time, it's designed to allow easy foot placement on the ground, ensuring riders of different heights can confidently handle the bike at stops.
---
TVS Ronin SS - Single Channel ABS SHOWROOMS
Preferred
Solar TVS - Nayandahalli
9/1-2, opposite RR NAGAR Arch, Nayandahalli, RR NAGAR
Preferred
Bengaluru Motors - Harlur
Komal Tower 117/115A,2nd Cross Vidya Nagar,Opp SKF,Hosur Main Road ,Bommasandra Industrial Area,Bangalore-560099
Dhancharan TVS - Doddakalsandra
kanakapura road bangalore
Suryaprathap Automobiles - Ramamurthy nagar
No.1, Ramamurthy Nagar Main Road Opp SAIL, next to UNILET Showroom, Bengaluru,
Hemanth TVS - Yehlahanka, New Town
17-9, 10,11 and 12 opp. Railwheel Factory Doddaballapura Road A Sector, Yehlahanka New town
Bridgewell motors LLP
No. 615, Dr Rajkumar Rd, Prakash Nagar, Rajajinagar, Bengaluru, Karnataka
---
FREQUENTLY ASKED QUESTIONS
TVS Ronin has a price point of ₹ 1,95,380 in Bangalore

TVS Ronin 125 is available in three variants – Single Seat, Split Seat, and SmartXonnect.

The top variant TVS Ronin Dual comes at a price tag of Rs. 78,834.

TVS Ronin available colors are Striking Red, Blazing Blue, Wicked Black and Fiery Yellow.

The mileage of TVS Ronin is 67 kmpl.

The TVS Ronin is powered by 124.8cc engine.

The height of TVS Ronin is 1.028 m

TVS Ronin is equipped with self start only.

The Top compeitors for TVS Ronin 125 are Honda Shine, Honda SP 125, Hero Xtreme 160R BS6, Yamaha FZ FI V3 and Hero Splendor Plus

The raider 125 comes with a well-built and reliable engine that delivers a smooth and efficient performance.

Yes, you can avail loan for TVS Ronin on OTO. OTO offer competitive discounts and 35% lower emi which makes it easy for you as a customer to purchase your dream bike.

For TVS Ronin it takes approximately 30 minutes for the application to be approved once you have provided all the required details.