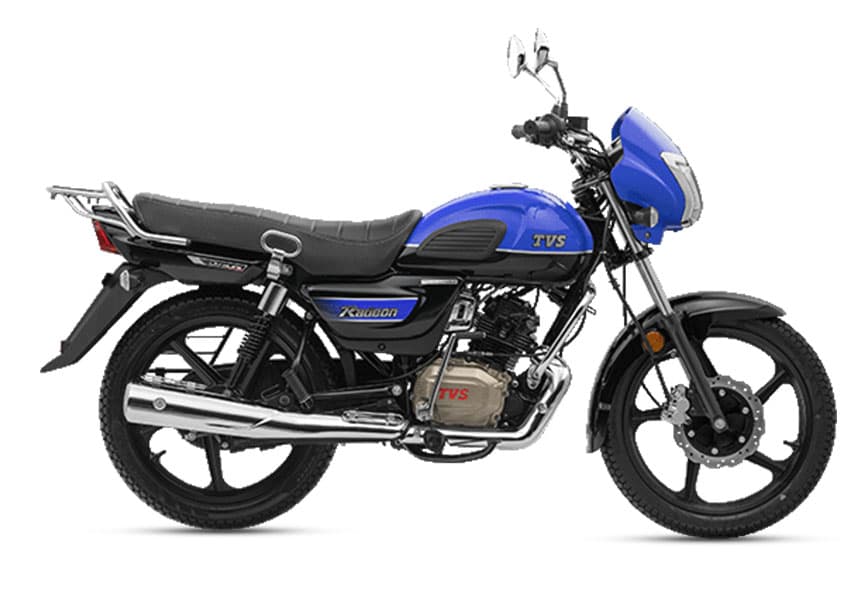 right side view
---
TVS Radeon
Dual Tone Drum
---
TVS Radeon Dual Tone Drum Colors
TVS Radeon Variants with Price
On-road Price
Apply for Loan
---
---
---
Overview of
TVS Radeon Dual Tone Drum
| | |
| --- | --- |
| Mileage | 65 kmpl |
| Displacement | 110 cc |
| Max Power | 8.08 bhp @ 7,350 rpm |
| Max Torque | 8.7 Nm @ 4,500 rpm |
| Braking Type | Synchronized Braking Technology |
| Starting | Kick and Self Start |
| ABS | No |
| Speedometer | Analogue |
---
About
TVS Radeon Dual Tone Drum
The TVS Radeon showcases a perfect fusion of timeless design and contemporary features. The bike's retro styling, chrome embellishments, classic graphics, and rounded headlamp remind you of the golden era of motorcycling. The TVS Radeon is powered by a 109.7cc BS6 engine, which develops a power of 8.08 bhp, a torque of 8.7 Nm, and a fuel capacity of 10 liters. Powering the TVS Radeon is a Duralife engine designed for optimal fuel efficiency without compromising performance. The TVS Radeon has an instrument cluster with an analog speedometer and a fuel gauge. As for the electrical system, the Radeon is fitted with conventional halogen bulbs for the headlamp and the taillamp. There is an LED DRL positioned right below the headlamp. The bike's 4-speed gearbox delivers smooth and precise gear shifts, enhancing the overall riding experience. Crafted by TVS Motors, this commuter bike exudes a unique blend of classic charm and modern practicality.
You can apply for loan for Radeon - Dual Tone Drum on OTO and receive approval within just 30 minutes. The downpayment and EMI for Radeon starts as low as Rs 13359/- and Rs 2934/-.
---
Specs & Features of
TVS Radeon Dual Tone Drum
Ride Comfort

Ride comfort is where the TVS Radeon truly shines. Its ergonomics are thoughtfully designed, featuring a well-cushioned single-piece seat that comfortably accommodates both the rider and pillion. The upright riding position ensures minimal strain on the back and shoulders, making it an ideal choice for long hours on the road. Whether weaving through city traffic or embarking on longer journeys, the TVS Radeon's plush suspension system, comprising telescopic oil damped at the front and 5-step adjustable hydraulic suspension at the rear, easily absorbs road undulations, delivering a smooth and stable ride.

TVS Radeon Maintenance

Low maintenance costs are a crucial consideration for budget-conscious riders when choosing a commuter bike. The TVS Radeon excels in this regard, requiring minimal attention for routine upkeep. Simple tasks like oil changes, chain adjustments, and filter replacements can be easily performed by riders themselves, reducing the need for frequent visits to service centers. TVS Motors' extensive service network ensures that spare parts are readily available, further streamlining maintenance. Additionally, the TVS Radeon's Duralife engine is engineered to withstand wear and tear, resulting in enhanced durability and longevity. This not only translates to reduced maintenance costs but also enhances the bike's resale value over time.

Safety

Safety takes precedence in the design of the TVS Radeon, making it a commendable choice for riders conscious of road safety. The bike is equipped with a Synchronized Braking System (SBS), which ensures effective braking by applying both front and rear brakes simultaneously. This feature enhances stability and control during sudden braking situations, significantly reducing the chances of skidding or losing balance. The Radeon also comes with tubeless tires that offer better grip and reduce the risk of instant deflation in the case of punctures. Additionally, the bike's bright halogen headlamp ensures excellent visibility during night rides, adding an extra layer of safety. In addition to these safety features, the TVS Radeon's sturdy build and stable handling inspire confidence, allowing riders to navigate through various road conditions with ease.

Colors Available for TVS Radeon

The TVS Radeon offers a wide array of colors to cater to different tastes and preferences. Here are the color options available for each edition: I. Digi Cluster Edition 1) T Blue Black 2) DT Red Black 3) Black II. Base Edition 1) Starlight Blue 2) Metal Black 3) Royal Purple 4) Titanium Grey This range of choices allows riders to express their individuality on the road, adding a personal touch to their daily commute.

Best For

The TVS Radeon is best suited for urban and suburban commuters seeking an efficient and affordable means of transportation. It caters to riders of all ages and experience levels, making it an excellent choice for daily office commutes, college-goers, and new riders looking for a reliable delivery vehicle. Its user-friendly features and lightweight construction also make it an attractive option for all kinds of riders instilling confidence in their riding abilities.

Vehicle Height

With a comfortable height of approximately 1080 mm and ground clearance of 180 mm, the TVS Radeon ensures that riders can easily place their feet on the ground while stationary, promoting stability and control. This feature is particularly valuable for city commuting, where frequent stops and starts require ease of maneuvering. Moreover, the apt height makes it accessible for riders of varying heights, appealing to a broader audience.

Vehicle Weight

Weighing around 113 kg, the TVS Radeon strikes an excellent balance between agility and stability, offering a nimble and confident ride. The lightweight construction contributes to easy handling, allowing riders to navigate traffic-congested streets and sharp turns effortlessly. Despite its lightness, the bike feels planted on the road, providing a sense of reassurance and comfort even during extended rides.

Seat Length

The TVS Radeon features a well-designed seat with a height of approximately 780 mm, providing ample space for both the rider and pillion. The carefully contoured seat enhances comfort during long rides, reducing fatigue and ensuring an enjoyable experience for the rider and their companion. The extended seat adds to the bike's practicality, enabling riders to carry light luggage or groceries comfortably, making it an ideal companion for daily errands and short getaways.

Seat Width

With a comfortable seat width of approximately 705 mm, the TVS Radeon easily accommodates riders of various sizes, further enhancing the bike's versatility. The spacious seat ensures a relaxed posture for both the rider and pillion, eliminating feelings of confinement and adding to overall ride comfort. Whether riding solo or with a passenger, the TVS Radeon makes every journey an enjoyable and smooth experience.
---
TVS Radeon Dual Tone Drum SHOWROOMS
Preferred
Solar TVS - Nayandahalli
9/1-2, opposite RR NAGAR Arch, Nayandahalli, RR NAGAR
Preferred
Bengaluru Motors - Harlur
Komal Tower 117/115A,2nd Cross Vidya Nagar,Opp SKF,Hosur Main Road ,Bommasandra Industrial Area,Bangalore-560099
Dhancharan TVS - Doddakalsandra
kanakapura road bangalore
Suryaprathap Automobiles - Ramamurthy nagar
No.1, Ramamurthy Nagar Main Road Opp SAIL, next to UNILET Showroom, Bengaluru,
Hemanth TVS - Yehlahanka, New Town
17-9, 10,11 and 12 opp. Railwheel Factory Doddaballapura Road A Sector, Yehlahanka New town
Bridgewell motors LLP
No. 615, Dr Rajkumar Rd, Prakash Nagar, Rajajinagar, Bengaluru, Karnataka
---
FREQUENTLY ASKED QUESTIONS
For TVS Radeon it takes approximately 30 minutes for the application to be approved once you have provided all the required details.

TVS Radeon has a price point of Rs. 87,820 in Bangalore

TVS Radeon comes with 3 variants which includes TVS Radeon Base Edition BS6, TVS Radeon Dual Tone Edition Drum, TVS Radeon Dual Tone Edition Disc.

The top variant TVS Radeon Dual Tone Edition Disc which comes at a price tag of Rs. 78,834.

TVS Radeon is available in 7 colour options: Metal Black, Royal Purple, Titanium Grey, Blue and Black, Red and Black, Starlight Blue, Black.

The mileage of TVS Radeon is 69.3 kmpl.

The TVS Radeon is powered by 109.7cc engine.

The height of TVS Radeon is 1.08 m

TVS Radeon is equipped with kick and self start.

Competitors of TVS Radeon are Hero Splendor Plus, Honda Shine, Hero HF Deluxe and Hero Passion Pro

TVS Radeon is a very comfortable and very high-performance bike. Its build quality is so good and no vibration, very good mileage and its pickup are so good.

Yes, you can avail loan for TVS Radeon on OTO. OTO offer competitive discouns and 35% lower emi which makes it easy for you as a customer to purchase your dream bike.