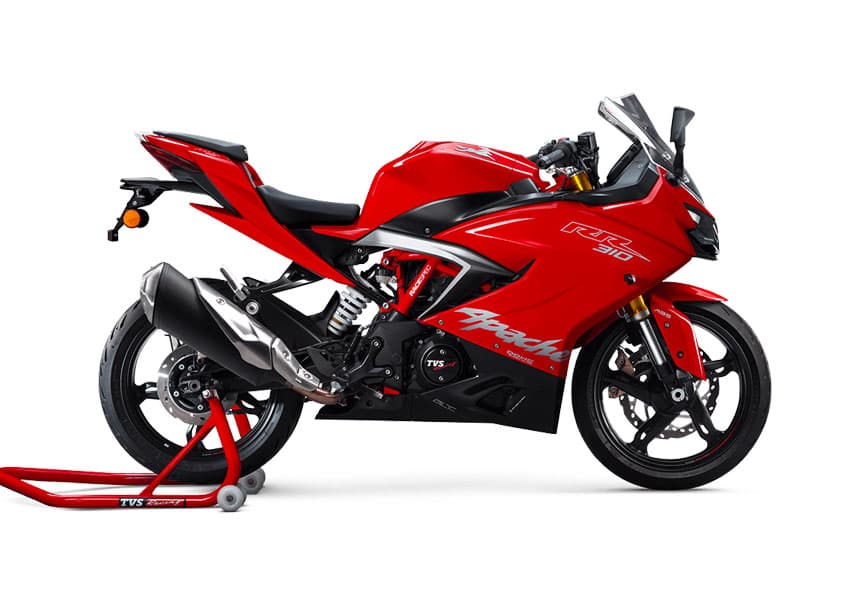 image
---
---
TVS Apache RR 310 Std Colors
TVS Apache RR 310 Variants with Price
On-road Price
Apply for Loan
---
---
---
Overview of
TVS Apache RR 310 Std
| | |
| --- | --- |
| Mileage | 30 kmpl |
| Displacement | 312 cc |
| Max Power | 33.5 bhp @ 9,700 rpm |
| Max Torque | 27.05 Nm |
| Braking Type | Dual Channel ABS |
| Starting | Kick and Self Start |
| ABS | Yes |
| Speedometer | Digital |
---
About
TVS Apache RR 310 Std
The TVS Apache RR 310 is a cutting-edge masterpiece that seamlessly blends power, precision, and innovation to redefine the realm of sport motorcycles. At its core lies a dynamic SI 4-stroke, 4-valve, single-cylinder engine, a true embodiment of engineering excellence. The engine capacity of 312.2 cc forms the very essence of raw power, offering a thrilling ride that resonates with the spirit of adventure. In Sport and Track modes, it roars with a commanding 25 kW (34 PS) at 9700 engine rpm, unleashing a torrent of power that ignites the senses. For urban journeys and rainy escapades, the Urban and Rain modes gracefully adapt, delivering a composed 19 kW (25.8 PS) at 7600 engine rpm, perfectly attuned to the environment. Inspired by the fearsome aura of the ocean's apex predator, the Shark, the Apache RR 310's bodywork is a symphony of artistry and function. Its advanced aerodynamics carve a path through the air, minimizing resistance and maximizing stability, ensuring an effortless glide through even the most challenging terrain. The bi-LED twin projector headlamps illuminate the way forward with unwavering clarity, casting a powerful beam that transforms the night into day.
You can apply for loan for Apache RR 310 - Std on OTO and receive approval within just 30 minutes. The downpayment and EMI for Apache RR 310 starts as low as Rs 51425/- and Rs 11295/-.
---
Specs & Features of
TVS Apache RR 310 Std
Ride Comfort

The heart of this comfort lies within its meticulously crafted trellis frame and split chassis, a marriage of structural rigidity and agility that forms the foundation for an exceptional riding experience. The front suspension of the Apache RR 310 features an inverted cartridge telescopic fork, a technological marvel that absorbs road imperfections with finesse, delivering a plush and controlled ride. At the rear, the TVS Apache RR 310 boasts a two-arm aluminum die-cast swingarm coupled with a monotube floating piston gas-assisted shock absorber. This sophisticated combination ensures impeccable rear-wheel control and responsiveness, translating into a smooth and harmonious ride.

TVS Apache RR 310 Maintenance

The Apache RR 310 comes equipped with a helpful guiding sticker on the swing arm. This indicator offers insight into the appropriate amount of slack in the chain while the motorcycle is resting on its side stand. It's essential to adhere to this recommended level, as proper chain tension is pivotal for efficient power transmission and the overall riding experience. When initiating maintenance, employ a paddock stand to elevate the rear wheel off the ground. Before proceeding, ensure that the gear is set to neutral, allowing the rear wheel to move freely without engaging the engine. This precautionary step prevents accidental movement and safeguards against potential mishaps during maintenance. A pivotal aspect of maintenance involves cleaning and lubricating the chain. While performing this task, exercise caution and never utilize the engine's power to rotate the rear wheel. Engaging the engine's power could lead to serious injuries if fingers get caught between the chain and sprocket.

Safety

At the forefront of its safety arsenal are the front and rear disc brakes, designed with precision to ensure robust stopping power. The 300mm petal-type front disc and the 240mm petal-type rear disc combine to create a harmonious symphony of controlled deceleration, empowering the rider with the ability to swiftly and securely bring the motorcycle to a halt. Integral to its safety prowess is the Anti-lock Braking System (ABS), a technology that serves as a guardian angel during critical moments on the road. The TVS Apache RR 310 takes safety a step further by offering three distinct ride modes, each tailored to match specific riding conditions. This innovative feature allows the rider to adapt the motorcycle's performance characteristics to suit varying environments. Whether you're navigating congested city streets, cruising along highways, or embracing the thrill of spirited riding, these ride modes enable you to optimize braking and handling responses to your preference and the prevailing circumstances.

Colors Available for TVS Apache RR 310

The TVS Apache RR 310 offers a striking visual identity with its captivating color options: 1. Titanium Black 2. Racing Red Riders have the opportunity to choose from these two distinct and appealing shades that enhance the motorcycle's aesthetics and individuality.

Best For

Riders who have a penchant for speed, precision, and agile handling will find the TVS Apache RR 310 to be a thrilling companion. Its sporty design, powerful engine, and responsive dynamics make it an ideal choice for those who relish the excitement of spirited riding, whether on twisty roads or track days. Moreover, For riders who enjoy embarking on long journeys, the Apache RR 310 offers a good blend of performance and comfort. Its ergonomic design and advanced features provide a pleasant experience during extended rides, making it an appealing choice for those seeking adventure on the open road.

Vehicle Height

The well-balanced vehicle height of 1135 mm with a ground clearance of 180 mm provides riders with a commanding and confident stance on the road. This height strikes a perfect balance between a comfortable ride and superior visibility, ensuring that riders can easily navigate through traffic, corners, and diverse road conditions with poise.

Vehicle Weight

The precisely engineered weight of 174 kg plays a crucial role in enhancing its agility, stability, and overall handling prowess. This balanced weight distribution allows for precise cornering, responsiveness, and a seamless connection between the rider and the motorcycle, contributing to an exhilarating and controlled riding experience.

Seat Length

The thoughtfully designed seat length of 810 mm offers a comfortable and supportive perch for riders of varying heights. This ensures that riders can enjoy extended journeys without feeling fatigued or uncomfortable.

Seat Width

The generous seat width of 786 mm enhances rider comfort and provides ample space for movement, allowing riders to easily adjust their position during rides.
---
TVS Apache RR 310 Std SHOWROOMS
Preferred
Solar TVS - Nayandahalli
9/1-2, opposite RR NAGAR Arch, Nayandahalli, RR NAGAR
Preferred
Bengaluru Motors - Harlur
Komal Tower 117/115A,2nd Cross Vidya Nagar,Opp SKF,Hosur Main Road ,Bommasandra Industrial Area,Bangalore-560099
Dhancharan TVS - Doddakalsandra
kanakapura road bangalore
Suryaprathap Automobiles - Ramamurthy nagar
No.1, Ramamurthy Nagar Main Road Opp SAIL, next to UNILET Showroom, Bengaluru,
Hemanth TVS - Yehlahanka, New Town
17-9, 10,11 and 12 opp. Railwheel Factory Doddaballapura Road A Sector, Yehlahanka New town
Bridgewell motors LLP
No. 615, Dr Rajkumar Rd, Prakash Nagar, Rajajinagar, Bengaluru, Karnataka
---
FREQUENTLY ASKED QUESTIONS
TVS Apache RR310 price in Bangalore starts from Rs. 3,45,289

TVS Apache RR310 is offered only in 1 variant - TVS Apache RR 310 ABS

TVS Apache RR 310 ABS is the only variant and the best one.

TVS Apache RR 310 is available in 2 different colours - Titanium Black, Racing Red.

The mileage of TVS Apache RR 310 is 34.45 kmpl.

The TVS Apache RR310 is powered by 312.2cc engine.

The height TVS Apache RR310 is 1.135 m

TVS Apache RR310 comes wth self start only.

The Top competitors for TVS Apache RR 310 are Honda CB300R, Royal Enfield Interceptor 650, Royal Enfield Continental GT 650, KTM RC 390, BMW G 310 RR, Honda CB300F, Bajaj Dominar 400, KTM RC 200, Husqvarna Svartpilen 250, Husqvarna Vitpilen 250.

The Apache RR310 is the flagship motorcycle from TVS. It has several positives such as decently comfortable riding ergonomics, a bunch of modern features and good ride quality and handling. The main highlight of the motorcycle is the BMW-sourced engine which is potent enough for aggressive riding while being tractable for riding in the city.

For TVS Apache RR 310 it takes approximately 30 minutes for the application to be approved once you have provided all the required details.

Yes, you can avail loan for TVS Apache RR 310 on OTO. OTO offer competitive discouns and 35% lower emi which makes it easy for you as a customer to purchase your dream bike.