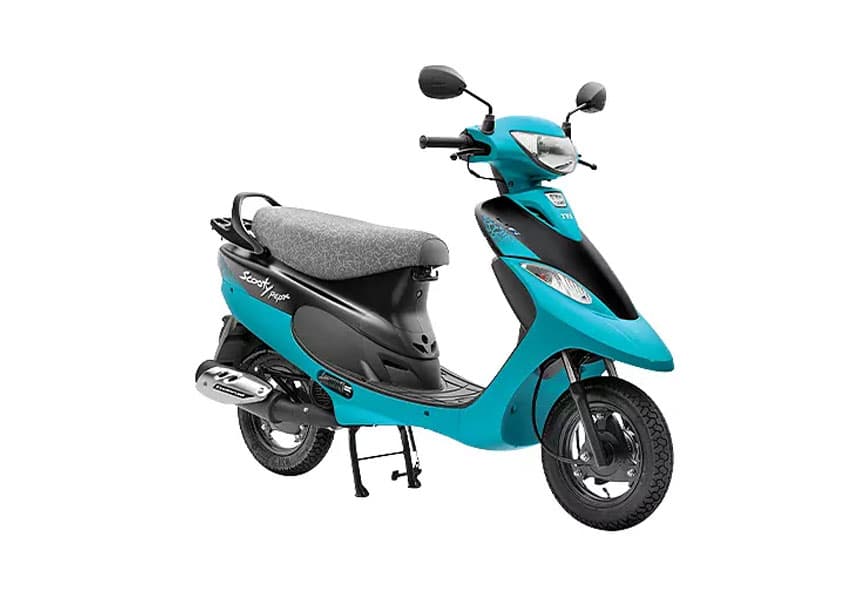 image
---
---
TVS Scooty Pep + SBT Colors
TVS Scooty Pep + Variants with Price
On-road Price
Apply for Loan
---
---
---
Overview of
TVS Scooty Pep + SBT
| | |
| --- | --- |
| Mileage | 50 kmpl |
| Displacement | 87 cc |
| Max Power | 5.36 bhp @ 6500 rpm |
| Max Torque | 6.5 Nm @ 3500 rpm |
| Braking Type | Synchronised Braking Technology |
| Starting | Kick and Self Start |
| ABS | No |
| Speedometer | Analogue |
| Range | None Km/Charge Km/Charge |
| Charging Time | None Kmph Hours |
| Top Speed | None Hours Kmph |
---
About
TVS Scooty Pep + SBT
The TVS Scooty Pep + is a stylish and contemporary scooter that caters to the urban commuter's needs. As an extension of the iconic Scooty brand, the Scooty Pep + boasts a youthful and vibrant appearance, making it an attractive choice for riders seeking a trendy and efficient two-wheeler. The TVS Scooty Pep + is powered by an 87.8cc BS6 engine which develops a power of 5.36 bhp, a torque of 6.5 Nm, and a fuel capacity of 5.2 liters. Equipped with a reliable and fuel-efficient engine, the Scooty Pep + offers smooth acceleration and excellent mileage, making it perfect for navigating city traffic. It comes with a mobile charger socket, a side stand alarm, under-seat storage hooks, DRLs, an open glove box, and TVS's patented 'Eazy' Stand technology, which reduces the effort required to put the vehicle on the center stand by 30%. With a focus on comfort, convenience, and style, the TVS Scooty Pep + is a versatile and practical companion for daily commuting and short trips.
You can apply for loan for Scooty Pep + - SBT on OTO and receive approval within just 30 minutes. The downpayment and EMI for Scooty Pep + starts as low as Rs 11387/- and Rs 2501/-.
---
Specs & Features of
TVS Scooty Pep + SBT
Ride Comfort

Regarding ride comfort, the TVS Scooty Pep + stands out with its well-thought-out ergonomics and suspension setup. The scooter's ergonomically designed seats ensure a comfortable and upright riding posture, minimizing fatigue during city commutes and leisurely rides. The well-padded seats provide ample cushioning for both the rider and the pillion. The Scooty Pep+ features a telescopic front suspension and a hydraulic rear shock absorber, effectively absorbing road bumps and undulations. This results in a smooth and stable ride, even on uneven city roads. The scooter's agile handling and lightweight nature further contribute to its overall comfort and ease of maneuvering through congested traffic.

TVS Scooty Pep + Boot Space

The TVS Scooty Pep+ features a convenient under-seat storage space of 10 liters, providing practicality for urban commuters. With its generous boot space, riders can carry essential items such as a helmet, documents, or a small bag with ease. This thoughtful design element enhances the scooter's usability for daily errands and short trips, making it a reliable and convenient two-wheeler for urban dwellers.

TVS Scooty Pep + Leg Space

TVS has taken care to ensure ample legroom on the Scooty Pep+. The spacious footboard allows riders to comfortably stretch their legs while riding, enhancing ride comfort on long journeys. Even for taller riders, the generous leg space provides a relaxed and comfortable experience, reducing the chances of cramps or discomfort during extended rides.

TVS Scooty Pep + Maintenance

TVS has engineered the Scooty Pep+ with durability and ease of maintenance in mind. The scooter's robust build quality and use of high-quality components result in fewer breakdowns and minimal servicing requirements. Routine maintenance tasks such as oil changes, filter replacements, and general inspections can be done without incurring significant expenses. Additionally, TVS' wide network of service centers ensures easy access to authorized service outlets, simplifying the maintenance process for Scooty Pep+ owners. The scooter's reliable engine and efficient design contribute to its excellent fuel economy, reducing the overall cost of ownership over time. The availability of affordable spare parts further enhances its cost-effectiveness, making the TVS Scooty Pep+ a practical and economical choice for budget-conscious riders.

Safety

TVS prioritizes safety in the Scooty Pep +, equipping it with essential features to ensure a secure riding experience. With both front and rear drum brakes, the TVS Scooty Pep + has a combined braking system for both wheels, providing reliable stopping power. The Scooty Pep+'s bright halogen headlamp ensures excellent visibility during night rides, enhancing safety on poorly lit roads. Additionally, the scooter's ergonomic switchgear design enables easy control access, allowing the rider to stay focused on the road. Furthermore, the scooter's sturdy chassis and stable handling inspire confidence during city commutes and urban rides. The Scooty Pep + is also equipped with an engine kill switch and an ignition lock, adding an extra layer of security against theft.

Colors Available for TVS Scooty Pep +

The TVS Scooty Pep + is available in captivating colors that resonate with a youthful and contemporary vibe. Enthusiasts can choose from 6 attractive shades: 1) Aqua Matte 2) Coral Matter 3) Frosted Black 4) Nero Blue 5) Princess Pink 6) Silver Brown Riders can express their individuality and style by selecting their preferred color option, making the TVS Scooty Pep + an extension of their personality.

Best For

The TVS Scooty Pep + is ideal for riders seeking a hassle-free and trendy urban commuting solution. With its comfortable ride and agile handling, the scooter excels at maneuvering through congested city streets and traffic. The ample leg space and under-seat storage make it a convenient option for daily errands and short trips, easily accommodating essential items. The scooter's lightweight design and low seat height make it accessible and user-friendly for riders of all ages, including newcomers and beginners. Its reliable engine and cost-effective maintenance make it a budget-friendly choice, saving on fuel expenses and service costs.

Vehicle Height

The TVS Scooty Pep + has an ideal saddle height of approximately 1065 mm, balancing a comfortable seating position with an unobstructed road view. This height ensures easy maneuverability through traffic and allows riders to plant their feet firmly on the ground, contributing to their sense of confidence and control.

Vehicle Weight

With a manageable curb weight of around 93 kg, the Scooty Pep + offers excellent handling and agility, making it effortless to navigate through congested city traffic and tight spaces. Its lightweight construction enhances user-friendliness and maneuverability, making it an ideal scooter for novice and experienced riders.

Seat Length

The TVS Scooty Pep + features a comfortable seat length of 768 mm, providing sufficient room for the rider. The well-padded and contoured saddle ensures a fatigue-free riding experience, even during prolonged journeys. The Scooty Pep+'s ergonomic design focuses on rider comfort, making it an enjoyable two-wheeler for everyday use.

Seat Width

With a comfortable seat width of 660 mm, the Scooty Pep+ offers ample support for the rider. The wide and well-cushioned seat design promotes a comfortable and relaxed riding posture, reducing strain during long rides. The accommodating seat width also allows for a comfortable two-up riding experience, making it a convenient option for sharing the journey with a pillion.
---
USER REVIEWS & RATINGS OF
Brand Rating
(4.3 Ratings, 1 Reviews)
---
1 month ago
|
Using this from 6-12 months
I bought the princess pink colour. It looks attractive and none of the other scooters have this unique colour. Have necessary features at this price range. Handling in city conditions is extremely nice. I never suggest for long distances because you get wrist hip and shoulder pain. Tall riders please avoid it.
Was this review helpful ?
---
TVS Scooty Pep + SBT SHOWROOMS
Preferred
Solar TVS - Nayandahalli
9/1-2, opposite RR NAGAR Arch, Nayandahalli, RR NAGAR
Preferred
Bengaluru Motors - Harlur
Komal Tower 117/115A,2nd Cross Vidya Nagar,Opp SKF,Hosur Main Road ,Bommasandra Industrial Area,Bangalore-560099
Dhancharan TVS - Doddakalsandra
kanakapura road bangalore
Suryaprathap Automobiles - Ramamurthy nagar
No.1, Ramamurthy Nagar Main Road Opp SAIL, next to UNILET Showroom, Bengaluru,
Hemanth TVS - Yehlahanka, New Town
17-9, 10,11 and 12 opp. Railwheel Factory Doddaballapura Road A Sector, Yehlahanka New town
Bridgewell motors LLP
No. 615, Dr Rajkumar Rd, Prakash Nagar, Rajajinagar, Bengaluru, Karnataka
---
FREQUENTLY ASKED QUESTIONS
TVS Scooty Pep Plus comes with a price point of Rs.77,346 in Bangalore

TVS Scooty Pep Plus comes with 2 variants which include TVS Scooty Pep Plus Glossy, TVS Scooty Pep Plus Matte Edition, TVS Scooty Pep Plus Princess Pink, and TVS Scooty Pep Plus Striking Red.

The top variant is TVS Scooty Pep Plus Matte Edition which comes at a price tag of Rs. 68,414. This is the best variant of Scooty pep plus.

TVS Scooty Pep Plus is available in 6 different colours - Frosted Black, Coral Matte, Nero Blue, Aqua Matte, Princess Pink, Silver Brown.

TVS Scooty Pep Plus has a mileage of 55 to 68 km/l

The TVS Scooty Pep Plus is powered by 87.8 cc engine.

The height of TVS Scooty Pep Plus is 1.065 m

TVS Scooty Pep Plus is equipped with Kick and Self Start

The Top compeitors for TVS Scooty Pep 125 are Hero Pleasure Plus, Honda Dio, Hero Maestro Edge 110, Suzuki Access 125, and Honda Activa 125

The TVS Scooty Pep + is a suitable scooter for short city commutes with its lightweight design and easy maneuverability. Its fuel efficiency and compact size make it ideal for beginners and riders seeking convenience in congested traffic.

Yes, you can avail loan for TVS Scooty Pep Plus on OTO. OTO offer competitive discounts and 35% lower EMI which makes it easy for you as a customer to purchase your dream bike.

For TVS Scooty Pep Plus it takes approximately 30 minutes for the application to be approved once you have provided all the required details.