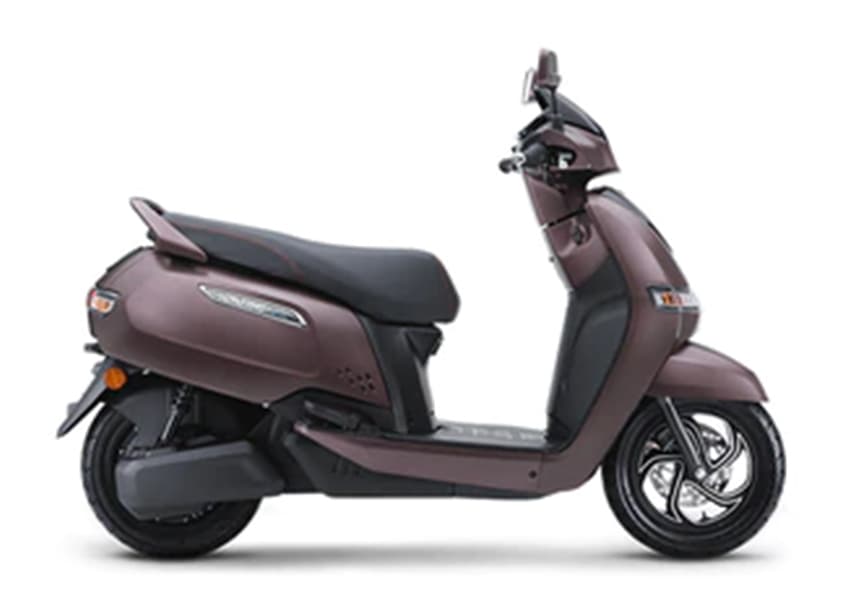 image
---
---
TVS Electric iQube ST Colors
TVS Electric iQube Variants with Price
On-road Price
Apply for Loan
---
---
---
Overview of
TVS Electric iQube ST
Ride Modes

Sports Mode:

110 km/charge

,

Range
145.0 Km/Charge
Top Speed
82.0 Kmph
Charging Time
5.0 Hours
Battery Type
Removable
---
About
TVS Electric iQube ST
TVS has introduced the iQube electric scooter in India, joining the green revolution alongside a number of other prominent manufacturers. The TVS Electric iQube, the manufacturer's first electric two-wheeler, boasts a traditional scooter-like look mixed with a host of contemporary technologies and promises respectable performance and battery range. The TVS Electric iQube has a conventional scooter-like feel, but some of its design cues give it a more futuristic look. Three lithium-ion batteries with a combined power rating of 2.25 kWh power the TVS Electric iQube. It can be fully charged in around 5 hours, and the stated range for a fully charged session is 75 kilometres. The scooter is available in three different variants: 1. TVS Electric iQube Standard 2. TVS Electric iQube S 3. TVS Electric iQube ST The 100 km range is offered for the TVS Electric iQube and TVS Electric iQube S. The high-end TVS Electric iQube ST has a 145 km range on a single charge. The TVS iQube and iQube S have the same battery back and require the same amount of time to charge from 0% to 80%, however, the iQube ST has a larger battery back and facilitates faster charging. The iQube comes with a portable charger that is simple to use and connects into any 15A socket, as well as a charging cable for your vehicle. Additionally, the scooter's clean commute greatly lowers your carbon footprint and promotes environmental sustainability.
You can apply for loan for iQube - ST on OTO and receive approval within just 30 minutes. The downpayment and EMI for iQube starts as low as Rs 18151/- and Rs 3986/-.
---
Specs & Features of
TVS Electric iQube ST
Ride Comfort

The cutting-edge TVS Electric iQube has 12-inch wheels that are suspended by dual shock absorbers at the back and telescopic forks up front, making for a smooth ride. The TVS Electric iQube's hub-mounted motor is exceptionally silent and vibration-free, allowing you to feel very at ease and serene during a typically hectic commute.

TVS Electric iQube Boot Space

The stylish TVS Electric iQube offers a boot space of 32L, which is sufficient for you to store your helmet, a set of headphones, scarves, and wallets for a busy day out. This boot space is almost twice of what many scooters in the country offer! Moreover, it has a USB charging port so that you don't have to worry about your mobile's battery draining even for longer distances.

TVS Electric iQube Leg Space

The TVS Electric iQube scooter provides enough leg space for average heighted and tall riders with a firm footrest and full support for your knees.

TVS Electric iQube Maintenance

The guarantee for the TVS Electric iQube vehicle and battery is 3 years or 50,000 kilometres. The guarantee for the TVS Electric iQube SmartXHome charger is three years. There is a six-month warranty for portable chargers. Additionally, you receive timely servicing alerts on your dashboard, so that you have to worry less. About the regular maintenance, the TVS Electric iQube scooter does not demand you to visit the mechanic's showroom every few months. It remains healthy on road despite long usages.

Safety

The TVS Electric iQube offers cutting-edge features like live tracking, which lets you find your vehicle at any time, crash alerts, and geofencing, which gives your scooter high security by letting you establish up to five fences around it. You will be notified right away if the vehicle crosses any of these fences. Additionally, you receive an anti-theft alert if the vehicle is being pulled while it is locked.

Colors Available for TVS Electric iQube

TVS Electric iQube is available in three different metallic colors for you to choose from: Shining Red, Titanium Grey Glossy, and Pearl White. TVS iQube S is available in four different colors: Mint Blue, Copper Bronze Glossy, Mercury Grey Glossy, and Lucid Yellow. TVS iQube ST is available in four different colors: Starlight Blue Glossy, Titanium Grey Matte, Coral Sand Glossy, and Copper Bronze Matte.

Best For

The TVS Electric iQube is the finest option for you if you're looking for a ride that can accompany you on short and long trips, whether they're on city streets or across rugged, steep terrain. You will have a blast riding on such models, even as the pillion passenger, without having to worry about cramped seats or discomfort. For normal men and women, the handlebar is set at the ideal height. For all of you tech-savvy riders to have a safe ride, the SmartXonnect feature enables pairing the display with a smartphone via Bluetooth to provide access to various information such as ride stats, remote battery range, and geofencing, along with a navigation feature that also shows incoming call and message notifications.

Vehicle Height

The advanced TVS iQube is 100% at par with its competitors in the EV segment. With a ground clearance of 157 mm and a height of 1140 mm off the ground, the scooter will keep you and your ride free of any scratches on rough roads. Moreover, with excellent ground clearance, the scooter becomes easy to handle, even for female riders.

Vehicle Weight

The scooter's 128 kg weight makes it sturdy enough for both men and women to use, and easily balance even without an ignition. The weight of the scooters in the EV segment mostly ranges from 110 kg to 135 kg, which makes the TVS iQube a sufficiently weighted scooter in its segment.

Seat Length

The TVS iQube is giving tough competition to its rival bikes in the same segment by offering a long and comfortable ride to two adult passengers, even over longer distances, with a seat length of 770 mm.

Seat Width

The scooter is 645 mm wide, which provides you with comfortable back and hip support when riding. Moreover, you wouldn't have to compromise on the stability of the scooter while travelling, particularly around corners.
---
TVS Electric iQube ST SHOWROOMS
Preferred
Solar TVS - Nayandahalli
9/1-2, opposite RR NAGAR Arch, Nayandahalli, RR NAGAR
Preferred
Bengaluru Motors - Harlur
Komal Tower 117/115A,2nd Cross Vidya Nagar,Opp SKF,Hosur Main Road ,Bommasandra Industrial Area,Bangalore-560099
Dhancharan TVS - Doddakalsandra
kanakapura road bangalore
Suryaprathap Automobiles - Ramamurthy nagar
No.1, Ramamurthy Nagar Main Road Opp SAIL, next to UNILET Showroom, Bengaluru,
Bridgewell motors LLP
No. 615, Dr Rajkumar Rd, Prakash Nagar, Rajajinagar, Bengaluru, Karnataka
Preferred
Solar TVS - Channasandra
Channasandra. opp vv party hall, kengeri main road Bengaluru
---
FREQUENTLY ASKED QUESTIONS
TVS iQube comes with a on road price of ₹ 1,56,641 in Bangalore

TVS iQube is now split into three variants – iQube, iQube S & iQube ST.

The top variant is TVS iQube comes at a price tag of Rs. 1,61,056. This is the best vairiant

TVS iQube Electric is available in 11 different colours - Pearl White, Titanium Grey Glossy, Mercury Grey Glossy, Copper Bronze Matte, Starlight Blue Glossy, Mint Blue, Shining Red, Lucid Yellow, Titanium Grey Matte, Copper Bronze Glossy and Coral Sand Glossy.

The range of TVS iQube Electric is 100 Km/Charge. This is the claimed ARAI mileage for all the variants of iQube Electric.

It is powered by a 4400 watt BLDC motor that produces 3 kW of continuous power and 140 Nm of peak torque.

TVS iQube has the height of 1.08 m

TVS iQube comes with both self and kick start

The Top compeitors for TVS iQube are Honda CD 110 Dream, Hero Splendor Plus, Hero HF Deluxe, Hero Passion Pro BS6, Honda Shine, Honda Livo and Bajaj CT 125X

The TVS iQube is a budget-friendly, Dependable bike that is ideal for new riders. The bike's handling is simple and comfortable, And its effective engine delivers high mileage, Making it ideal for new riders.

Yes, you can avail loan for TVS iQube on OTO. OTO offer competitive discounts and 35% lower EMI which makes it easy for you as a customer to purchase your dream bike.

For TVS iQube it takes approximately 30 minutes for the application to be approved once you have provided all the required details.