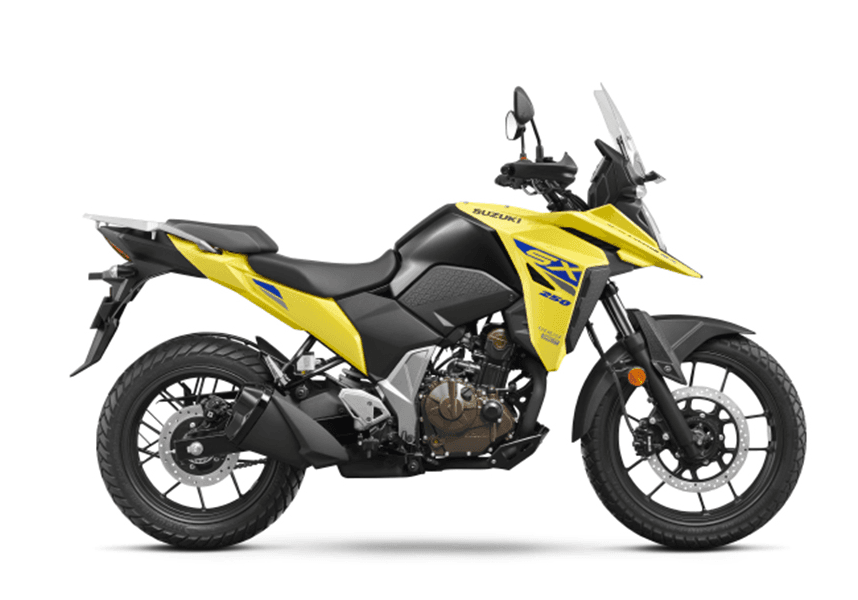 right view
---
Suzuki V-Strom SX
Standard
---
Suzuki V-Strom SX Standard Colors
Suzuki V-Strom SX Variants with Price
On-road Price
Apply for Loan
---
---
---
Overview of
Suzuki V-Strom SX Standard
| | |
| --- | --- |
| Mileage | 35 kmpl |
| Displacement | 249 cc |
| Max Power | 26.1 bhp @ 9,300 rpm |
| Max Torque | 9.2 Nm @ 6,250 rpm |
| Braking Type | Dual Channel ABS |
| Starting | Kick and Self Start |
| ABS | No |
| Speedometer | Digital |
---
About
Suzuki V-Strom SX Standard
The Suzuki V-Strom SX emerges as a dynamic amalgamation of adventure and versatility that excel across diverse terrains. The Suzuki V-Strom SX is powered by a 249cc BS6 engine, which develops a power of 26.1 bhp and a torque of 22.2 Nm. The SEP engines feature weight-saving and friction-reducing technology, allowing low fuel consumption and excellent power characteristics. The SEP engine offers brisk acceleration in the V-STROM SX but uses little fuel. The design includes a single-pod headlight, a tall stance, a muscular fuel tank, a tall windscreen, and a beak-style front fender. The feature list comprises an LED headlight, LED taillight, and a Bluetooth-enabled fully digital instrument cluster. Its rugged silhouette is accentuated by bold contours, complemented by the distinctive beak-like front cowl that enhances aerodynamics and gives it an adventurous aura. The SX variant reimagines the V-Strom lineage, infusing it with a fresh sense of modernity.
You can apply for loan for V-Strom SX - Standard on OTO and receive approval within just 30 minutes. The downpayment and EMI for V-Strom SX starts as low as Rs 41212/- and Rs 9052/-.
---
Specs & Features of
Suzuki V-Strom SX Standard
Ride Comfort

Unveiling unparalleled ride comfort, the V-Strom SX elevates every journey to an exceptional experience. Its nimble handling and light weight make it simple to maneuver through the city. Up front, the V-STROM SX boasts telescopic front forks that offer an ample 120 mm of suspension travel, adeptly absorbing road imperfections for a consistently smooth ride. Complementing this, the rear suspension adopts a swingarm design with a versatile 7-step adjustable preload. This feature allows riders to tailor the suspension to their specific requirements, whether on a solo tour, accompanied by a passenger, or laden with substantial cargo. Long-haul rides become pleasurable as the suspension system deftly absorbs undulations and imperfections, while upright riding reduces strain on the rider's body. The V-Strom SX beckons enthusiasts to explore far and wide without compromising comfort.

Suzuki V-Strom SX Maintenance

Suzuki's commitment to reliability and ease of maintenance shines through in the V-Strom SX. Routine upkeep tasks, such as oil changes, chain adjustments, and filter replacements, can be easily performed, minimizing downtime and ensuring a hassle-free ownership experience. The availability of Suzuki's extensive service network ensures access to professional servicing and genuine spare parts, further simplifying maintenance procedures. The V-Strom SX's durability and robust engineering contribute to its reputation as a dependable and low-maintenance adventure tourer, allowing riders to focus on the thrill of exploration rather than maintenance concerns.

Safety

Safety remains a paramount consideration in the design of the Suzuki V-Strom SX. The bike features a comprehensive suite of safety features, including an advanced ABS that provides reliable braking performance, enhancing rider confidence during sudden stops or challenging road conditions. The dual-channel Antilock Brake System (ABS) monitors the front and rear wheel speeds individually and matches stopping power to available traction to provide greater confidence and control. The V-Strom SX's adjustable brake and clutch levers allow riders to tailor their controls for optimal comfort and reach, ensuring precise and controlled braking. The bike's powerful LED headlights offer exceptional visibility during nighttime rides, contributing to rider safety. With its holistic safety features, the V-Strom SX empowers riders to embark on their journeys with peace of mind and a sense of security.

Colors Available for Suzuki V-Strom SX

Suzuki offers a range of captivating color options for the V-Strom SX, allowing riders to express their individuality and style. Suzuki V-Strom SX is available in 3 different colors: 1) Pearl Blaze Orange 2) Glass Sparkle Black 3) Champion Yellow Each color option complements the bike's rugged yet refined aesthetics, adding to its visual allure and ensuring a striking presence on any road or trail.

Best For

The Suzuki V-Strom SX caters to a diverse range of riders who share a common desire for adventure and exploration. This versatile adventure tourer is best suited for riders seeking a balanced combination of on-road performance and off-road capability. Adventurers who yearn for the unknown's thrill will find a perfect companion in the V-Strom SX. Its comfortable ergonomics, adaptable nature, and all-terrain prowess make it an ideal choice for riders planning weekend getaways, cross-country tours, or impromptu off-road expeditions. Additionally, the V-Strom SX appeals to urban commuters seeking a reliable and versatile motorcycle for daily transportation. Its agile handling, upright riding posture, and advanced features make it well-suited for navigating traffic and congested city streets.

Vehicle Height

The Suzuki V-Strom SX boasts a comfortable vehicle height of approximately 1355 mm, and a ground clearance of 205 mm, striking a harmonious balance between a commanding view of the road and manageable maneuverability. This moderate height allows riders to confidently plant their feet on the ground at a standstill, enhancing stability and control, especially during low-speed maneuvers or uneven terrain.

Vehicle Weight

Weighing around 167 kg, the Suzuki V-Strom SX strikes a well-balanced weight distribution, contributing to its stable and composed handling. The bike's weight is well-managed, allowing riders to navigate diverse riding conditions. Whether carving through twisty roads or venturing off-road, the V-Strom SX's manageable weight ensures a responsive and enjoyable riding experience.

Seat Length

The Suzuki V-Strom SX features a thoughtfully designed seat with a length of approximately 835 mm, providing ample space for both the rider and pillion. It offers superior comfort during extended rides, minimizing fatigue and ensuring an enjoyable adventure. The spacious seating arrangement promotes a relaxed and natural posture, allowing riders to enjoy exploration without hindrance.

Seat Width

With a generous width of approximately 880 mm, the Suzuki V-Strom SX ensures that riders and passengers experience optimal comfort on every journey. The seat prevents discomfort, immersing riders in the thrill of adventure. The wide seat width accommodates two adult riders, offering a comfortable and inviting ride experience for solo and two-up adventures.
---
Suzuki V-Strom SX Standard SHOWROOMS
Preferred
Saptagiri Suzuki - Basaveshwara Nagar
#24, 1ST MAIN, 3RD BLOCK, OPP TOTAL GAS, BASAVESHWARA NAGAR BENGALURU-560079
Aaryan Suzuki - Domlur Layout
No 618, 1st main, 13th Cross, Domlur Layout, Bangalore
Advaith Suzuki - Basavanagudi
40/1, Sri Venkateshwara Mansion, South End Road, Basavanagudi, Bangalore
Apple auto Agency - Bangalore
Apple Auto Agency Private Limited #615, 100 Feet Ring Road, BSK 3RD Stage, Kathriguppe
Preferred
Saptagiri Suzuki - Sheshadripuram
12/6, Hare Krishna Rd, Madhava Nagar, Gandhi Nagar, Bengaluru, Karnataka
Aryan Suzuki - TC Palya
K R Puram. #454, Old Madras Road Opp. T.C. Palya Bus Stop Bhattarahalli, Krishnarajapura, Bengaluru, Karnataka
---
FREQUENTLY ASKED QUESTIONS
Suzuki V-Strom SX comes with a on road price of Rs. 2,74,477 in Bangalore

Suzuki V-Strom SX is offered in 1 variant - Suzuki V-Strom SX STD

Suzuki V-Strom SX is offered in 1 variant - Suzuki V-Strom SX STD

Suzuki V-Strom SX is available in 3 different colours - Pearl Blaze Orange, Glass Sparkle Black, Champion Yellow.

Suzuki V-Strom SX has a mileage of 32 km/l

Suzuki V-Strom SX comes with engine diceplacement of 249 cc

The exact height of Suzuki V-Strom SX is 1.355 m

Suzuki V-Strom SX comes with self start only

Top competitors of Suzuki V-Strom SX are Hero Xpulse 200 BS6 and Hero XPulse 200T

The Suzuki V-Strom SX is a good bike known for its comfortable touring capabilities, versatile performance, and reliable engine, offering an enjoyable and practical riding experience for adventure and long-distance riders

Yes, you can avail loan for Suzuki V-Strom SX on OTO. OTO offer competitive discounts and 35% lower EMI which makes it easy for you as a customer to purchase your dream bike.

For Suzuki V-Strom SX it takes approximately 30 minutes for the application to be approved once you have provided all the required details.