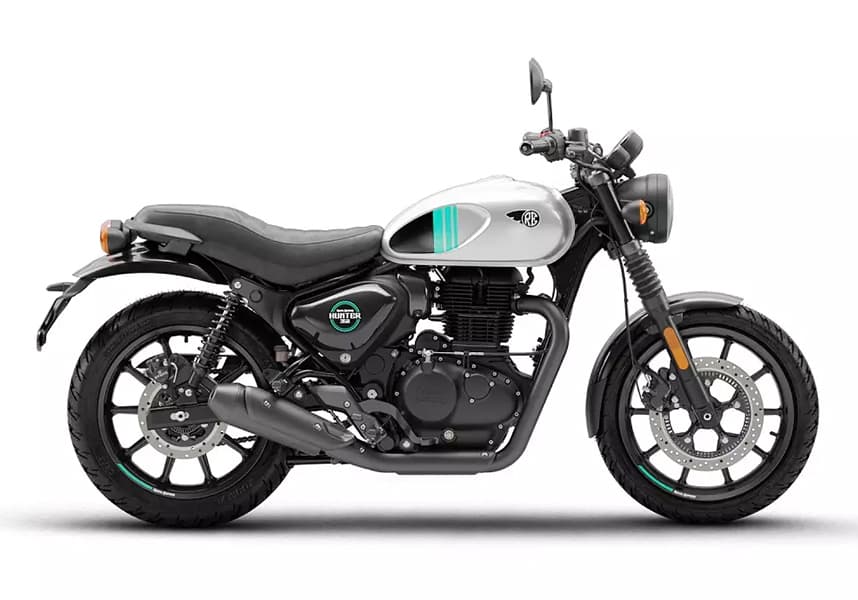 image
---
Royal Enfield Hunter 350
Dapper Ash White
---
Royal Enfield Hunter 350 Dapper Ash White Colors
Royal Enfield Hunter 350 Variants with Price
On-road Price
Apply for Loan
---
---
---
Overview of
Royal Enfield Hunter 350 Dapper Ash White
| | |
| --- | --- |
| Mileage | 36 kmpl |
| Displacement | 349 cc |
| Max Power | 20.2 bhp @ 6,100 rpm |
| Max Torque | 18.74 Nm @ 8,000 rpm |
| Braking Type | Single Channel ABS |
| Starting | Kick and Self Start |
| ABS | Yes |
| Speedometer | Digital |
---
About
Royal Enfield Hunter 350 Dapper Ash White
The Royal Enfield Hunter 350 is a motorcycle that has been widely recognized for its impressive style, torque, and overall fun factor. One of the most notable features of the Hunter is its innovative design, which provides rider-first ergonomics making it an excellent choice for anyone looking to tackle new terrains with confidence. At the heart of the Hunter 350 is a powerful 350cc J-engine that provides a smooth ride, more speed, and ample power which is designed to deliver exceptional performance. Additionally, the bike's 13 liters tank and an approx mileage of 36.5 kmpl mean that you can enjoy long rides without having to worry about stopping for fuel. The Hunter 350 generates a maximum power of 20.2 BHP (brake horsepower) and a maximum torque of 27 Nm (Newton metres). The brake horsepower is what propels the motorcycle forward, while torque is the twisting force that pushes you ahead. With these numbers, you can trust that this bike can speed up and handle different kinds of roads easily. The Hunter also features strong brakes and a USB port for device charging, which makes it the ideal urban adventure bike. The Hunter 350's engine is finely tuned with an ideal bore of 72 mm and stroke of 85.8 mm configuration. This meticulous engineering ensures optimal combustion efficiency and power delivery, contributing to the bike's impressive performance metrics. With a carefully calibrated 9.5:1 compression ratio, the Hunter 350 achieves the perfect balance between power output and fuel consumption. This ratio allows the engine to harness maximum energy from each ignition, resulting in a thrilling yet controlled ride. The Hunter 350 comes in two variants: 1. The Metro Hunter style has modern dual-colour designs that look great in trendy city areas. It also has strong alloy wheels, wide tubeless tires, split aluminium rear bars to hold onto, and round rear lights. 2. The Retro Hunter style is all about classic looks. They come in bold single colours and have old-fashioned traffic signals on the sides, tubular bars to hold onto at the back, and cool spoke wheels. Whether you choose the Metro or Retro version, you can be confident that the Royal Enfield Hunter 350 is a dependable and trustworthy bike that will take you wherever you need to go.
You can apply for loan for Hunter 350 - Dapper Ash White on OTO and receive approval within just 30 minutes. The downpayment and EMI for Hunter 350 starts as low as Rs 32010/- and Rs 7031/-.
---
Specs & Features of
Royal Enfield Hunter 350 Dapper Ash White
Ride Comfort

Royal Enfield Hunter 350 comes with 17-inches front and rear wheels that offer enhanced manoeuvrability and agility. The smaller wheel size allows for quicker response to steering inputs, making it easier to navigate through tight spaces and corners. The bike also has a ground clearance of 150 mm, which makes it comfortable to ride for longer distances on any type of road and ensures the bike can smoothly navigate diverse terrains without scraping or bottoming out. Hunter 350 comes with a steady downtube spine frame and front suspension of Telescopic, 41mm forks, 130mm travel, and rear suspension of Twin tube emulsion shock absorbers with 6-step adjustable preload. It gives the right amount of power and precision, whether you're revving up the city streets or gunning down the motorway.

Royal Enfield Hunter 350 Maintenance

Maintaining the Royal Enfield Hunter 350 is a commitment to longevity and optimal performance. The bike demands periodic servicing to ensure it remains in first-class condition. Royal Enfield provides a warranty for their motorcycles, including the Hunter 350. RE will replace or repair the defective part(s) at their Dealerships and Authorised Service Center, free of charge within 24 months or 20,000 km from the date of sale, whichever is earlier. The warranty shall be applicable only if all 4 free services & 3 paid services are availed in the respective period/kilometre ranges as per the schedule in the owner's manual from RE Authorised Dealer / Service Center. 1. The first free service is recommended at 500 km or within 1.5 months, whichever is earlier. 2. The second free service is recommended at 3,000 kilometers or 3 months, whichever is earlier. 3. The third free service is recommended at 6000 kilometers or 6 months, whichever is earlier. 4. The fourth and last free service is recommended at 9000 kilometers or 9 months, whichever is earlier. Following the initial free services, regular paid services should be conducted every 3 months or 3,000 kilometers, whichever comes earlier than the last service.

Safety

Hunter 350 is a pioneer in safety in the Royal Enfield collection. It comes equipped with reliable disc brakes on both the front with 300 mm front disc and 270 mm rear disc, providing excellent stopping power. The dual-channel anti-lock braking system (ABS) further enhances the bike's safety, preventing skidding and maintaining control during emergency braking situations. This combination brings the rider safely to a stop at even the shortest of distances, keeping firm control.

Colors Available for Royal Enfield Hunter 350

The Royal Enfield Hunter 350 comes in the following captivating colors: Metro hunters: Dapper White Dapper Ash Dapper Grey Rebel Black Rebel Blue Rebel Red Retro hunters: Factory Black Factory Silver

Best For

The Hunter 350 is a sporty motorcycle for zooming around city roads and highways. It's built with a shorter wheelbase, lighter weight, and tighter design, which helps it move easily and quickly through city streets. The Royal Enfield Hunter 350 is great for riders who like exploring cities and going on exciting adventures. The Hunter 350 is awesome for cruising on open highways and curvy roads. It's the perfect choice for riders who want fun rides in the city and the countryside. With its agile handling, the Hunter 350 is ready to tackle both city and open road journeys.

Vehicle Height

The Royal Enfield Hunter 350 stands at a height of 1055 mm, creating an upright and commanding riding position. This elevation grants riders a clear road view, bolstering confidence in traffic or on uneven paths. It enhances visibility for safer navigation, empowering riders to assert their presence on the road with assurance.

Vehicle Weight

Weighing 177 kg and well-distributed, the Hunter 350 maintains optimal balance. This weight distribution fosters a grounded sensation, providing riders with a controlled touch on highways and rugged trails. The result is a comfortable, poised ride that assures confidence in varied riding conditions.

Seat Length

Featuring a single saddle seat with springs, the Hunter 350 also offers an optional pillion seat. The extended seat of 800 mm length caters to different body sizes, ensuring comfort on long journeys. Passengers enjoy a relaxed seating space, creating an enjoyable pillion experience.

Seat Width

The Hunter 350 boasts a well-padded, supportive seat width of 800 mm. This design promotes balance, especially during stops and slow speeds. The accommodating width caters to diverse body types, alleviating strain during prolonged rides.
---
Royal Enfield Hunter 350 Dapper Ash White SHOWROOMS
Silk board Motors - Bommanahalli
Katha No. 2/2/2/2, Hosur Main Road,Roopena Agrahara,Bommanahalli,Bangalore - 560068
Jagdamba Automobiles - ITPL Whitefield
#11, Eioz, Industrial Area, Sadarmala
Silkboard Motors - Bommanahalli
Khata No 2/2/2/2, Silk Board, Hosur Road, Bommanahalli, Bangalore
SAI RAM AUTOCRAFT Pvt. Ltd. - B Narayanpura
No.102/1, Outer Ring Road, Dooravani Nagar Post, B Narayanapura, Bangalore
Company Store - Bannerghetta
Door No 2067/1, 2068/2 East End 39, Main, Jayanagara 9th Block, Jayanagar, Bengaluru,
Teknik Motorcycles - Sarjapur
132, 41/1, Sarjapur - Marathahalli Rd, Ibbaluru, Hobli, Bengaluru, Karnataka
---
FREQUENTLY ASKED QUESTIONS
Royal Enfield Hunter 350 has 3 variants: Hunter 350 Retro, Hunter 350 Metro and Hunter 350 Metro Rebel

Royal Enfield Hunter 350 Metro Rebel is the best variant

Hunter 350 is available in 8 colour options: Rebel Blue, Rebel Red, Rebel Black, Dapper Grey, Dapper Ash, Dapper White, Factory Black, Factory Silver.

Royal Enfield Hunter 350 has a mileage of 36.5 km/l

Royal Enfield Hunter 350 comes with engine diceplacement of 350 cc

The exact height of Royal Enfield Hunter 350 is 1.055 m

Royal Enfield Hunter 350 comes with self start only

Top competitors of Royal Enfield Hunter 350 are Royal Enfield Bullet 350 and Honda Hness CB350

The Royal Enfield Hunter 350 is a good bike known for its classic design, powerful engine, and comfortable ride, offering a nostalgic and enjoyable experience for riders who appreciate vintage aesthetics and modern performance. Its build quality and Royal Enfield's dedication to craftsmanship would further enhance its appeal, making it a compelling choice for motorcycle enthusiasts.

Yes, you can avail loan for Royal Enfield Hunter 350 on OTO. OTO offer competitive discounts and 35% lower EMI which makes it easy for you as a customer to purchase your dream bike.

For Royal Enfield Hunter 350 it takes approximately 30 minutes for the application to be approved once you have provided all the required details.

Royal Enfield Hunter 350 comes with a on road price of ₹ 2,18,284 in Bangalore