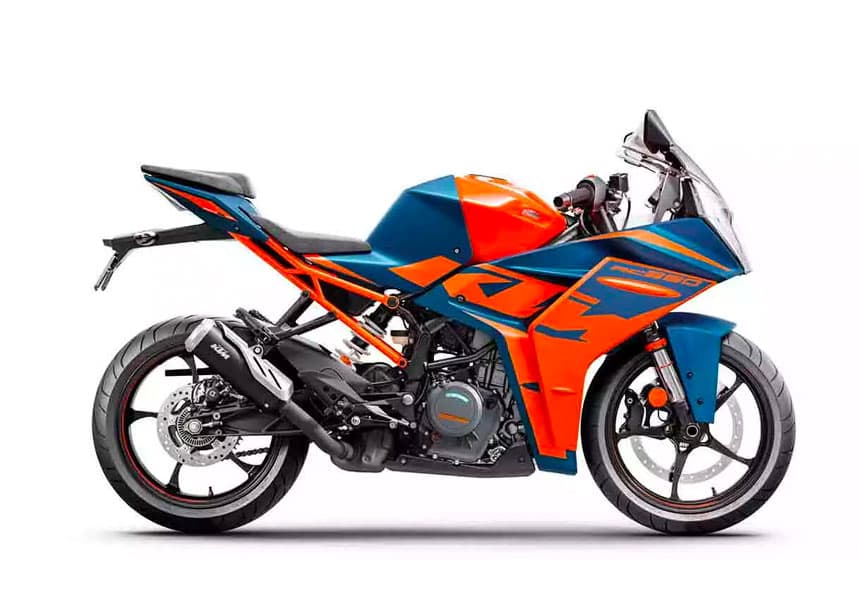 image
---
---
KTM RC 390 Variants with Price
On-road Price
Apply for Loan
---
---
---
Overview of
KTM RC 390 ABS
| | |
| --- | --- |
| Mileage | 30 kmpl |
| Displacement | 374 cc |
| Max Power | 42.9 bhp |
| Max Torque | 37 Nm |
| Braking Type | Dual Channel ABS |
| Starting | Kick and Self Start |
| ABS | Yes |
| Speedometer | Digital |
---
The KTM RC 390 is a high-performance sportbike designed for thrill-seekers and enthusiasts who crave an adrenaline-pumping riding experience. At its heart, it features a powerful liquid-cooled single-cylinder engine with a displacement of 373.27 cc. This engine is known for its impressive performance and is capable of delivering an exhilarating ride. In terms of fuel efficiency, the KTM RC 390 has a mileage rating of 29 kmpl as per ARAI standards, making it reasonably efficient for a sport-oriented machine. The engine's maximum power output is an impressive 42.9 bhp at 9000 rpm, ensuring ample acceleration and top-end performance. The peak torque of 37 Nm at 7000 rpm provides the bike with strong mid-range power, making it equally exciting in city traffic and on open highways. One of the key highlights of the KTM RC 390 is its improved torque delivery and super slick throttle response, achieved in part due to a 40% larger airbox. This enhancement results in a smoother power delivery, giving the rider better control and a more thrilling riding experience. The bike also features Motorcycle Traction Control (MTC), a sophisticated system that reacts within milliseconds to reduce slippage to optimum proportions. MTC helps provide better traction and stability, especially during aggressive acceleration and cornering, thereby enhancing overall safety and confidence for the rider. The KTM RC 390 is equipped with a state-of-the-art TFT display and switchgear. The multicolored TFT display offers adaptive technology, presenting all the necessary riding data in an uncluttered and easily readable manner. This enables the rider to access crucial information at a glance, allowing them to stay focused on the road ahead and make informed decisions to go faster and push the bike's performance limits. The KTM RC 390 is available in two variants: the RC 390 GP Edition and the RC 390 Standard. Both variants of the KTM RC 390 cater to riders who seek performance-oriented motorcycles with cutting-edge technology and a sporty appearance. Riders can choose between these variants based on their preference for design aesthetics and additional features.
You can apply for loan for RC 390 - ABS on OTO and receive approval within just 30 minutes. The downpayment and EMI for RC 390 starts as low as Rs 62061/- and Rs 13631/-.
---
Specs & Features of
KTM RC 390 ABS
Ride Comfort

KTM has equipped the RC 390 with quality suspension components that strike a balance between sporty handling and reasonable ride comfort. The front suspension features WP APEX USD forks, which are renowned for their excellent damping capabilities and responsiveness. At the rear, the KTM RC 390 is equipped with a WP APEX adjustable monoshock. Like the front forks, this rear suspension component is also fully adjustable, enabling riders to tailor the bike's suspension settings to suit their individual preferences and road conditions.

KTM RC 390 Maintenance

Maintenance is a crucial aspect of owning any motorcycle, including the KTM RC 390, to ensure its optimal performance, safety, and longevity. KTM provides detailed maintenance guidelines in the owner's manual, which outline the recommended service intervals and scope of service to be followed. Adhering to these guidelines is essential to keeping the motorcycle running smoothly and preventing potential issues.

Safety

The KTM RC 390 prioritizes rider safety by incorporating a well-engineered and effective braking system. This sportbike is equipped with a Dual Channel ABS (Anti-lock Braking System), a critical safety feature that helps prevent wheel lock-up and skidding during hard braking, particularly in emergency situations or slippery road conditions. The front braking system of the KTM RC 390 consists of a disc brake setup. The front disc size measures 320 mm, providing ample stopping power to bring the bike to a halt quickly and efficiently. At the rear, the KTM RC 390 is also equipped with a disc brake, which complements the front braking system. The rear disc size measures 230 mm, providing adequate stopping force to contribute to the overall braking performance of the bike.

Colors Available for KTM RC 390

The KTM RC 390 was available in two distinct and eye-catching color options: 1. KTM Factory Racing Blue 2. KTM Electronic Orange Whether one prefers the racing-inspired vibrancy of blue or the iconic adventurous spirit of orange, each color choice elevates the KTM RC 390's appeal and allows riders to express their individuality while enjoying an exhilarating and high-performance riding experience.

Best For

The KTM RC 390 is designed to offer a dynamic and engaging ride, making it an excellent choice for sportbike enthusiasts who enjoy spirited riding, quick acceleration, and sharp handling. Its powerful engine, sporty ergonomics, and agile chassis make it well-suited for tackling twisty roads and track days. Due to its powerful engine and responsive handling, the KTM RC 390 is better suited for experienced riders who have a good understanding of motorcycle control and are comfortable handling a sport-oriented machine. New riders may find its performance and responsiveness challenging to manage initially.

Vehicle Height

With a moderate height and 158 mm of ground clearance, the bike is suitable for most road conditions, allowing it to handle minor road irregularities, speed bumps, and moderate off-road terrain.

Vehicle Weight

With a weight of 172 kg, the RC 390 strikes a good balance between being lightweight for agile handling and substantial enough to provide stability and confidence at higher speeds.

Seat Length

The seat length of the KTM RC 390 measures 835 mm. It provides ample space for most riders, allowing them to find a comfortable seating position.

Seat Width

The 760 mm width is designed to offer a good balance between comfort and control. It provides sufficient space for riders to have a comfortable seating position while also allowing for easy reach to the handlebars and control levers.
---
Preferred
Amba Bajaj - Hosur Road
2, 2A AND 2 B, SRI NIDHI COMPLEX, HOSUR MAIN ROAD, HONGASANDRA VILLAGE, G B PALYA, BEGUR , HOBLI, Bengaluru
Honey Motors - Basavanagudi
Khivraj Bajaj - Tumkur Road
8th Mile, 16, Tumkur Rd, Near Near Peenya Metro Station, Havanur Layout, Bagalakunte, Bengaluru, Karnataka
Popular Motors - Whitefield
State Highway 35 Near Hope Farm Signal ITPL Main Road Whitefield Prasanth Extension Whitefield Bengaluru
Active Hero - BSK 1st Stage
---
FREQUENTLY ASKED QUESTIONS
KTM RC 390 comes with a on road price of ₹3,82683 in Bangalore

KTM RC 390 is the only variant

KTM RC 390 comes with 6 Speed Manual transmission and 13.7 litres fuel tank capacity

RC 390 is available in 3 colour options: GP Edition, Factory Racing Blue (2023), Electronic Orange (2023).

KTM RC 390 has a mileage of28.9 km/l

KTM RC 390 comes with engine diceplacement of 373 cc

The exact height of KTM RC 390 is 1.098 m

KTM RC 390 comes with self start only

Top competitors of KTM RC 390 are Bajaj Dominar 400 and Yamaha R15 M

KTM RC 390 is a good bike known for its aggressive sportbike styling, powerful performance, and sharp handling, making it an exhilarating choice for riders seeking a thrilling and high-performance track-oriented motorcycle.

Yes, you can avail loan for KTM RC 390 on OTO. OTO offer competitive discounts and 35% lower EMI which makes it easy for you as a customer to purchase your dream bike.

For KTM RC 390 it takes approximately 30 minutes for the application to be approved once you have provided all the required details.