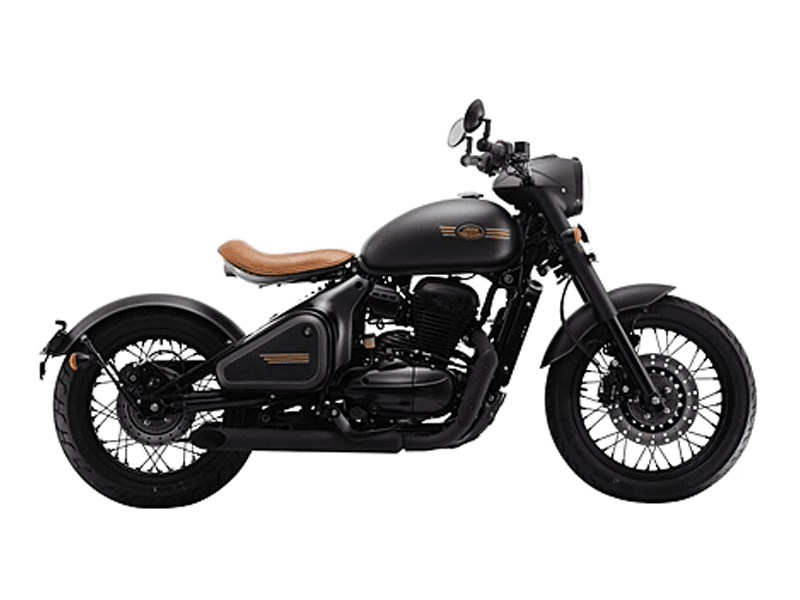 image
---
---
Jawa Perak Dual ABS Colors
Jawa Perak Variants with Price
On-road Price
Apply for Loan
---
---
---
Overview of
Jawa Perak Dual ABS
| | |
| --- | --- |
| Mileage | 30 kmpl |
| Displacement | 334 cc |
| Max Power | 30.2 bhp |
| Max Torque | 27.05 Nm |
| Braking Type | Dual Channel ABS |
| Starting | Kick and Self Start |
| ABS | Yes |
| Speedometer | Digital |
---
The Jawa Perak is a cruiser bike that beckons riders to explore the uncharted territories of motorcycling. The Jawa Perak is powered by a 334cc BS6 engine, which develops a power of 30.2 bhp and a torque of 32.74 Nm. The Perak has a conventional halogen lamp all around except for the tail lamp, which is LED. The instrument cluster is a circular unit with a small digital unit for the odometer. The single-piece, low-slung floating seat, and its classic hard-tail design lend the bike a distinctive look. With its edgy design and commanding presence, the Perak commands attention on every road it treads. At its heart lies a gutsy 334cc liquid-cooled, single-cylinder engine that combines power and performance. The Perak exudes an aura of mystique, channeling a neo-retro vibe that harks back to the golden age of motorcycling while unapologetically embracing modern engineering and technology.
You can apply for loan for Perak - Dual ABS on OTO and receive approval within just 30 minutes. The downpayment and EMI for Perak starts as low as Rs 37132/- and Rs 8156/-.
---
Specs & Features of
Jawa Perak Dual ABS
Ride Comfort

Ride comfort is paramount in Jawa Perak, setting a new benchmark for enjoyable, relaxed riding experiences. The motorcycle's ergonomics are meticulously designed to envelop riders in a poised and comfortable posture, enabling them to conquer long journeys easily. The handlebar is easy to reach, and the switchgear can be operated easily. The motorcycle rides on telescopic forks up front and a mono-shock mount below the seat for the rear. The well-cushioned seat and a finely tuned suspension system guarantee a smooth and composed ride over varying terrains. Riders will relish the Perak's ability to glide seamlessly over bumps and rough roads, translating into reduced fatigue and heightened confidence during extended rides. Whether weaving through city streets or embarking on winding highways, the Jawa Perak promises an indulgent and plush ride.

Jawa Perak Maintenance

Maintaining the Jawa Perak is a testament to its reliability and durability, showcasing Jawa's commitment to providing riders with a trouble-free ownership experience. The motorcycle's robust build quality and utilization of premium components contribute to its longevity and resilience. Routine maintenance tasks, including oil changes and filter replacements, are straightforward and can be effortlessly undertaken by authorized service centers. Jawa's extensive service network ensures that regular maintenance remains seamless, allowing riders to focus on the thrill of riding rather than routine upkeep. The Jawa Perak exemplifies a fusion of performance and practicality, making it an appealing choice for riders seeking an unburdened and enjoyable ownership journey.

Safety

Safety takes center stage in the design of the Jawa Perak, bolstering rider confidence and security on every ride. The motorcycle's braking system, featuring a 280 mm disc at the front and a 240 mm disc at the rear, delivers dependable stopping power, ensuring controlled and precise braking even in challenging road conditions. The dual-channel ABS (Anti-lock Braking System) enhances stability and prevents wheel lock, elevating safety during abrupt stops. The Perak's robust chassis and responsive handling empower riders to navigate corners and diverse terrains with assurance. With its safety features meticulously integrated into its design, the Jawa Perak symbolizes responsible and secure motorcycling.

Colors Available for Jawa Perak

The Jawa Perak follows a blacked-out theme with a matte black-grey paint job and a black-colored theme for most of its mechanical parts. The design is accentuated with gold pinstriping on the fuel tank, side panels, and fenders. The bold color not only enhances the motorcycle's visual appeal but also provide riders with the means to make a statement on the road that reflects power and edge.

Best For

The Jawa Perak emerges as a captivating choice for riders who crave a seamless blend of distinctive design and powerful performance. Its neo-retro aesthetics and robust engine make it a versatile companion for various riding experiences. Urban riders will appreciate its comfortable ergonomics and nimble handling, rendering city commutes a joyous affair. For those yearning for adventurous escapes, the Perak's dynamic engine and confident demeanor make it an ideal partner for conquering highways and exploring uncharted routes. With low ground clearance and accessible power delivery, the Perak is a good option for new riders. Moreover, Perak's timeless design resonates with enthusiasts who seek a touch of nostalgia, transforming every ride into a journey through time.

Vehicle Height

The Jawa Perak's carefully designed height ensures riders of varying statures can confidently handle the motorcycle. With a comfortable height and ground clearance of 145 mm, most riders will find it effortless to plant their feet on the ground when stationary. This optimal height promotes stability during stops and low-speed maneuvers, engendering rider confidence and control, particularly in urban settings.

Vehicle Weight

Striking a harmonious balance between substance and agility, the Jawa Perak weighs around 185 kg. This balanced weight distribution contributes to enhanced stability and maneuverability, rendering the motorcycle nimble and responsive in diverse riding scenarios. The Perak's weight ensures a confidence-inspiring ride for riders of different skill levels, making it a welcoming option for both seasoned enthusiasts and novices.

Seat Length

The Jawa Perak features a well-proportioned seat length of 750 mm, designed with rider comfort in mind. The generous padding of the saddle provides comfort during extended journeys, allowing riders to shift positions effortlessly. The seat's design accommodates both rider and pillion, promoting comfort and convenience for shared adventures and leisurely rides.

Seat Width

Crafted to strike the perfect equilibrium between comfort and control, the seat width of the Jawa Perak ensures that riders can confidently handle the vehicle during stops and low-speed maneuvers. The seat's width fosters rider confidence and control, contributing to an engaging and pleasurable ride experience.
---
Jawa Perak Dual ABS SHOWROOMS
SKANDA MOTORS - Rajajinagar
#1036, 4TH BLOCK, DR, RAJKUMAR ROAD, RAJAJI NAGAR, BANGALURU-560010
Honey Motors - Basavanagudi
SYNERGY JAWA - BASAVANAGUDI
56, SUMUKHA PLAZA, SUBBARAMA CHETTY ROAD, BASAVANAGUDI, BANGALORE, Bengaluru (Bangalore) Urban, Karnataka, 560004
Active Hero - BSK 1st Stage
---
FREQUENTLY ASKED QUESTIONS
Jawa Perak available in 1 variant. It comes with 14L fuel tank capacity

Jawa Perak is available in black

Jawa Perak has a mileage of 30 km/l

Jawa Perak comes with engine diceplacement of 334 cc

The exact height of Jawa Perak is 1.165 m

Jawa Perak comes with self start only

Top competitors of Jawa Perak are Royal Enfield Classic 350 and Royal Enfield Meteor 350

The Jawa Perak is a good motorcycle known for its unique Bobber styling, powerful engine performance, and comfortable ride, offering a distinct and captivating experience for riders who seek a blend of vintage charm and modern features. Its attention to detail and Jawa's commitment to craftsmanship add to its overall appeal, making it an appealing choice for those seeking a standout and characterful motorcycle.

Yes, you can avail loan for Jawa Perak on OTO. OTO offer competitive discounts and 35% lower EMI which makes it easy for you as a customer to purchase your dream bike.

For Jawa Perak it takes approximately 30 minutes for the application to be approved once you have provided all the required details.

Jawa Perak comes with a on road price of ₹ 2,80,974 in Bangalore

Jawa Perak available in 1 variant.