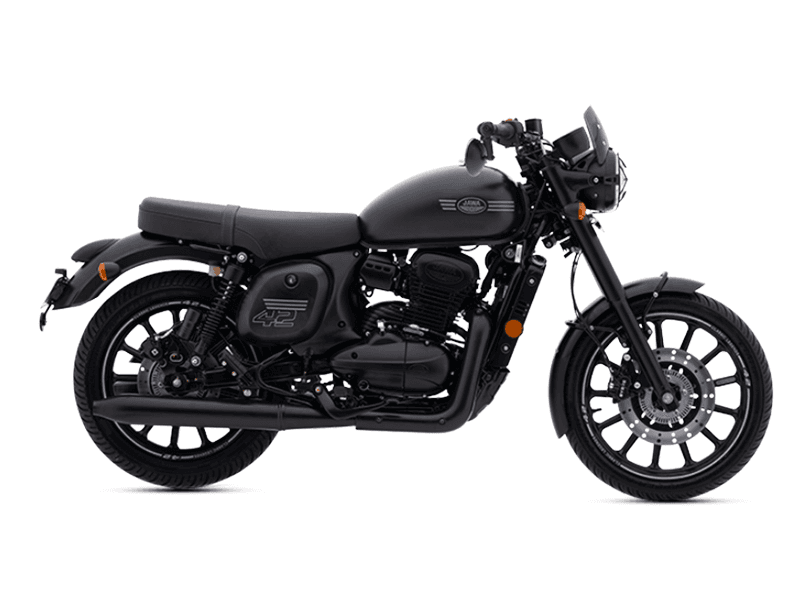 image
---
---
Jawa Jawa-42 Single ABS Colors
Jawa Jawa-42 Variants with Price
On-road Price
Apply for Loan
---
---
---
Overview of
Jawa Jawa-42 Single ABS
| | |
| --- | --- |
| Mileage | 33 kmpl |
| Displacement | 295 cc |
| Max Power | 26.95 bhp |
| Max Torque | 19.2 Nm @ 8,000 rpm |
| Braking Type | Dual Channel ABS |
| Starting | Kick and Self Start |
| ABS | Yes |
| Speedometer | Digital |
---
About
Jawa Jawa-42 Single ABS
The Jawa Jawa-42 is a remarkable motorcycle that combines a blend of power and legacy. With an impressive engine capacity of 294.72 cc, it promises an exhilarating ride. The heart of this machine churns out a maximum power of 27.32 ps and a peak torque of 26.84 Nm, ensuring a dynamic and thrilling performance on the road. Dressed in an elegant matte black exterior, the Jawa-42 is not just a motorcycle; it's a tribute to a rich heritage of engineering excellence that has stood strong over time. Whether you're cruising through city streets or conquering open highways, the Jawa-42 offers a ride that's not just about getting from one point to another but about experiencing the legacy of legendary performance. It embodies the spirit of the past while embracing modern engineering, making it a truly unique and captivating motorcycle for enthusiasts who seek a perfect blend of power, style, and history.
You can apply for loan for Jawa-42 - Single ABS on OTO and receive approval within just 30 minutes. The downpayment and EMI for Jawa-42 starts as low as Rs 29965/- and Rs 6581/-.
---
Specs & Features of
Jawa Jawa-42 Single ABS
Ride Comfort

The Jawa Jawa-42 not only excels in its powerful engine performance but also offers a well-balanced and comfortable ride experience through its adept suspension system. The front suspension comprises a Telescopic Hydraulic Fork, which effectively absorbs shocks and ensures a smoother ride by minimizing road vibrations and impacts. This feature contributes to enhanced stability and control, especially when navigating uneven terrain or bumpy roads. At the rear, the Jawa-42 employs a Gas Canister -twin shock hydraulic suspension system. This sophisticated setup further enhances ride comfort by providing adjustable damping, enabling riders to customize the suspension to their preferred level of firmness or softness. The twin shock absorbers work in tandem with the front suspension, contributing to a balanced and consistent ride quality across various riding conditions. Overall, the combination of the Telescopic Hydraulic Fork at the front and the Gas Canister - Twin shock hydraulic system at the rear reflects Jawa's commitment to ensuring not only powerful performance but also a pleasurable and comfortable riding experience for enthusiasts.

Jawa Jawa-42 Maintenance

Maintaining the Jawa Jawa-42 is designed to be convenient and cost-effective. The first service, approximately costing 2000 units, is complimentary and scheduled after 1 month or 1000 km of usage. Subsequent services are spaced out: the second at 6000 km or 6 months, the third at 12 months or 12000 km, and the fourth at 18000 km or 18 months. After the initial service, the recommended maintenance interval is every 6000 km, or 6 months. This approach ensures regular checks and upkeep to keep the motorcycle in optimal condition, providing riders with consistent reliability and peace of mind.

Safety

The Jawa Jawa-42 prioritizes rider safety with its advanced braking system. Equipped with a Single Channel ABS, it ensures controlled braking even on slippery surfaces. The front brake employs a Disc mechanism with a substantial size of 280 mm, offering reliable stopping power. The rear brake, a Drum type with a size of 153 mm, complements the system, enhancing overall braking performance. This combination of braking components and ABS technology enhances rider confidence and contributes to a safer riding experience.

Colors Available for Jawa Jawa-42

The Jawa Jawa-42 offers a range of attractive color options for personalization: 1. Orion Red 2. Allstar Black 3. Sirius White 4. Cosmic Carbon These color choices allow riders to select the one that best suits their style and preferences, adding a touch of individuality to their Jawa-42 motorcycle.

Best For

The Jawa Jawa-42 is an ideal choice for motorcycle enthusiasts who value a blend of classic design, modern performance, and a comfortable riding experience. Its combination of retro aesthetics, advanced features, and user-friendly characteristics makes it well-suited for riders seeking a balance between style, performance, and practicality. Whether you're a commuter, a weekend rider, or someone looking for a bike that captures the essence of both heritage and innovation, the Jawa Jawa-42 can cater to a diverse range of riders with varying preferences and riding styles.

Vehicle Height

With a height of 1065 mm and a ground clearance of 165 mm, the Jawa Jawa-42 maintains a comfortable riding stance, accommodating various rider heights while ensuring a balanced and confident posture. It allows the bike to be easily maneuvered through tight spaces, making it a suitable choice for city commuting. Simultaneously, the height provides enough presence on the road, ensuring visibility for other motorists and a confident feel for the rider.

Vehicle Weight

Weighing 182 kg, this motorcycle strikes a harmonious balance between stability and maneuverability, providing a substantial feel on the road while remaining agile in various riding conditions. It also adds to the bike's overall durability and comfort during longer rides, where weight can aid in absorbing road vibrations and maintaining a steady trajectory.

Seat Length

The seat measures 765 mm in length, offering a well-proportioned and accommodating seating area for both the rider and a potential passenger, ensuring comfort during extended journeys. The thoughtful seat length also supports a dual-purpose role, providing both comfort and an engaged riding posture that's suited for various riding styles – whether cruising or spirited cornering.

Seat Width

With a width of 833 mm, the seat provides ample room for the rider, enabling comfortable posture adjustments and minimizing fatigue during rides of varying durations. Additionally, the wider seat can provide better weight distribution, improving the overall stability and comfort of the motorcycle, especially when riding for extended periods or with a passenger.
---
Jawa Jawa-42 Single ABS SHOWROOMS
SKANDA MOTORS - Rajajinagar
#1036, 4TH BLOCK, DR, RAJKUMAR ROAD, RAJAJI NAGAR, BANGALURU-560010
Honey Motors - Basavanagudi
SYNERGY JAWA - BASAVANAGUDI
56, SUMUKHA PLAZA, SUBBARAMA CHETTY ROAD, BASAVANAGUDI, BANGALORE, Bengaluru (Bangalore) Urban, Karnataka, 560004
Active Hero - BSK 1st Stage
---
FREQUENTLY ASKED QUESTIONS
Jawa Jawa-42 comes with a on road price of ₹ 2.26 Lakh in Bangalore

Jawa Forty Two is available in 13 variants: 2.1, Dual Channel - Comet Red, Dual Channel - Galactic Green, Dual Channel - Halley's Teal, Dual Channel - Lumos Lime, Dual Channel - Nebula Blue, Dual Channel - Starlight Blue, Single Channel - Comet Red, Single Channel - Galactic Green, Single Channel - Halley's Teal, Single Channel - Lumos Lime, Single Channel - Nebula Blue and Single Channel - Starlight Blue

Jawa Jawa-42 does not have variants

Jawa Jawa-42 is available in 14 colour options: Galactic Green (Matte), Halley's Teal (Matte), Lumos Lime (Matte), Starlight Blue (Matte), Comet Red (Glossy), Nebula Blue (Glossy), Allstar Black, Sirius White, Orion Red, Metallic Cosmic Carbon, Cosmic Carbon (2023), Allstar Black (2023), Orion Red (2023), Sirius White (2023)

Jawa Jawa-42 has a mileage of 30 km/l

Jawa Jawa-42 comes with engine diceplacement of 334 cc

The exact height of Jawa Jawa-42 is 1.65 m

Jawa Jawa-42 comes with self start only

Top competitors of Jawa Jawa-42 are Yamaha R15 M and Royal Enfield Himalayan

The Jawa Jawa-42 is a good motorcycle known for its modern-classic styling, lively engine performance, and comfortable ride, providing a distinctive and enjoyable experience for riders who appreciate a fusion of retro aesthetics and contemporary features. Its build quality and Jawa's reputation for craftsmanship further contribute to its appeal among motorcycle enthusiasts.

Yes, you can avail loan for Jawa Jawa-42 on OTO. OTO offer competitive discounts and 35% lower EMI which makes it easy for you as a customer to purchase your dream bike.

For Jawa Jawa-42 it takes approximately 30 minutes for the application to be approved once you have provided all the required details.