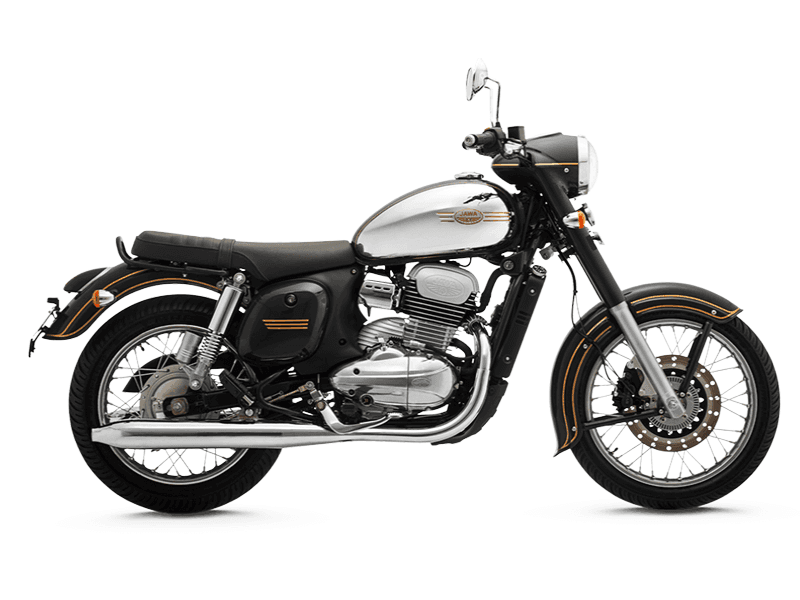 image
---
---
Jawa Jawa Single ABS Colors
Jawa Jawa Variants with Price
On-road Price
Apply for Loan
---
---
---
Overview of
Jawa Jawa Single ABS
| | |
| --- | --- |
| Mileage | 30 kmpl |
| Displacement | 293 cc |
| Max Power | 27 bhp |
| Max Torque | 27.05 Nm |
| Braking Type | Dual Channel ABS |
| Starting | Kick and Self Start |
| ABS | Yes |
| Speedometer | Digital |
---
About
Jawa Jawa Single ABS
The Jawa motorcycle represents a captivating blend of heritage and innovation, drawing inspiration from its iconic predecessor while infusing modern engineering prowess. With a heart that beats to the rhythm of nostalgia, the Jawa captures the essence of classic motorcycling and presents it in a contemporary avatar. The Jawa Standard utilizes a 294.72cc BS6 engine which develops a power of 26.95 bhp and a torque of 26.84 Nm. The Jawa exudes power and performance, wrapped in a timeless design that pays homage to its legacy. Instrumentation consists of a single integrated analog unit with speed, fuel, and an odometer. All of the components on the Jawa give it a premium feel. The switchgear feels tactile and easy to operate without compromising on built quality. Characterized by its distinct retro aesthetics, vintage curves, and chromed accents, the Jawa exudes a timeless elegance that appeals to seasoned enthusiasts and newcomers to motorcycling.
You can apply for loan for Jawa - Single ABS on OTO and receive approval within just 30 minutes. The downpayment and EMI for Jawa starts as low as Rs 31610/- and Rs 6943/-.
---
Specs & Features of
Jawa Jawa Single ABS
Ride Comfort

Ride comfort takes center stage in the Jawa, creating an enchanting harmony between rider and machine. The motorcycle's ergonomics are thoughtfully crafted, offering a relaxed, upright riding posture that minimizes fatigue during long journeys. It runs on conventional telescopic front forks and twin rear shock absorbers. The adept suspension system works to absorb road undulations, ensuring a smooth and comfortable ride. Moreover, the upright riding position would make it the perfect choice. The light handling and tight turning circle make the Jawa an effortless bike to ride around in traffic. It's intuitive to handle, and it is easy to move about in the parking too. Whether navigating through city streets or exploring winding country roads, the Jawa grants riders the luxury of enjoying a serene and composed ride, making every journey an immersive experience.

Jawa Jawa Maintenance

The Jawa motorcycle's commitment to excellence extends to its approach to maintenance, exemplifying reliability and durability. Crafted with precision and equipped with high-quality components, the motorcycle is engineered to withstand the test of time. Routine maintenance tasks, such as oil changes and filter replacements, are uncomplicated and can be conveniently performed at authorized service centers. The Jawa's robust construction minimizes frequent upkeep, allowing riders to focus on the sheer joy of riding rather than routine maintenance. Jawa's comprehensive service network ensures that keeping the motorcycle in optimal condition is both accessible and straightforward.

Safety

Safety remains at the core of Jawa's design, underscoring its commitment to responsible and secure motorcycling. The motorcycle's braking system, featuring front and rear disc brakes, delivers reliable stopping power even in demanding road conditions. Integrating modern safety features, such as a dual-channel Anti-lock Braking System, enhances stability and prevents wheel lock during sudden stops. The turn-in is quick and doesn't fight quick direction changes, making the Jawa smooth to ride around right twisties. Even when leaned over, whether the surface is smooth or bumpy, it doesn't wallow, skip or move around. With its robust chassis and responsive handling, the Jawa empowers riders to navigate corners and diverse terrains confidently. The Jawa motorcycle is a testament to the brand's dedication to rider safety and well-being.

Colors Available for Jawa Jawa

The Jawa motorcycle offers captivating colors, enabling riders to express their unique style and preferences. The colors available are: 1) Grey 2) Black 3) Maroon These choices enhance the motorcycle's visual appeal and allow riders to personalize their ride, making a statement on the road that reflects their individuality and character.

Best For

The Jawa motorcycle is an ideal companion for riders seeking a harmonious blend of classic aesthetics and contemporary performance. Its versatile nature makes it well-suited for a range of riding experiences. Urban riders will appreciate its comfortable ergonomics and agile maneuverability, allowing them to navigate city traffic effortlessly. For those with an adventurous spirit, the Jawa's potent performance makes it an ideal partner for embarking on leisurely weekend escapes or long-distance journeys. Furthermore, the Jawa's vintage charm appeals to enthusiasts seeking to connect with motorcycling's golden era, infusing each ride with nostalgia and authenticity.

Vehicle Height

The Jawa motorcycle is meticulously designed to cater to riders of varying heights, ensuring a confident and comfortable riding experience. With a height of approximately 1090 mm and a ground clearance of 165 mm, most riders can easily reach the ground with their feet when stationary. This optimal height promotes stability during stops and low-speed maneuvers, instilling rider confidence, particularly in urban settings.

Vehicle Weight

Striking a harmonious balance between substance and agility, the Jawa motorcycle weighs around 182 kg. The balanced weight distribution enhances stability and maneuverability, allowing the bike to navigate diverse riding scenarios with finesse. The Jawa's manageable weight ensures a poised and assured ride for riders of varying skill levels, making it an inviting option for both seasoned enthusiasts and those new to motorcycling.

Seat Length

Designed with rider comfort in mind, the Jawa motorcycle features a well-proportioned seat length of around 765 mm. The generously cushioned saddle enables riders to shift positions effortlessly during long rides, minimizing fatigue and enhancing overall ride comfort. The elongated seat design accommodates rider and pillion, catering to shared adventures and leisurely cruises.

Seat Width

Engineered to strike the perfect balance between comfort and control, the seat width of the Jawa motorcycle measures around 789 mm. This design element ensures that riders can confidently plant their feet on the ground, enhancing stability during stops and low-speed maneuvers. The seat's width fosters rider confidence, contributing to an immersive and enjoyable ride experience.
---
Jawa Jawa Single ABS SHOWROOMS
SKANDA MOTORS - Rajajinagar
#1036, 4TH BLOCK, DR, RAJKUMAR ROAD, RAJAJI NAGAR, BANGALURU-560010
Honey Motors - Basavanagudi
SYNERGY JAWA - BASAVANAGUDI
56, SUMUKHA PLAZA, SUBBARAMA CHETTY ROAD, BASAVANAGUDI, BANGALORE, Bengaluru (Bangalore) Urban, Karnataka, 560004
Active Hero - BSK 1st Stage
---
FREQUENTLY ASKED QUESTIONS
The modern Jawa Motorcycles portfolio consists of three models which are the Jawa, Jawa 42 and the Jawa Perak

Jawa Jawa does not have variants

Jawa Jawa is available in 5 different colours - Metallic Black, Matte Red, Mejesty Red, Dark Matte Blue and Metallic Grey.

Jawa Jawa has a mileage of 33 kmpl

Jawa Jawa comes with engine diceplacement of 293 cc

The exact height of Jawa Jawa is 1.08 m

Jawa Jawa comes with self start only

Top competitors of Jawa Jawa are Royal Enfield Meteor 350 and Honda Hness CB350

The Jawa Jawa is a good motorcycle known for its classic retro styling, smooth engine performance, and comfortable ride, offering a nostalgic and enjoyable experience for riders who appreciate vintage aesthetics. Its build quality and attention to detail add to its overall appeal, making it a compelling choice for those seeking a modern classic motorcycle with a touch of heritage.

Jawa Jawa comes with a on road price of ₹ 2,46,155 in Bangalore

Yes, you can avail loan for Jawa Jawa on OTO. OTO offer competitive discounts and 35% lower EMI which makes it easy for you as a customer to purchase your dream bike.

For Jawa Jawa it takes approximately 30 minutes for the application to be approved once you have provided all the required details.