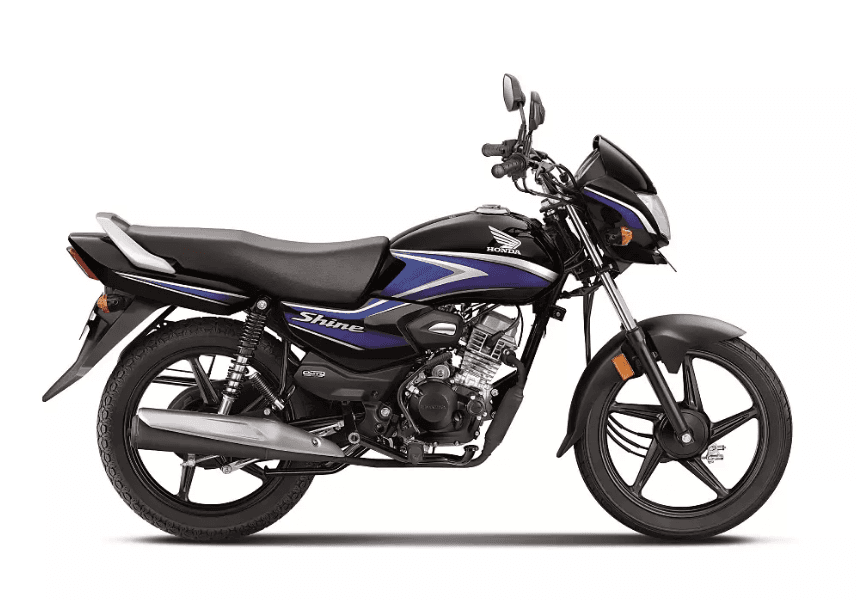 right view
---
---
Honda Shine 100 OBD2 Colors
Honda Shine Variants with Price
On-road Price
Apply for Loan
---
---
---
Overview of
Honda Shine 100 OBD2
| | |
| --- | --- |
| Mileage | 52 kmpl |
| Displacement | 98 cc |
| Max Power | 7.28 bhp @ 7500 rpm |
| Max Torque | 8.05 Nm @ 5000 rpm |
| Braking Type | Combi Braking System |
| Starting | Kick and Self Start |
| ABS | No |
| Speedometer | Analogue |
---
About
Honda Shine 100 OBD2
The Honda Shine 100 is a masterpiece of engineering and design that embodies the perfect blend of power, efficiency, and style. With a potent heart of 98.98 cc, the Shine 100 delivers an exhilarating ride experience that's perfectly complemented by its 4-speed manual transmission. Designed for those who seek both performance and practicality, its 9-liter fuel tank capacity ensures fewer stops at the pump and more journeys without interruption. With a max power of 7.28 bhp at 7500 rpm and a max torque of 8.05 Nm at 5000 rpm, the Shine 100 empowers you to conquer the road with confidence and ease. The motorcycle's halogen headlight lights up your path with clarity, ensuring safe rides even in low-light conditions. The curvy fuel tank not only adds a touch of sophistication but also offers a comfortable posture, enhancing your journeys both in style and comfort. With its harmonious fusion of performance and aesthetics, the Shine 100 invites you to experience the road like never before, making every ride a true testament to the art of riding.
You can apply for loan for Shine - 100 OBD2 on OTO and receive approval within just 30 minutes. The downpayment and EMI for Shine starts as low as Rs 12635/- and Rs 2775/-.
---
Specs & Features of
Honda Shine 100 OBD2
Ride Comfort

The Honda Shine 100 paves the way for an exceptionally smooth and poised ride with its advanced telescopic forks at the front. This ingenious suspension system absorbs the nuances of the road, effortlessly gliding over imperfections, bumps, and ruts. Taking your comfort to the next level, the Shine 100 features dual rear shock absorbers. This innovative suspension configuration is designed to enhance stability and absorb shocks with impeccable efficiency. The dual shock absorbers work in unison to cushion you and your ride from the road's irregularities, offering a plush and composed ride that's unparalleled in its class.

Honda Shine Maintenance

From the moment you start your journey with the Shine 100, Honda has you covered with its maintenance schedule. The 1st service, due at 1000 kilometers or within the first month of ownership, is provided to you absolutely free. As you accumulate miles and create memories on your Shine 100, the 2nd service is due at 4000 kilometers or after four months of ownership, and yes, it's also on the house. The commitment to your riding pleasure and safety extends to the 3rd service, scheduled at 8000 kilometers or after eight months of ownership, and it's yet another free offering from Honda.

Safety

The Honda Shine 100 is equipped with a state-of-the-art Combined Braking System (CBS) that takes safety to a whole new level. The CBS intelligently distributes braking force between the front and rear brakes, ensuring balanced and controlled braking even in challenging situations. At the front, the Shine 100 features a dependable drum brake system. With a front brake size of 130 mm, the Honda Shine 100 optimizes braking efficiency for a wide range of riding conditions. Complementing the front braking system, the Shine 100 is equipped with a drum brake at the rear. With a rear brake size of 110 mm, the Shine 100's rear drum brake enhances your ability to control the motorcycle during braking maneuvers.

Colors Available for Honda Shine

With a stunning palette of colors, the Shine 100 allows you to choose the one that resonates with your unique style and preferences. 1. Black With Red Stripes 2. Black With Blue Stripes 3. Black With Gold Stripes 4. Black With Grey Stripes 5. Black With Green Stripes Let your true colors shine through with these captivating options.

Best For

The Shine 100 is perfectly suited for daily commuters who navigate city streets. Its efficient engine, comfortable ergonomics, and agile handling make it an excellent choice for weaving through traffic and maneuvering tight spaces. Moreover, students seeking a reliable and economical mode of transportation will find the Shine 100 appealing. Its affordability, fuel efficiency, and ease of use make it a convenient option for campus commuting.

Vehicle Height

The Honda Shine 100 stands at an optimal height of 1050 mm and a ground clearance of 168 mm, striking a harmonious balance between accessibility and control. This height grants you a clear view of the road ahead while ensuring that you're comfortably seated and firmly planted on the ground.

Vehicle Weight

With a weight of 99 kg, the Honda Shine 100 offers a lightweight and nimble ride that's easy to handle. This lightweight construction contributes to the motorcycle's agile responsiveness, allowing you to effortlessly navigate through city traffic, twisty roads, and beyond.

Seat Length

The Shine 100's carefully designed seat extends to a length of 786 mm, offering ample space for both rider and pillion. This thoughtful length ensures that you and your passenger experience enhanced comfort during your journeys, regardless of their duration.

Seat Width

At a width of 754 mm, the Shine 100's seat accommodates you and your passenger with ample room. This width is thoughtfully chosen to provide a comfortable and relaxing seating position, whether you're embarking on solo rides or sharing the journey with a companion.
---
Honda Shine 100 OBD2 SHOWROOMS
Preferred
Tansi Honda - ITPL Main Road
No 1, Sapthagiri Arcade, Hoodi, Village, ITPL Main Rd, next to ABT Parcel Service, Mahadevapura, Bengaluru
Preferred
VFM Honda - KR Puram
100 Pai Layout, Old Madras Road, near Tin Factory, K. R. Puram, Bengaluru
Preferred
Saphire Honda - Kanakpura Road
# 28, 29, 30 Kanakapura Village, Uttarahalli Hobli, 8th Main Rd, Doddakallasandra, Konanakunte, Bengaluru
Preferred
Dhruvdesh Honda - Yelahanka
#32/2,Near RMZ Galleria Opp to HP Petrol Bunk,Allasandra Village,Bangalore
Preferred
Planet Agencies - Sunkada Katte
No.155/47, 1st Floor, Magadi Main Road, Sunkadakatte, Bangalore 
Preferred
Tansi Honda- Seagahalli
No-24, 6, Whitefield - Hoskote Rd, opp. Shell petrol Bunk, Seegehalli, Bengaluru
---
FREQUENTLY ASKED QUESTIONS
Honda Shine is available in 10 colour options: Black, Rebel Red Metallic, Matte Axis Grey, Genny Grey Metallic, Decent Blue Metallic, Black (2023), Rebel Red Metallic (2023), Matte Axis Grey (2023), Genny Grey Metallic (2023), Decent Blue Metallic (2023).

The mileage of the Honda Shine is 65 kmpl.

Honda Shine is powered by 123.94 cc engine.

Honda Shine price starts at Rs. 99,270 in India.

Honda Shine comes with 4 variants which includes Honda Shine Drum, Honda Shine Drum OBD2, Honda Shine Disc, Honda Shine Disc OBD2.

The Honda Shine 125 Disc OBD2 is the best variant.

The height of Honda Shine is 1.116 m

Honda Shine has kick and self start option.

The top competitors for Honda Shine are Hero Super Splendor, Hero Passion Pro BS6, Hero Glamour BS6, Hero HF Deluxe, Honda SP 125, Honda Livo, Bajaj CT 125X, Hero Passion XTec, Hero Splendor Plus, Honda CD 110 Dream.

The Honda Shine is one easy to run and maintain 125cc motorcycle. It is known for its refined motor, and a ride quality that makes daily commuting an easy affair.

Yes, you can avail loan for Honda Shine on OTO. OTO offer competitive discounts and 35% lower EMI which makes it easy for you as a customer to purchase your dream bike.

For Honda Shine it takes approximately 30 minutes for the application to be approved once you have provided all the required details.