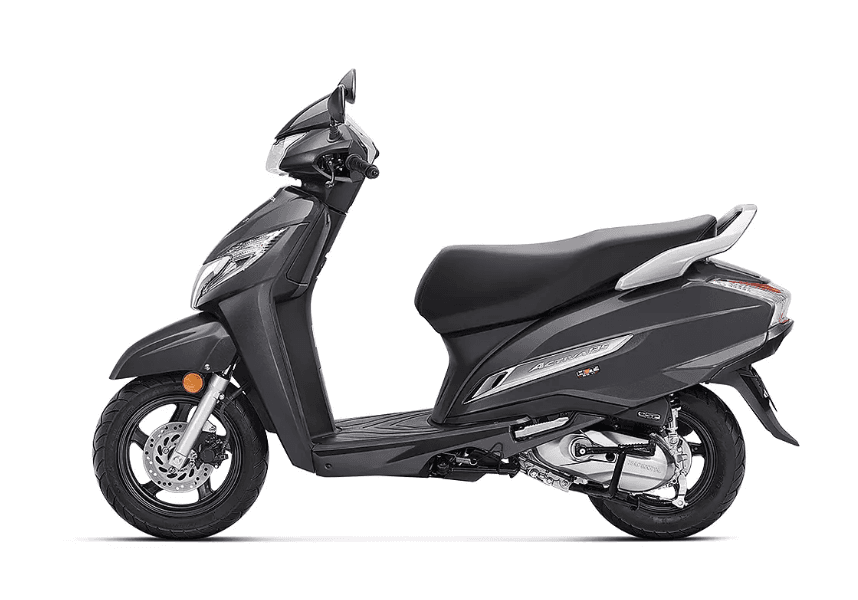 image
---
Honda Activa 125
Drum Std
---
Honda Activa 125 Drum Std Colors
Honda Activa 125 Variants with Price
On-road Price
Apply for Loan
---
---
---
Overview of
Honda Activa 125 Drum Std
| | |
| --- | --- |
| Mileage | 47 kmpl |
| Displacement | 124 cc |
| Max Power | 8.18 bhp @ 6,500 rpm |
| Max Torque | 10.3 Nm @ 5,000 rpm |
| Braking Type | Combined Braking System |
| Starting | Kick and Self Start |
| ABS | No |
| Speedometer | Analogue |
---
About
Honda Activa 125 Drum Std
Honda Activa 125 is a family-oriented, robust, and reliable vehicle with all the required features expected of a 2-wheeler. It does what it promises with a 123.97 cc engine and a mileage of 60 kmpl. With disc and drum brakes and tubeless tires, it makes your rides smooth and jerk-free. There are over 2.5 Cr people to vouch for this in 2021 alone. What makes Honda Activa 125 even more appealing for buyers is the high credibility of Honda as an automobile brand which provides timely maintenance and fast assistance in times of need. The Honda Activa 125 comes in 3 variants: Activa 125 Standard Activa 125 Alloy Activa 125 Deluxe All three variants of Honda Activa 125 boast top-notch performance, with a few differences between them. The topmost version, the Honda Activa 125 Deluxe-Fi (BS-VI), has alloy wheels with a 190 mm front disc brake and 130 mm rear drum break, providing a smooth and comfortable ride. It also has an intelligent display which shows fuel economy and average fuel consumption figures. It also boasts of the idling stop system, meaning it switches the engine off at brief stops like traffic lights, thus, saving fuel immensely. Honda Activa 125 Alloy-Fi (BS-VI), the mid-range version, contains all the features of the Deluxe version except the idling stop and front disc brake. Honda Activa 125 Standard-Fi (BS-VI) is the most affordable version among the three. It contains all the features of the Activa Alloy but includes sheet metal wheels instead of alloy wheels. It also doesn't contain an intelligent display, and the headlights aren't LEDs; they have halogen bulbs.
You can apply for loan for Activa 125 - Drum Std on OTO and receive approval within just 30 minutes. The downpayment and EMI for Activa 125 starts as low as Rs 14639/- and Rs 3215/-.
---
Specs & Features of
Honda Activa 125 Drum Std
Ride Comfort

Features like that of the ACG (Alternate Current Generator) starter help in quieter starts which helps reduce the noise and has a soothing effect on ears. The use of front drum brakes (for the Standard and Alloy version) while disc brakes (for the Deluxe version) help to ensure comfortable rides. These features make Honda Activa 125 highly appealing even while navigating a crowded city.

Honda Activa 125 Boot Space

Honda Activa 125 has an 18-litre boot space, making it very convenient for daily use, like going to the office or shopping, as you can easily accommodate your belongings and enjoy a hassle-free ride.

Honda Activa 125 Leg Space

The vehicle has enough leg space for you to rest your legs comfortably during the ride, making it very comfortable and a viable option for people of all ages.

Honda Activa 125 Maintenance

Being one of India's most commonly used scooters, the spare parts of Honda Activa 125 are available at almost every mechanic's store. Furthermore, Honda provides maintenance in all its stores, where you can either walk in or book an appointment online.

Safety

Safety is one of the major concerns of people, especially in a country like India, where it is not uncommon to find bumps and ditches on the road. The Honda Activa 125 vehicle is designed considering the demography of India. It contains a combi-brake system which helps cushion the impact of small bumps on the road. Honda Activa 125 also includes a shutter lock, which allows for its protection, and it has various indicators like service due and a speedometer, which help check its performance.

Colors Available for Honda Activa 125

The Activa 125 is a stylish vehicle available in 6 colours: Rebel Red Metallic, Midnight Blue Metallic, Heavy Grey Metallic, Pearl Precious White, Strontium Silver Metallic, and Pearl Night Star Black. In addition to its extraordinary features, it also stands apart in terms of its style and visual appeal.

Honda Activa 125 is Best For

People across all age groups and demography have an affinity towards affordable and fuel-efficient scooters with sufficient boot and leg space. From a 75-year-old man to an 18-year-old kid, everyone enjoys its smooth and comfortable rides. The Honda Activa 125's comfortable seats and ample light headlight helps in navigating the roads of India with much ease. It makes travel enjoyable, whether going to the office or going for a mini road trip with your partner.

Vehicle Height

The height of Activa 125 is around 1.17 metres, while the seat height is approximately 1.26 metres, making it ideal for men and women alike.

Vehicle Weight

The weight of the Honda Activa 125 is 111 kg.

Seat Length

The seat length of Honda Activa 125 is 1170 cms, making it comfortable for 2 adult passengers and easily accommodating a child. This makes it ideal for a small family as well.

Seat Width

The seat width is 0.707 metres, making it ideal even for a long journey, as it won't cause pain or cramps in your thighs or legs while travelling long distances. This makes it highly preferred over any other scooter brand in the country.
---
USER REVIEWS & RATINGS OF
Brand Rating
(4.3 Ratings, 1 Reviews)
---
1 month ago
|
Using this from 3-6 months
It features are decent and its comfort is also ok, but one thing they should give is electric charging, Breaks are average, pickup is also average
Was this review helpful ?
---
Honda Activa 125 Drum Std SHOWROOMS
Preferred
Tansi Honda - ITPL Main Road
No 1, Sapthagiri Arcade, Hoodi, Village, ITPL Main Rd, next to ABT Parcel Service, Mahadevapura, Bengaluru
Preferred
VFM Honda - KR Puram
100 Pai Layout, Old Madras Road, near Tin Factory, K. R. Puram, Bengaluru
Preferred
Saphire Honda - Kanakpura Road
# 28, 29, 30 Kanakapura Village, Uttarahalli Hobli, 8th Main Rd, Doddakallasandra, Konanakunte, Bengaluru
Preferred
Dhruvdesh Honda - Yelahanka
#32/2,Near RMZ Galleria Opp to HP Petrol Bunk,Allasandra Village,Bangalore
Preferred
Planet Agencies - Sunkada Katte
No.155/47, 1st Floor, Magadi Main Road, Sunkadakatte, Bangalore 
Preferred
Tansi Honda- Seagahalli
No-24, 6, Whitefield - Hoskote Rd, opp. Shell petrol Bunk, Seegehalli, Bengaluru
---
FREQUENTLY ASKED QUESTIONS
Honda Activa 125 is powered by 124 cc engine.

The height of Honda Activa 125 is 1.170 m

It is equipped with self start only.

The Activa 125 is for someone wanting a slightly more powerful Activa. It also offers ample of space to make it a good family scooter. While it does get modern technology, the Activa 125 could do with a better braking and suspension setup.

Yes, you can avail loan for Honda Activa 125 on OTO. OTO offer competitive discounts and 35% lower EMI which makes it easy for you as a customer to purchase your dream bike.

For Honda Activa 125 it takes approximately 30 minutes for the application to be approved once you have provided all the required details.

Honda Activa 125 gives a mileage of 55 kmpl.

Honda Activa 125 price starts at Rs. 1,01,988 in India.

Honda Activa 125 comes with 4 variants - Honda Activa 125 Drum, Honda Activa 125 Drum Alloy, Honda Activa 125 Disc, Honda Activa 125 H-Smart.

The best variant is Honda Activa 125 H-Smart.

Honda Activa 125 is available in 5 colours - Pearl Night Star Black, Heavy Grey Metallic, Mid Night Blue Metallic, Rebel Red Metallic, Pearl Precious White With Salen Silver Metallic.

Honda Activa 125 goes up against Suzuki Access 125, Yamaha Fascino 125, TVS Jupiter 125, and the Hero Destini 125.