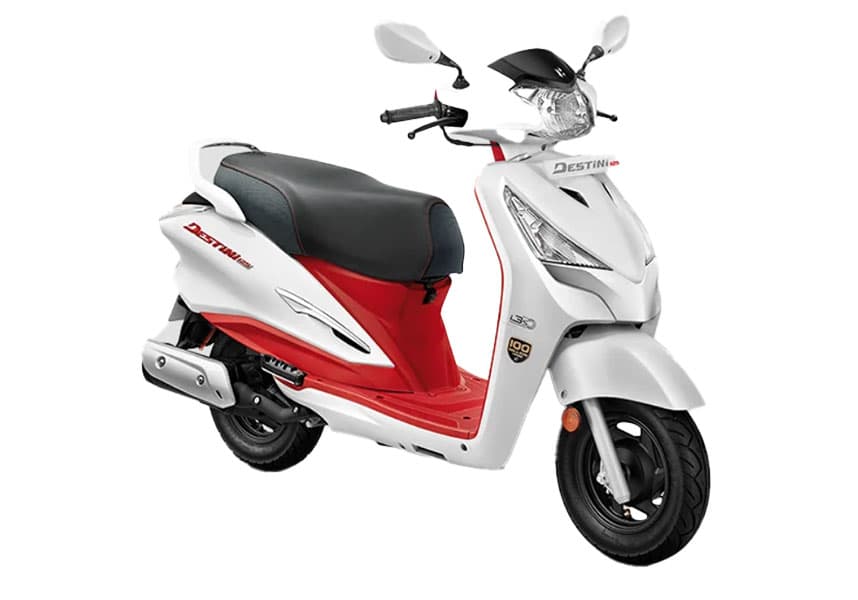 image
---
Hero Destini
VX Spl Edit PWH 100M
---
Hero Destini VX Spl Edit PWH 100M Colors
Hero Destini Variants with Price
On-road Price
Apply for Loan
---
---
---
Overview of
Hero Destini VX Spl Edit PWH 100M
| | |
| --- | --- |
| Mileage | 45 kmpl |
| Displacement | 125 cc |
| Max Power | 9 bhp @ 7000 rpm |
| Max Torque | 10.4 Nm @ 5500 rpm |
| Braking Type | Integrated Braking System |
| Starting | Kick and Self Start |
| ABS | No |
| Speedometer | Analogue |
---
About
Hero Destini VX Spl Edit PWH 100M
The Hero Destini is a stylish, versatile scooter with the perfect blend of form and function. This scooter is designed with modern aesthetics and user-friendly features to cater to a wide range of riders seeking a comfortable and convenient mode of transportation. The Hero Destini 125 Xtec is powered by a 124.6 cc single-cylinder, air-cooled engine that develops a power of 9 bhp and a torque of 10.4 Nm. The new Xtec variant of the Destini 125 gets enticing additional features, some of which include the addition of an LED headlight and Bluetooth connectivity. The semi-digital instrument cluster pairs with the rider's smartphone via a dedicated application and provides alerts for incoming calls, missed calls, and messages. It also comes with a USB charger. Apart from the new features, it looks more premium and stylish due to the chrome highlights near the rearview mirrors and handlebar cowl. Other design elements include dual-tone seats and colored inner panels. It has a fuel capacity of 5 litres and comes in 2 variants: Hero Destini 125 Xtec LX – with drum brakes and steel wheels. Hero Destini 125 Xtec VX - Alloy – with drum brakes and alloy wheels. With its contemporary design and advanced technology, the Hero Destini makes a lasting impression on the road and in the hearts of its riders.
You can apply for loan for Destini - VX Spl Edit PWH 100M on OTO and receive approval within just 30 minutes. The downpayment and EMI for Destini starts as low as Rs 14099/- and Rs 3096/-.
---
Specs & Features of
Hero Destini VX Spl Edit PWH 100M
Ride Comfort

The Hero Destini takes center stage with its focus on ensuring a pleasurable and smooth journey for both the rider and the pillion. The scooter's spacious and well-cushioned seat offers sufficient room, providing an enjoyable riding experience. The carefully tuned suspension system, with telescopic hydraulic shock absorbers at the front and unit swing with a spring-loaded hydraulic damper at the rear, adeptly absorbs road imperfections, resulting in a plush and stable ride on various terrains. Further, the pillion comfort has been enhanced with a backrest. Commuting through bustling city streets or riding on open highways becomes a pleasure with Destini's ergonomic riding position. The raised handlebars and optimally positioned footrests reduce fatigue, making it an ideal choice for riders of all ages and experiences.

Hero Destini Boot Space

The 19-liter boot space in the Hero Destini provides ample room for riders to carry their belongings. Whether it's a helmet, a small bag, or essentials for short trips, the spacious boot can accommodate various items, making it highly practical for everyday use.

Hero Destini Leg Space

The spacious leg space in the Hero Destini allows for easy and smooth maneuverability. Riders can shift their feet effortlessly, which is particularly advantageous while navigating through traffic or making quick turns.

Hero Destini Maintenance

The Hero Destini is a durable and reliable motorcycle that is easy to maintain for urban users on tight schedules. With a heavy focus on user convenience, Hero has engineered the Destini with low maintenance requirements. Routine servicing, oil changes, and basic upkeep can be efficiently performed at authorized service centers, ensuring the scooter's longevity and consistent performance. Furthermore, Hero's network of service centers and availability of genuine spare parts streamline maintenance processes, offering riders a hassle-free and economical ownership experience. The Destini proves to be a reliable vehicle, sparing riders the worry of frequent repairs and ensuring they can focus solely on enjoying their ride.

Safety

Safety remains a paramount concern for Hero, and Hero Destini doesn't disappoint in this aspect. Equipped with advanced safety features, the scooter prioritizes the well-being of its riders. The hardware on the Destini 125 Xtec comprises drum brakes of 130 mm each on both ends to handle the braking duties. This optimizes stopping power and enhances stability during sudden stops. The scooter rides on 10-inch alloy wheels on both ends, making it safe for both new and experienced users. Additionally, the scooter's robust construction and precise engineering contribute to its overall safety, assuring riders of a secure and protected ride.

Colors Available for Hero Destini

The Hero Destini comes in a delightful array of colors that allow riders to express their individuality and style. The 7 available colors are: 1) Nexus Blue 2) Matte Black 3) Nobel Red 4) Chestnut Brown 5) Matte Ray Silver 6) Panther Black 7) Pearl Silver White From vibrant shades to elegant hues, Destini's color palette offers a variety of options to suit diverse tastes. Riders can easily add a dash of their personalities to their vehicles.

Best For

The Hero Destini caters to a wide range of riders and is an ideal companion for various scenarios. It is well-suited for urban commuters with practical features like under-seat storage and a mobile charging port. It also serves as an excellent entry point for new riders due to its user-friendly features and manageable power delivery, which help instill confidence in inexperienced riders and provide a safe learning curve. Due to its accessible seat height and comfortable riding ergonomics, the Destini is well-suited for male and female riders alike. The Hero Destini also excels as a family-oriented scooter, making it perfect for family outings and short trips. The ample storage space ensures riders can carry essentials and necessities, promoting an enjoyable family experience.

Vehicle Height

The Hero Destini boasts a rider-friendly height of 1154 mm and a ground clearance of 155 mm. This comfortable height ensures most riders can easily place their feet on the ground, promoting confidence and stability during stops and slow-speed maneuvers. The height makes it easier for shorter riders to handle the scooter effortlessly.

Vehicle Weight

Weighing around 115 kg, the Hero Destini balances agility and stability. Its manageable weight allows for easy maneuverability in congested urban areas, while the scooter's sturdy build ensures a stable and confident ride on highways and uneven terrain. It is easy to maneuver the motorcycle through heavy traffic or tight spaces thanks to its well-balanced weight distribution.

Seat Length

The Hero Destini features a spacious and well-contoured seat with a height of 778 mm and a vehicle length of 1089 mm, providing ample room for the rider and pillion. The elongated seat design ensures comfortable seating during extended rides, easily accommodating riders of varying heights.

Seat Width

Hero Destini's width of around 729 mm is designed to optimize for a balance between providing adequate room and ensuring a secure riding position. With its thoughtfully contoured seat, the Hero Destini offers a pleasant riding experience, enabling riders to focus on their journey without discomfort. The bespoke level of attention paid to the seat does more than enhance comfort. It adds to the overall stability of the ride.
---
Hero Destini VX Spl Edit PWH 100M SHOWROOMS
Preferred
R T Krishna Hero - Hosur Main Road
#5/6/1, BERETENA AGRAHARA, ELETRONIC CITY, HOSUR MAIN ROAD, BENGALURU-560100
Prakash Motors - Lalbagh Road
# 15, Lalbagh Road, Near Subbaiah Circle, Bangalore - 560027
Tanishka Hero - M.S. Palya
No-66, 67 M.S. Palya Main Road, Vidyaranyapura Post, Bangalore
Preferred
Sai Bikes - Peenya Indl. Area
NO. P-6E, 1st Cross, 1st Stage, Tumkur Road, Peenya Indl Area, Lakshmidevinagar, Bengaluru (Bangalore) Urban Karnataka, 560058
H. K. THANU MOTORS - Nagasandra
No. 04, Nagasandra,Opposite Ganesh Sagar Hotel Bangalore - 560073,
Preferred
Sai Hero - Banashankari
No 218, 3rd Stage 2nd Blk, Outer Ring Rd, Banashankari, Bengaluru, Karnataka 560085
---
FREQUENTLY ASKED QUESTIONS
Hero Destini 125 comes with 3 variants which includes Hero Destini 125 STD, Hero Destini 125 LX, Hero Destini 125 XTEC

The top variant is Hero Destini 125 XTEC. It comes with max power of 9 bhp

Destini 125 XTEC is available in 7 different colours - Nexus Blue, Matte Black, Pearl Silver White, Nobel Red, Panther Black, Chestnut Brown and Matte Ray Silver.

Hero Destini has a mileage of 50 km/l

Hero Destini comes with engine diceplacement of 124.6 cc

Hero Destini comes with a on road price of Rs. 83,595in Bangalore

The exact height of Hero Destini is 1.15 m

Hero Destini comes with self start and kick start

Top competitors of Hero Destini are TVS Jupiter and Hero Maestro Edge 125

The Hero Destini is a good scooter with its peppy engine, comfortable ride, and practical features like the i3S technology, making it an ideal choice for daily commuting and city use. Its competitive pricing and Hero's brand reliability add to its overall value as a dependable and budget-friendly scooter.

Yes, you can avail loan for Hero Destini on OTO. OTO offer competitive discounts and 35% lower EMI which makes it easy for you as a customer to purchase your dream bike.

For Hero Destini it takes approximately 30 minutes for the application to be approved once you have provided all the required details.