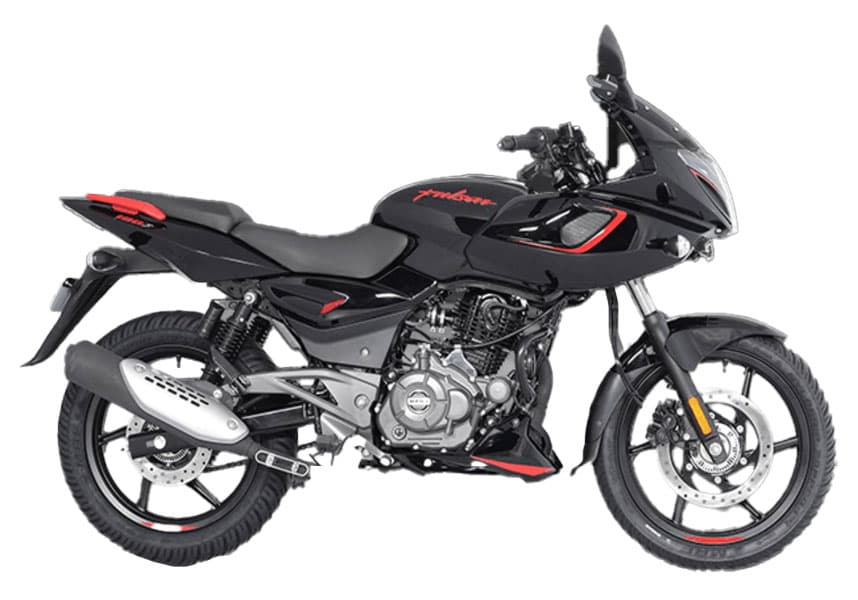 image
---
Bajaj Pulsar 180
HF - Neon ABS
---
Bajaj Pulsar 180 HF - Neon ABS Colors
Bajaj Pulsar 180 Variants with Price
On-road Price
Apply for Loan
---
---
---
Overview of
Bajaj Pulsar 180 HF - Neon ABS
| | |
| --- | --- |
| Mileage | 42 kmpl |
| Displacement | 179 cc |
| Max Power | 16.76 bhp @ 8500 rpm |
| Max Torque | 14.52 Nm @ 6500 rpm |
| Braking Type | Single Channel ABS |
| Starting | Kick and Self Start |
| ABS | Yes |
| Speedometer | Digital |
| Range | None Km/Charge Km/Charge |
| Charging Time | None Kmph Hours |
| Top Speed | None Hours Kmph |
---
About
Bajaj Pulsar 180 HF - Neon ABS
The Bajaj Pulsar 180 is a quintessential motorcycle with a reputation for its reliability, performance, and timeless design. As part of the legendary Pulsar series, the Pulsar 180 inherits the brand's DNA while delivering an impressive blend of power and efficiency. Bajaj Pulsar 180 is powered by a 178.6cc, single-cylinder, air-cooled motor that makes 16.7bhp of power at 8,500 rpm and 14.52 Nm of peak torque at 6,500 rpm. The engine is linked to a five-speed transmission. Its muscular and aerodynamic styling and bold graphics give it a distinctive and commanding presence on the road. The styling cues include a single-pod headlight with twin DRLs and a tinted visor at the front, a muscular fuel tank with shrouds, an engine cowl, split-style seats, and a two-piece pillion grab rail. Powered by a fuel-efficient engine with a fuel capacity of 15 liters, the Pulsar 180 offers riders a thrilling yet comfortable riding experience. Designed to tackle city streets and open highways easily, the Pulsar 180 remains a top choice for commuters and enthusiasts seeking a dynamic and practical two-wheeler.
You can apply for loan for Pulsar 180 - HF - Neon ABS on OTO and receive approval within just 30 minutes. The downpayment and EMI for Pulsar 180 starts as low as Rs 21577/- and Rs 4739/-.
---
Specs & Features of
Bajaj Pulsar 180 HF - Neon ABS
Ride Comfort

The Bajaj Pulsar 180 is engineered with ride comfort in mind, making it well-suited for daily commuting and long-distance rides alike. The motorcycle's ergonomically designed split seat ensures an optimal riding posture, reducing fatigue during extended journeys. The handlebars are placed at an ideal height, minimizing strain on the rider's wrists and shoulders and enhancing overall comfort. The Pulsar 180 features a robust telescopic front fork and a gas-charged rear suspension that effectively absorbs road undulations, providing a smooth and stable ride. Its agile and nimble nature makes maneuvering through city traffic a breeze, while the well-cushioned seats offer ample support to both the rider and pillion.

Bajaj Pulsar 180 Maintenance

Bajaj's dedication to reliability and durability is evident in the Pulsar 180, contributing to its cost-effective maintenance. The motorcycle's sturdy build quality and the use of high-quality components translate into fewer breakdowns and reduced servicing requirements. Routine maintenance tasks like oil changes, filter replacements, and general inspections are straightforward and do not incur significant expenses. Bajaj's extensive service network ensures easy access to authorized service centers, simplifying the maintenance process. The availability of affordable aftermarket parts further contributes to keeping maintenance costs at a minimum.

Safety

Safety is an essential parameter for Bajaj, and the Pulsar 180 is equipped with important features to ensure a secure riding experience. The braking setup comprises a 280 mm single disc at the front and a 230 mm single rotor at the back, while a single-channel ABS provide the safety net. The reliable braking system, including front and rear disc brakes, provides precise and responsive stopping power. In terms of illumination, the Pulsar 180 is equipped with bright and efficient halogen headlamps, ensuring excellent visibility during night rides. The motorcycle's LED tail lamps enhance rear visibility, alerting other road users to the rider's presence. Furthermore, the Pulsar 180's robust perimeter frame offers excellent structural integrity, contributing to its stability and handling prowess. The bike's ergonomically designed switchgear ensures easy access to controls, allowing the rider to stay focused on the road at all times.

Colors Available for Bajaj Pulsar 180

The Bajaj Pulsar 180 is available in captivating colors that accentuate its sporty design. Enthusiasts can choose from vibrant shades like Nuclear Blue, Laser Black, Chrome Black, and Dyno Red. 1) Peal White 2) Volcanic Red 3) Sparkling Black Each color option complements the motorcycle's aesthetics, adding to its visual appeal. Whether riders prefer a bold, eye-catching look or a classic and understated style, the Pulsar 180's color options cater to diverse tastes and preferences.

Best For

The Bajaj Pulsar 180 is an excellent choice for riders seeking a balance of power, comfort, and reliability. Its efficient 180cc engine delivers spirited performance, making it suitable for daily commuting and occasional weekend getaways. City commuters will appreciate the Pulsar 180's maneuverability and comfortable seating, easing their way through congested streets. The bike's impressive fuel efficiency ensures an economical and practical daily ride. Enthusiasts looking for an affordable and reliable motorcycle for leisure rides and occasional tours will find the Pulsar 180 a worthy companion. Its robust build and stable handling instill confidence during long-distance journeys, making it an ideal choice for riders seeking adventure on the open road.

Vehicle Height

The Bajaj Pulsar 180 stands at an ideal vehicle height of 1115 mm. It provides a comfortable and confident riding posture for riders of varying heights. It allows riders to confidently place their foot on the ground and control the bike at low speeds. This balanced height ensures easy maneuverability in traffic and a clear view of the road ahead.

Vehicle Weight

With a manageable curb weight of around 151 kg, the Pulsar 180 offers a nimble and agile riding experience. The bike's lightweight nature contributes to its responsive handling and ease of maneuvering through tight spaces and crowded city streets, making it an excellent choice for both city commuting and leisurely rides.

Seat Length

The Bajaj Pulsar 180 boasts a comfortable seat height of around 790 mm, providing ample room for both the rider and pillion. The well-cushioned saddle ensures a fatigue-free experience even during extended rides, making it suitable for daily commutes and leisure trips.

Seat Width

With a comfortable width of 765 mm, the Pulsar 180 offers sufficient support for the rider and the pillion, promoting a comfortable and secure ride feel. The well-contoured seat design further aids in maintaining a balanced and relaxed riding posture, enhancing overall ride comfort. This makes it a perfect ride for riders looking to share their journey with a pillion.
---
USER REVIEWS & RATINGS OF
Brand Rating
(4.2 Ratings, 2 Reviews)
---
1 month ago
|
Using this from > 1 Year
This bike is very comfortable to ride, delivers good mileage and has a good performance. This bike is also best for daily use. Gets mileage of 55kmpl.
Was this review helpful ?
1 month ago
|
Using this from 3-6 months
Overall pleasant purchase for me, powerful, sporty, looks uber cool, spare parts are also no issues
Was this review helpful ?
---
Bajaj Pulsar 180 HF - Neon ABS SHOWROOMS
Preferred
Amba Bajaj - Hosur Road
2, 2A AND 2 B, SRI NIDHI COMPLEX, HOSUR MAIN ROAD, HONGASANDRA VILLAGE, G B PALYA, BEGUR , HOBLI, Bengaluru
Khivraj Motors - Hoodi
itpl main road bangalore
Raghavendra Motors - Kengeri Satellite Town
#561,1st Main Road,A.I Rehamath Complex,Opp to Ganesha Play Ground,Kengeri Satellite Town,Bangalore-560060
RV Bajaj - Kengeri
Mysore Rd, Harsha Layout, Kengeri Satellite Town, Bengaluru, Karnataka
Khivraj Motors - Horamavu
No. 118,119 & 130, 131, Banasawadi, Outer Ring Road, Horamavu, Bangalore
Popular Motors - Mekhri Circle
No .19,1st cross,Achaiah Chetty Layout, Rajmahal Vilas Extension, Sadhasivanagar, Mekhri circle, Bangalore
---
FREQUENTLY ASKED QUESTIONS
Bajaj Pulsar 180 was available in 4 variants - Bajaj Pulsar 180 Standard, Bajaj Pulsar 180 Neon, Bajaj Pulsar 180F, Bajaj Pulsar 180 Twin Disc, Bajaj Pulsar 180 BS6

Bajaj Pulsar 180F (with a full front fairing) is often considered a popular and appealing variant

Bajaj Pulsar 180 is available in 4 different colours - Sparkle Black, Pearl White, Black Red, Volcanic Red.

Bajaj Pulsar 180 comes with a 178.6cc engine.

The exact height of bajaj pulsar 1.115 to 1.165 m

Bajaj Pulsar 180 comes with self start only option.

The Top compeitors for Bajaj Pulsar NS160 are TVS Apache RTR 180, Honda SP 125 and Raider

Right from riding posture, riding comfort to service availability this bike has it all. Bajaj Pulsar 180 is considered a good bike.

Yes, you can avail loan for Bajaj Pulsar 180 on OTO. OTO offer competitive discounts and 35% lower EMI which makes it easy for you as a customer to purchase your dream bike.

For Bajaj Pulsar 180 it takes approximately 30 minutes for the application to be approved once you have provided all the required details.

Bajaj Pulsar 180 comes with a on road price of ₹ 135000

Bajaj pulsar 180 has the mileage of 45kmpl