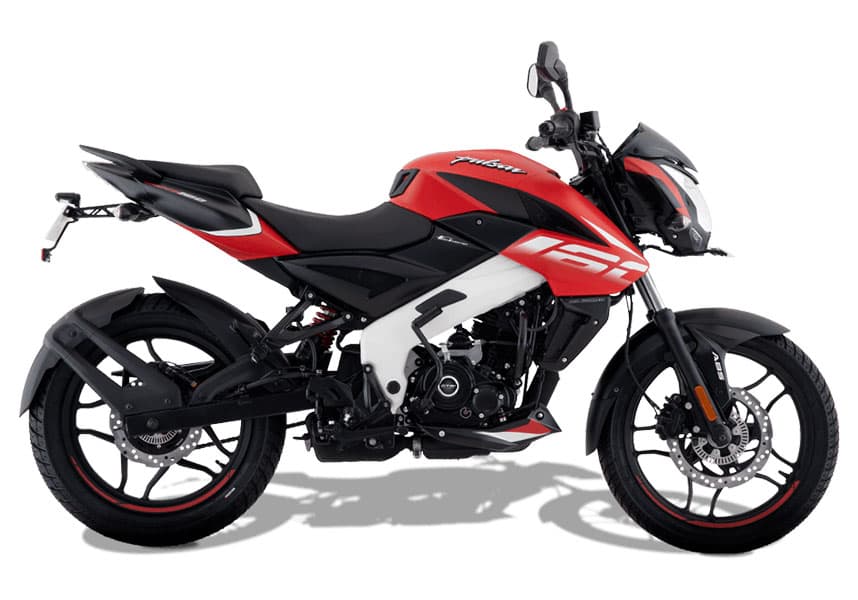 image
---
Bajaj Pulsar 160
N Single chanel
---
Bajaj Pulsar 160 N Single chanel Colors
Bajaj Pulsar 160 Variants with Price
On-road Price
Apply for Loan
---
---
---
Overview of
Bajaj Pulsar 160 N Single chanel
| | |
| --- | --- |
| Mileage | 52 kmpl |
| Displacement | 164 cc |
| Max Power | 15.68 bhp @ 8750 rpm |
| Max Torque | 14.65 Nm @ 6750 rpm |
| Braking Type | Single Channel ABS |
| Starting | Kick and Self Start |
| ABS | Yes |
| Speedometer | Digital |
| Range | None Km/Charge Km/Charge |
| Charging Time | None Kmph Hours |
| Top Speed | None Hours Kmph |
---
About
Bajaj Pulsar 160 N Single chanel
The Bajaj Pulsar N160, a commuter bike by Bajaj Auto - one of India's leading two-wheeler manufacturers, embodies the perfect amalgamation of power, style, and comfort. This striking streetfighter motorcycle is built to cater to thrill-seeking riders' and urban commuters' desires. The Bajaj Pulsar N160 is powered by a 164.82cc BS6 engine which develops a power of 15.68 bhp, a torque of 14.65 Nm, and has a fuel tank capacity of 14 liters. On the feature front, Bajaj has equipped the Pulsar N160 with a semi-digital instrument cluster and USB charging port. The bike is available in 2 variants: 1) Single-channel ABS 2) Dual-channel ABS The Bajaj Pulsar N160 takes design inspiration from the Pulsar N250. It gets a projector LED headlight with LED DRLs at the front. The side panels and the overall design have been borrowed from the 250cc Pulsar. The Pulsar N160 has carved a niche in the highly competitive two-wheeler market with its aggressive design, powerful engine, and rider-centric features.
You can apply for loan for Pulsar 160 - N Single chanel on OTO and receive approval within just 30 minutes. The downpayment and EMI for Pulsar 160 starts as low as Rs 23831/- and Rs 5234/-.
---
Specs & Features of
Bajaj Pulsar 160 N Single chanel
Ride Comfort

Comfort takes center stage in the Bajaj Pulsar N160, providing riders with assurance during every journey. The bike's ergonomics have been meticulously designed to offer an upright riding position, reducing strain on the back and wrists. The well-padded and contoured seats ensure a fatigue-free experience during long rides, while the spacious footpegs provide ample legroom for various rider sizes. The N160 boasts a robust suspension system that effortlessly tackles rough terrains, making it a delight to ride on city streets or country roads. The telescopic front forks and Nitrox mono-shock absorber at the rear work harmoniously to iron out bumps and undulations, delivering a smooth and controlled ride. Whether tackling potholes or maneuvering through traffic, the Pulsar N160 offers a refined ride comfort that impresses riders.

Bajaj Pulsar 160 Maintenance

As with any motorcycle, maintenance is a key aspect that directly impacts the ownership experience. The Bajaj Pulsar N160 impresses with its practicality and user-friendly design, making maintenance hassle-free and economical. The bike's renowned engineering ensures excellent reliability and longevity, reducing the frequency of visits to the service center. Routine maintenance tasks, such as oil changes and basic inspections, are straightforward, ensuring that riders spend more time enjoying the thrill of the ride and less time dealing with complex maintenance issues. Bajaj Auto's extensive service network and the availability of genuine spare parts add to the convenience of owning the Pulsar N160, making it a popular choice among budget-conscious riders.

Safety

The Bajaj Pulsar N160 has safety features that match its performance-oriented nature. The motorcycle rides on a front disc of 300 m in Pulsar N160 Dual Channel ABS, a 280 mm front disc in Single Channel ABS, and a 230 mm rear disc. The bike's robust braking system delivers commendable stopping power, ensuring precise control during emergencies and sudden halts. To further enhance safety, Bajaj Auto offers the option of an Anti-lock Braking System (ABS) variant, which prevents wheel lock-ups, especially on slippery surfaces or during hard braking. The addition of ABS provides riders with enhanced confidence, especially when navigating unpredictable traffic scenarios.

Colors Available for Bajaj Pulsar 160

Adding to the appeal of the Bajaj Pulsar N160 is its striking color palette. Bajaj Auto offers a range of captivating colors, allowing riders to express their personality and style through their motorcycle. The 3 available colors are: 1) Brooklyn Black 2) Racing Red 3) Caribbean Blue Whether one prefers the timeless elegance of black, the sportiness of blue, or the vivacity of red, the N160 offers a color choice to suit every rider's taste.

Best For

The Bajaj Pulsar N160 is tailored for those seeking a powerful, versatile motorcycle that excels in urban commuting and weekend escapades. Its agile handling and spirited performance make it ideal for navigating congested city streets, allowing riders to weave through traffic effortlessly. Furthermore, the N160's comfortable ergonomics and refined ride quality make it a great companion for those planning longer rides and highway journeys. The bike's performance-oriented nature and fuel efficiency make it a popular choice for riders who enjoy spirited rides while being mindful of their budget.

Vehicle Height

The Bajaj Pulsar N160 boasts a seat height of 1050 mm, striking the right balance between being commanding and easy to handle. This height ensures a comfortable riding position for riders of varying heights, granting them a clear view of the road ahead. Moreover, a well-balanced center of gravity improves stability, mainly during low-speed maneuvers or while stationary.

Vehicle Weight

The N160 is known for its construction, tipping the scales at 154 kg. This impressive power-to-weight ratio enhances the bike's performance, acceleration, and maneuverability. Whether darting through city traffic or taking on curvy roads, the motorcycle's low weight gives riders a nimble and agile riding experience.

Seat Length

The Bajaj Pulsar N160 features a well-crafted seat length of 795 mm, providing ample space for riders to find their sweet spot during extended journeys. The seat's ergonomic design ensures a comfortable and supportive posture, making it suitable for riders with different body types. Whether a short city commute or a leisurely weekend ride, the N160's seat length enhances rider comfort, encouraging riders to explore further.

Seat Width

The seat width of 743 mm on the Bajaj Pulsar N160 is designed to offer a snug fit for the rider, promoting a sense of control and connection with the motorcycle. The narrower profile lets riders plant their feet securely on the ground during stops, adding to their confidence, especially in crowded traffic conditions.
---
Bajaj Pulsar 160 N Single chanel SHOWROOMS
Preferred
Amba Bajaj - Hosur Road
2, 2A AND 2 B, SRI NIDHI COMPLEX, HOSUR MAIN ROAD, HONGASANDRA VILLAGE, G B PALYA, BEGUR , HOBLI, Bengaluru
Khivraj Motors - Hoodi
itpl main road bangalore
Raghavendra Motors - Kengeri Satellite Town
#561,1st Main Road,A.I Rehamath Complex,Opp to Ganesha Play Ground,Kengeri Satellite Town,Bangalore-560060
RV Bajaj - Kengeri
Mysore Rd, Harsha Layout, Kengeri Satellite Town, Bengaluru, Karnataka
Khivraj Motors - Horamavu
No. 118,119 & 130, 131, Banasawadi, Outer Ring Road, Horamavu, Bangalore
Popular Motors - Mekhri Circle
No .19,1st cross,Achaiah Chetty Layout, Rajmahal Vilas Extension, Sadhasivanagar, Mekhri circle, Bangalore
---
FREQUENTLY ASKED QUESTIONS
Bajaj Pulsar 160 comes with a on road price of ₹ 1,68,961 in Bangalore

Bajaj Pulsar NS160 comes with 2 variants which includes Bajaj Pulsar NS160 STD 2023, Bajaj Pulsar NS160 Twin Disc BS6.

The best variant is Bajaj Pulsar NS160 Twin Disc BS6 which comes at a price tag of Rs. 1,36,736.

Bajaj Pulsar NS160 is available in 5 different colours - Black, Metallic Pearl White, Burnt Red, Pewter Grey, Satin Blue.

Bajaj pulsar 160 has the mileage of 45kmpl

Bajaj Pulsar 160 comes with a 160.3cc engine.

The exact height of bajaj pulsar 160 is 1.06m

Bajaj Pulsar 160 comes with self start only option.

The Top compeitors for Bajaj Pulsar NS160 are Hero Xtreme 160R BS6, Yamaha FZ FI V3, Yamaha FZS FI BS6 and Yamaha FZ-X

Overall, the bajaj pulsar 160 is a great bike that offers a perfect balance of performance, style, and practicality. It is an excellent choice for anyone looking for a reliable and efficient commuter bike that can also handle occasional touring and weekend rides.

Yes, you can avail loan for Bajaj Pulsar 160 on OTO. OTO offer competitive discounts and 35% lower EMI which makes it easy for you as a customer to purchase your dream bike.

For Bajaj Pulsar 160 it takes approximately 30 minutes for the application to be approved once you have provided all the required details.