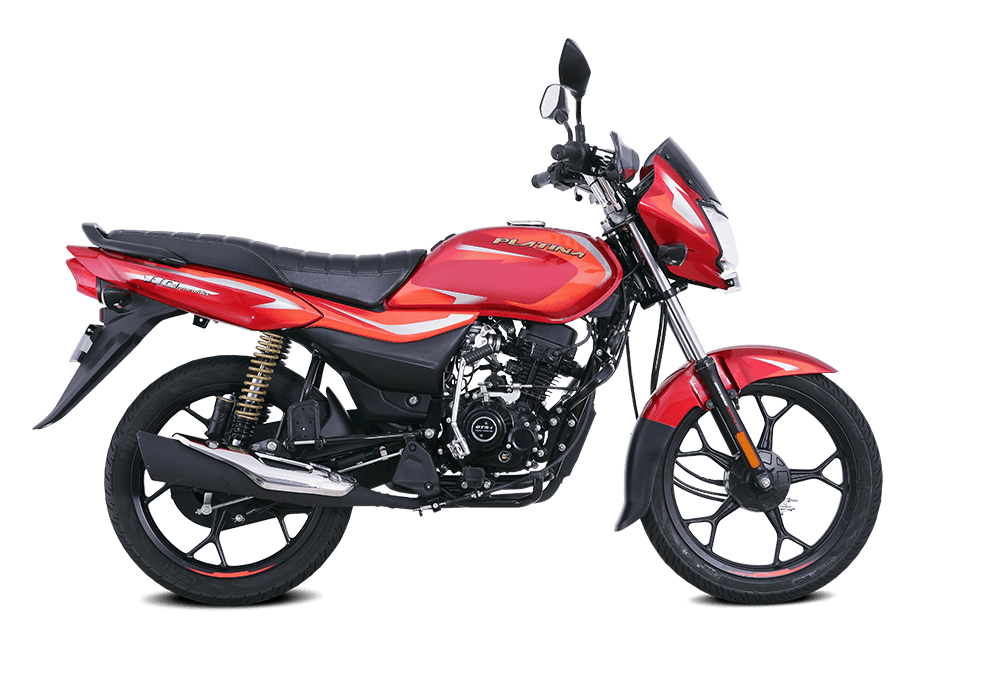 right side view
---
---
Bajaj Platina 110 CBS Colors
Bajaj Platina 110 Variants with Price
On-road Price
Apply for Loan
---
---
---
Overview of
Bajaj Platina 110 CBS
| | |
| --- | --- |
| Mileage | 75 kmpl |
| Displacement | 115 cc |
| Max Power | 8.5 bhp @ 7,000 rpm |
| Max Torque | 9.81 Nm @ 5,000 rpm |
| Braking Type | Combined Braking System |
| Starting | Kick and Self Start |
| ABS | No |
| Speedometer | Analogue |
---
About
Bajaj Platina 110 CBS
The Bajaj Platina 110 is a commuter motorcycle powered by a single-cylinder, air-cooled engine with a displacement of 115 cc. This engine is designed to deliver good fuel efficiency and smooth performance. The engine of the Platina 110 produces a maximum power output of around 8.48 HP and a peak torque of approximately 9.81 nm. The Platina 110 is typically designed with sleek lines and a streamlined body, giving it an aerodynamic appearance. The styling cues and the feature list remain unaltered, and the Bajaj Platina 110 ABS continues to use a halogen headlight with an LED DRL at the front, knuckle guards, quilted seats, a Nitrox spring-on-spring rear suspension, telescopic front forks, and alloy wheels with tubeless tyres. Bajaj often offers the Platina 110 in a range of vibrant color options, allowing riders to choose a style that suits their preferences. The Bajaj Platina 110 is available in mainly 2 variants: 1. Bajaj Platina 110 Drum 2. Bajaj Platina 110 ABS. The Platina 110 Drum variant is equipped with a drum brake system. This braking system typically consists of drum brakes at both the front and rear wheels. The Platina 110 ABS variant is equipped with an Anti-lock Braking System (ABS). ABS is an advanced safety feature that prevents wheel lock-up during sudden or hard braking, thereby enhancing braking stability and control.
You can apply for loan for Platina 110 - CBS on OTO and receive approval within just 30 minutes. The downpayment and EMI for Platina 110 starts as low as Rs 12992/- and Rs 2853/-.
---
Specs & Features of
Bajaj Platina 110 CBS
Ride Comfort

The Bajaj Platina 110 offers a comfortable riding experience with its SnS suspension system. The SnS suspension is designed to absorb strong jerks and provide better shock absorption, resulting in a smoother and more comfortable ride, especially on uneven or bumpy roads. The commuter motorcycle comes with a 240mm single disc with single-channel ABS on the front wheel, while the rear uses a 110mm drum, allowing for better control and stability, particularly in emergency braking situations.

Bajaj Platina 110 Maintenance

Bajaj Auto Limited provides a warranty for their motorcycles, including the Bajaj Platina 110, to address any manufacturing defects. According to the warranty policy, Bajaj Auto Limited will repair or replace, free of charge, any part or parts found to have a manufacturing defect within a period of 5 years or 75,000 kilometers, whichever comes earlier, from the date of sale. Warranty terms may vary; one must refer to the provided documentation or an authorized Bajaj dealership for details on coverage for the Bajaj Platina 110 model.

Safety

The Bajaj Platina 110 stands out in its segment as the only 110 cc bike that offers the added safety feature of ABS (Anti-Lock Braking System). ABS ensures precise and controlled braking by monitoring wheel speed and preventing wheel lock-up during hard braking. This technology modulates brake pressure to maintain traction, allowing riders to maintain control over the motorcycle while braking. Moreover, certain variants of the Platina 110 may incorporate LED DRLs, which not only enhance visibility but also add a stylish element to the motorcycle's design.

Colors Available for Bajaj Platina 110

The Bajaj Platina 110 Drum variant offers a choice of three different colors for riders to select from: 1. Ebony Black Blue 2. Ebony Black Red 3. Cocktail Wine Red - Orange On the other hand, the Bajaj Platina 110 ABS variant also offers a selection of three distinct colors: 1. Cocktail Wine Red 2. Ebony Black 3. Saffire Blue These color options allow riders to personalize their Bajaj Platina 110 Drum or Platina 110 ABS according to their preferences and style, adding an element of individuality to their riding experience.

Best For

The Bajaj Platina 110 is designed as a commuter motorcycle, making it well-suited for riders who prioritize fuel efficiency, comfort, and practicality for their daily commuting needs. The Bajaj Platina 110 is ideal for commuters who navigate congested city streets or travel on highways regularly. Moreover, If you prioritize fuel efficiency and cost-effectiveness, the Platina 110's mileage-focused design can be advantageous. With its efficient engine and optimized performance, the bike can help reduce fuel expenses, making it an economical option for riders looking to minimize their transportation costs.

Vehicle Height

The height of the Bajaj Platina 110 typically falls within the range of 1,075 mm to 1,080 mm. This measurement includes the overall height of the motorcycle from the ground to its highest point, which may vary based on factors such as tire pressure and suspension setup.

Vehicle Weight

The Bajaj Platina 110 typically weighs around 119 kgs. It's worth noting that this weight measurement may also include other fluids like oil and coolant, which are necessary for the proper functioning of the motorcycle. The light weight makes it comfortable to move without ignition. So, you will be able to comfortably ride the bike even with a pillion rider with a shoulder bag on.

Seat Length

The Bajaj Platina 110 has a seat length of 807 mm. The seat's ergonomic design ensures a comfortable riding posture, reducing fatigue and offering a smooth experience even on uneven road surfaces. It offers sufficient length to accommodate even tall riders and provides a comfortable seating position.

Seat Width

The majority of commuter motorcycles in this segment offer seats with standard widths. The seat width typically falls within the range of 230 mm to 250 mm, providing a balance between comfort and maneuverability, accommodating both the rider and a pillion passenger comfortably.
---
Bajaj Platina 110 CBS SHOWROOMS
Preferred
Amba Bajaj - Hosur Road
2, 2A AND 2 B, SRI NIDHI COMPLEX, HOSUR MAIN ROAD, HONGASANDRA VILLAGE, G B PALYA, BEGUR , HOBLI, Bengaluru
Khivraj Motors - Hoodi
itpl main road bangalore
Raghavendra Motors - Kengeri Satellite Town
#561,1st Main Road,A.I Rehamath Complex,Opp to Ganesha Play Ground,Kengeri Satellite Town,Bangalore-560060
RV Bajaj - Kengeri
Mysore Rd, Harsha Layout, Kengeri Satellite Town, Bengaluru, Karnataka
Khivraj Motors - Horamavu
No. 118,119 & 130, 131, Banasawadi, Outer Ring Road, Horamavu, Bangalore
Popular Motors - Mekhri Circle
No .19,1st cross,Achaiah Chetty Layout, Rajmahal Vilas Extension, Sadhasivanagar, Mekhri circle, Bangalore
---
FREQUENTLY ASKED QUESTIONS
Bajaj Platina 110 comes with the mileage of 70kmpl to 100 kmpl

Bajaj Platina 110 comes with engine displacement of 115.4 cc

The height of Bajaj Platina varies from 1.076 to 1.1 m

Bajaj Platina 110 comes with Kick and Self Start

Bajaj Platina 110 has plenty of competitors. Few among them are Hero Splendor Plus, Honda Shine and Hero HF Deluxe.

The Bajaj Platina 110 is a commuter motorcycle. It boasts a 115.45cc engine, delivering decent power and excellent fuel efficiency, making it an ideal choice for economical city rides and daily commuting. With comfortable seating, low maintenance costs, and Bajaj's reliability, it appeals to riders looking for a budget-friendly and practical two-wheeler option.

Yes, you can avail loan for Bajaj Platina 110 on OTO. OTO offer competitive discounts and 35% lower EMI which makes it easy for you as a customer to purchase your dream bike.

For Bajaj Platina 110 it takes approximately 30 minutes for the application to be approved once you have provided all the required details.

Bajaj Platina 100 on road price starts from ₹ 92,479

Bajaj Platina 110 comes with 2 variants which includes Bajaj Platina 110 Drum, Bajaj Platina 110 ABS

Bajaj Platina 110 ABS is the best variant as it comes with 115.45 cc engine and max power of 8.60 PS @ 7000 rpm. Bajaj Platina 100 has 10.5 L fuel capacity with the mileage of 70 kmpl

Bajaj Platina 110 is available in 5 different colours - Ebony Black, Cocktial Wine Red- Orange, Ebony Black Red, Cocktail Wine Red, Saffire Blue.