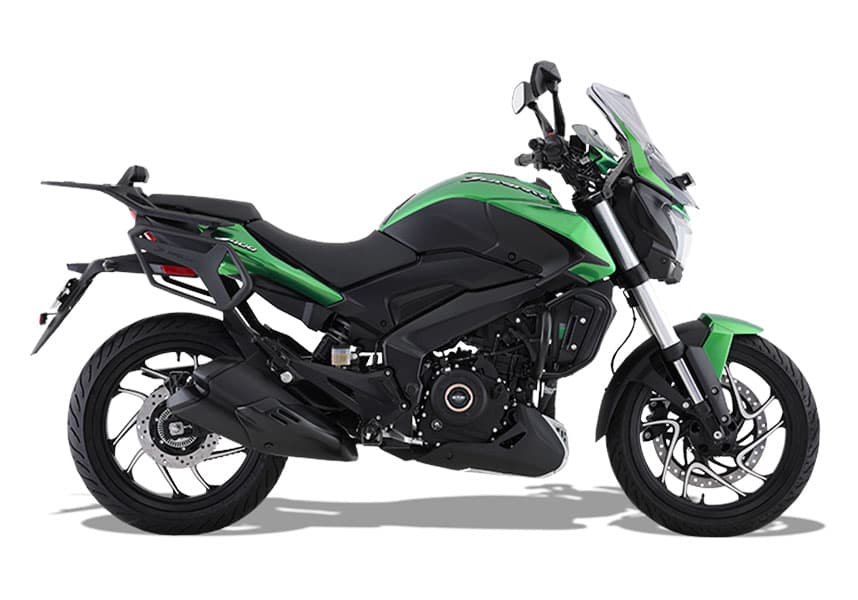 image
---
---
Bajaj Dominar 400 ABS Colors
Bajaj Dominar 400 Variants with Price
On-road Price
Apply for Loan
---
---
---
Overview of
Bajaj Dominar 400 ABS
| | |
| --- | --- |
| Mileage | 29 kmpl |
| Displacement | 374 cc |
| Max Power | 39.42 bhp @ 8,800 rpm |
| Max Torque | 35 Nm @ 6,500 rpm |
| Braking Type | Dual Channel ABS |
| Starting | Kick and Self Start |
| ABS | Yes |
| Speedometer | Digital |
---
About
Bajaj Dominar 400 ABS
The Bajaj Dominar 400 is a sturdy, robust, and dependable motorcycle with outstanding specifications and features. The bike has an excellent KTM-sourced 373.3 cc angle cylinder liquid-cooled engine, which makes it easy to drive even on inclined roadways and rugged terrain. Its twin-spar perimeter frame provides lateral strength and superior handling, thus making it ideal for road trips in extreme conditions. The Bajaj Dominar 400 is designed to dominate the road with its twin-barrel exhaust and factory-fitted turning accessories. Furthermore, the bike has a 13-litre fuel capacity, which comes in handy while going on road trips in interior parts of the country where petrol pumps are not easily accessible. Its digital speedometer and trip meter contribute to the modern touch the bike reflects.
You can apply for loan for Dominar 400 - ABS on OTO and receive approval within just 30 minutes. The downpayment and EMI for Dominar 400 starts as low as Rs 44348/- and Rs 9740/-.
---
Specs & Features of
Bajaj Dominar 400 ABS
Ride Comfort

Bajaj Dominar is explicitly designed as a bike for road tripping; hence, ensuring the riders' comfort is a top priority. To ensure this, Bajaj has introduced top-notch features in the Dominar 400, such as the 6-speed gearbox, which aids in comfortable cruising even at high speed. There is also an adjustable windshield USB charging port to assist the riders in their journeys and ensure all their needs are taken care of. Furthermore, the full LED headlamps ensure comfort while riding at night.

Bajaj Dominar 400 Maintenance

The Bajaj 400 is designed to dominate all kinds of roads. But to take the bike on such journeys, it is essential to ensure its proper upkeep. This involves timely maintenance and servicing of the bike. Bajaj provides 3 free services based on distance traveled and days elapsed since the bike's purchase date. Bajaj also provides paid maintenance services later, which should be availed of either 120 days or 5000 km from the last service. Taking proper care of the vehicle is essential to ensuring its longevity. Furthermore, this reduces the risk of any malfunction on the motorcycle. This way, riders can feel at ease and not worry about any inconvenience on long road trips.

Safety

Road trips involve traversing rugged terrain and performing complicated maneuvers. Hence, safety features are a crucial factor to consider when buying a bike for road-tripping. Braving extreme weather conditions and challenges is part of road-tripping. The Bajaj Dominar 400 comes with features that prioritize the riders' safety. The Twin anti-lock Braking System (ABS) ensures the wheels don't lock or skid on any surface. There are also many times when there is a need to decelerate the vehicle suddenly, especially on the mountain trails where the visibility is low and the roads have sharp turns. The superior front disc braking with radial caliper mounting helps to decrease the speed from 100 kmph to 0 in just 43 meters, which is a boon for the bikers.

Colors Available for Bajaj Dominar 400

The Bajaj Dominar 400 is a winner not only in specification but in looks as well. The bike has muscular proportions and a stylish frame, making heads turn wherever it goes. It is available in two colors: Charcoal Black and Aurora Green. Its distinctive looks have made it popular among the younger population of bikers.

Bajaj Dominar 400 is Best For

The Bajaj Dominar 400 caters to the needs of avid bikers and adventure enthusiasts. Its features and specifications are tailor-made to fulfill the dream of every biker. There are factory-fitted touring accessories such as a tall visor, hand guard, carrier, back stopper, etc. The bike also appeals to the general population but is best for those with an adventurous heart who dream of traveling across the country's length and breadth. The Bajaj Dominar 400 would be a perfect companion for different kinds of road trips across India. This ranges from the snow-laden mountains of the Himalayas to off-roading trails in Ladakh.

Vehicle Height

The Bajaj Dominar 400 has a height of 1243 mm and a ground clearance of 157 mm. The height is perfect for maintaining an upright, comfortable, and commanding position, which helps maintain posture and prevent strain and muscle soreness from long journeys. Furthermore, the ground clearance is sufficient to avoid scraping the bike even on uneven surfaces.

Vehicle Weight

The bike weighs around 193 kg which is a bit heavier. Hence, they would ensure a smoother ride as there would be less gear shifting. Furthermore, the heavier weight also ensures a good build quality and enhances their ability to surpass obstacles much more effortlessly.

Seat Length

The Bajaj Dominar 400 has a seat length of 2156 mm, long enough to fit two riders while providing ample leg space comfortably. The more extended seat also comes in handy while tying up the luggage on long road trips, which ensures comfort for the solo rider.

Seat Width

The seat width of the Bajaj Dominar 400 is 863 mm. Wider seats are necessary on longer road trips as they help avoid leg soreness. Also, the broader seats help adjust the legs comfortably and help bikers maintain proper balance while traveling.
---
USER REVIEWS & RATINGS OF
Brand Rating
(4.3 Ratings, 1 Reviews)
---
1 month ago
|
Using this from 6-12 months
The addition of the sixth gear makes traveling at higher speeds seamless. The triple spark technology offers a faster combustion rate. Servicing is not very good and the spares are not of good quality.
Was this review helpful ?
---
Bajaj Dominar 400 ABS SHOWROOMS
Preferred
Amba Bajaj - Hosur Road
2, 2A AND 2 B, SRI NIDHI COMPLEX, HOSUR MAIN ROAD, HONGASANDRA VILLAGE, G B PALYA, BEGUR , HOBLI, Bengaluru
Khivraj Motors - Hoodi
itpl main road bangalore
Raghavendra Motors - Kengeri Satellite Town
#561,1st Main Road,A.I Rehamath Complex,Opp to Ganesha Play Ground,Kengeri Satellite Town,Bangalore-560060
RV Bajaj - Kengeri
Mysore Rd, Harsha Layout, Kengeri Satellite Town, Bengaluru, Karnataka
Khivraj Motors - Horamavu
No. 118,119 & 130, 131, Banasawadi, Outer Ring Road, Horamavu, Bangalore
Popular Motors - Mekhri Circle
No .19,1st cross,Achaiah Chetty Layout, Rajmahal Vilas Extension, Sadhasivanagar, Mekhri circle, Bangalore
---
FREQUENTLY ASKED QUESTIONS
Bajaj Dominar 400 on road price is Rs. 3,05,610 in Bangalore

Bajaj Dominar 400 is offered in 1 variant - Bajaj Dominar 400 STD

Bajaj Dominar 400 is offered in 1 variant which comes with 373.3 cc engine with max power of 40 PS @ 8800 rpm. Dominar 400 has 13L fuel capacity with the mileage of 27 kmpl

Bajaj Dominar 400 comes with engine displacement of 373.3cc

The Height of Bajaj Dominar 400 varies from 1.112 m

Bajaj Dominar 400 comes with self start only.

Though Bajaj Dominar 400 has many competitors, the major ones would be Royal Enfield Meteor 350 and Bajaj Pulsar NS200.

Yes, you can avail loan for Bajaj Dominar 400 on OTO. OTO offer competitive discounts and 35% lower EMI which makes it easy for you as a customer to purchase your dream bike.

Bajaj Dominar 400 is available in 2 different colours - Charcoal Black, Aurora Green.

Bajaj has claimed an average of 27kmpl for Bajaj Dominar 400.

The Bajaj Dominar 400 is a powerful and feature-rich motorcycle. With its 373.3cc engine, striking design, comfortable riding ergonomics, and advanced technology, it excels as a performance-oriented sports tourer, offering a thrilling riding experience for enthusiasts. Its competitive pricing further enhances its appeal, making it a compelling choice in its segment.

For Bajaj Dominar it takes approximately 30 minutes for the application to be approved once you have provided all the required details.