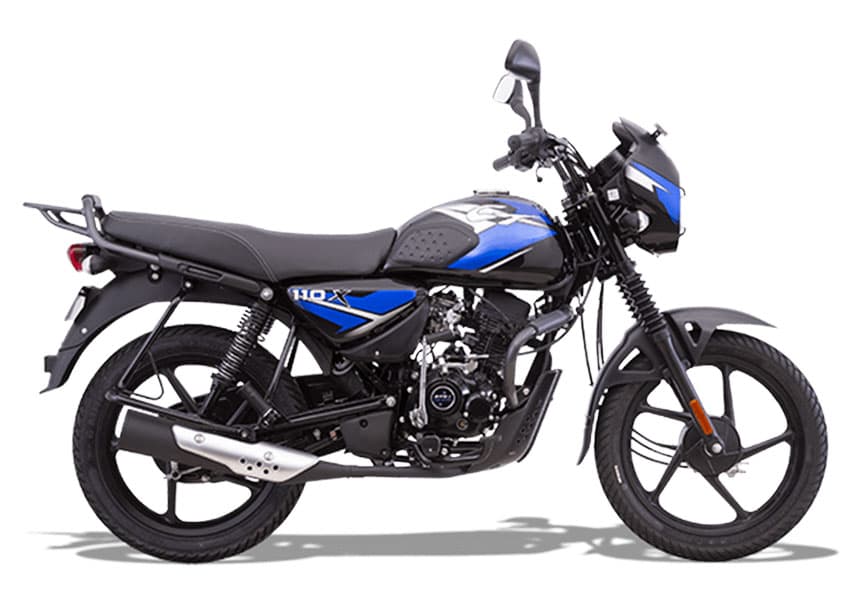 image
---
Bajaj CT 110
Alloy ES CBS
---
Bajaj CT 110 Alloy ES CBS Colors
Bajaj CT 110 Variants with Price
On-road Price
Apply for Loan
---
---
---
Overview of
Bajaj CT 110 Alloy ES CBS
| | |
| --- | --- |
| Mileage | 70 kmpl |
| Displacement | 115 cc |
| Max Power | 8.48 bhp @ 7,000 rpm |
| Max Torque | 9.81 Nm @ 5,000 rpm |
| Braking Type | Combined Braking System |
| Starting | Kick and Self Start |
| ABS | No |
| Speedometer | Analogue |
---
About
Bajaj CT 110 Alloy ES CBS
The Bajaj CT 110, a reliable and robust companion for your daily commuting needs. With its rugged build and dependable performance, this commuter motorcycle is designed to tackle various road conditions, ensuring you reach your destination with ease and confidence. At the heart of the CT 110 lies a fuel-efficient 115.45 cc engine, providing a perfect balance of power and efficiency. Whether you're navigating busy city streets or cruising along open highways, the CT 110 delivers smooth acceleration and excellent mileage, saving you both time and money on fuel costs. With a peak torque of approximately 9.81 Nm @ 5,000 rpm and a power output of 8.48 bhp @ 7,000 rpm, the CT 110 provides ample low-end and mid-range power, making it ideal for navigating through city traffic or cruising on open roads. The Bajaj CT 110 is available in two variants: The CT 110 and The CT 110X. The CT 110 variant is designed for riders seeking a reliable and practical commuter motorcycle. It offers a comfortable and efficient riding experience, making it an ideal choice for daily commuting. The CT 110X variant takes the CT 110's capabilities a step further, offering additional features and a more adventurous appeal. Designed for riders who enjoy exploring off-road trails or traversing challenging terrain, the CT 110X comes with enhanced features such as a raised front fender, knobby tires, and a higher ground clearance.
You can apply for loan for CT 110 - Alloy ES CBS on OTO and receive approval within just 30 minutes. The downpayment and EMI for CT 110 starts as low as Rs 11707/- and Rs 2571/-.
---
Specs & Features of
Bajaj CT 110 Alloy ES CBS
Ride Comfort

The Bajaj CT 110 is equipped with a suspension system that plays a vital role in enhancing ride comfort, ensuring a smooth and stable experience on various road surfaces. The CT 110 features a hydraulic telescopic front suspension with 125 mm of travel, allowing the suspension to effectively absorb minor bumps and irregularities, ensuring a comfortable ride by minimizing the impact transferred to the rider. Moreover, the CT 110 is equipped with a Spring-in-Spring (SNS) rear suspension system, providing 100 mm of wheel travel. The SNS suspension is designed to offer enhanced shock absorption, contributing to a more comfortable ride experience.

Bajaj CT 110 Maintenance

Bajaj Auto Limited provides a warranty for their motorcycles, including the Bajaj CT 110, to address any manufacturing defects. According to the warranty policy, Bajaj Auto Limited will repair or replace, free of charge, any part or parts found to have a manufacturing defect within a period of 5 years or 75,000 kilometers, whichever comes earlier, from the date of sale. Warranty terms may vary; one must check Bajaj Auto's documentation or consult an authorized dealership for details on the Bajaj CT 110 model's coverage.

Safety

When it comes to safety, the Bajaj CT 110 prioritizes rider protection and visibility by incorporating several features designed to enhance safety on the road. The CT 110 typically features a 130 mm drum brake on the front wheel. The drum brake design offers consistent and controlled braking performance, allowing riders to modulate the braking force according to their needs. The rear wheel of the CT 110 incorporates a 110 mm drum brake. This drum brake, combined with the front brake, ensures balanced braking performance and stability during deceleration.

Colors Available for Bajaj CT 110

The Bajaj CT 110 offers riders the freedom to choose from three stylish and eye-catching colors, allowing them to express their individuality and personal taste. The available color options for the CT 110 are: Matte Wild Green Ebony Black - Red Ebony Black - Blue Whether you prefer a bold and vibrant look or a more understated and classic appearance, these color choices allow you to make a statement on the road.

Best For

If you have longer daily commutes, the CT 110's fuel efficiency, comfortable seating, and reliable performance contribute to an enjoyable riding experience. The bike's smooth suspension and efficient engine make it suitable for extended rides, reducing fatigue and enhancing overall comfort. Ultimately, the suitability of the Bajaj CT 110 depends on individual preferences, riding requirements, and specific usage scenarios. Riders who prioritize practicality, fuel efficiency, and reliability in their daily commuting needs are likely to find the CT 110 to be a suitable and dependable choice.

Vehicle Height

The 1,098 mm height of the CT 110 ensures a comfortable riding position, allowing riders to maintain an upright stance and excellent visibility on the road. This height strikes a balance between providing sufficient ground clearance and maintaining a manageable seat height for riders of varying heights. The 170 mm of ground clearance of the CT 110 enhances its ability to tackle challenging road conditions, potholes, and bumps, providing riders with confidence and stability even on rough surfaces.

Vehicle Weight

The 127 kg weight of the CT 110 contributes to its maneuverability and ease of handling. It strikes a balance between stability and agility, allowing riders to navigate through traffic, maneuver tight spaces, and maintain control during various riding situations.

Seat Length

The 810 mm seat height strikes a balance between providing a comfortable riding position and allowing riders to plant their feet firmly on the ground, enhancing stability and confidence while stationary or maneuvering the motorcycle. The moderate seat height of the CT 110 makes it accessible to a wide range of riders, ensuring that both shorter and taller individuals can comfortably handle the bike and maintain control during various riding situations.

Seat Width

With its 753 mm seat width, the CT 110 provides ample room for the rider to sit comfortably. The well-padded seat offers support and comfort, reducing fatigue during longer rides. The generous seat width allows riders to find a suitable position and enjoy a relaxed and enjoyable journey, whether commuting or embarking on leisurely rides.
---
USER REVIEWS & RATINGS OF
Brand Rating
(4.3 Ratings, 1 Reviews)
---
1 month ago
|
Using this from > 1 Year
Showroom experience was good, staff is polite and humble, though looks are average, but its durable, economical and best suitable for any middle class family
Was this review helpful ?
---
Bajaj CT 110 Alloy ES CBS SHOWROOMS
Preferred
Amba Bajaj - Hosur Road
2, 2A AND 2 B, SRI NIDHI COMPLEX, HOSUR MAIN ROAD, HONGASANDRA VILLAGE, G B PALYA, BEGUR , HOBLI, Bengaluru
Khivraj Motors - Hoodi
itpl main road bangalore
Raghavendra Motors - Kengeri Satellite Town
#561,1st Main Road,A.I Rehamath Complex,Opp to Ganesha Play Ground,Kengeri Satellite Town,Bangalore-560060
RV Bajaj - Kengeri
Mysore Rd, Harsha Layout, Kengeri Satellite Town, Bengaluru, Karnataka
Khivraj Motors - Horamavu
No. 118,119 & 130, 131, Banasawadi, Outer Ring Road, Horamavu, Bangalore
Popular Motors - Mekhri Circle
No .19,1st cross,Achaiah Chetty Layout, Rajmahal Vilas Extension, Sadhasivanagar, Mekhri circle, Bangalore
---
FREQUENTLY ASKED QUESTIONS
Bajaj CT110 on road price starts from ₹ 93,216 in Bangalore

Bajaj CT 110X comes with 2 variants which includes Bajaj CT 110X Kick Start, Bajaj CT 110X Electric Start

Bajaj CT110 Electric Start is the best variant as it comes with 115.45 cc engine with 8.6 PS power. It offers 70kmpl mileage which is very fuel efficient

Bajaj CT 110 has 3 color options: Matte Wild Green (x ES), Ebony Black - Red (X ES), Ebony Black - Blue (X ES).

Bajaj has claimed an average of 70kmpl for Bajaj CT 110 making it fuel efficient with rising costs of fuel.

Bajaj CT110 comes with engine displacement of 115cc

The Height of Bajaj CT 110 varies from 1.072m to 1.098 m

Bajaj CT110 comes with kick start and Electric start as well.

Though Bajaj CT 110 has many competitors, the major two would be Hero HF Deluxe and Hero Splendor Plus

The Bajaj CT 110 is a commendable commuter motorcycle known for its fuel efficiency, robust build, and comfortable ride, making it an excellent choice for daily commuting and long journeys.

Yes, you can avail loan for Bajaj CT 110 on OTO. OTO offer competitive discounts and 35% lower EMI which makes it easy for you as a customer to purchase your dream bike.

For Bajaj CT 110 it takes approximately 30 minutes for the application to be approved once you have provided all the required details.