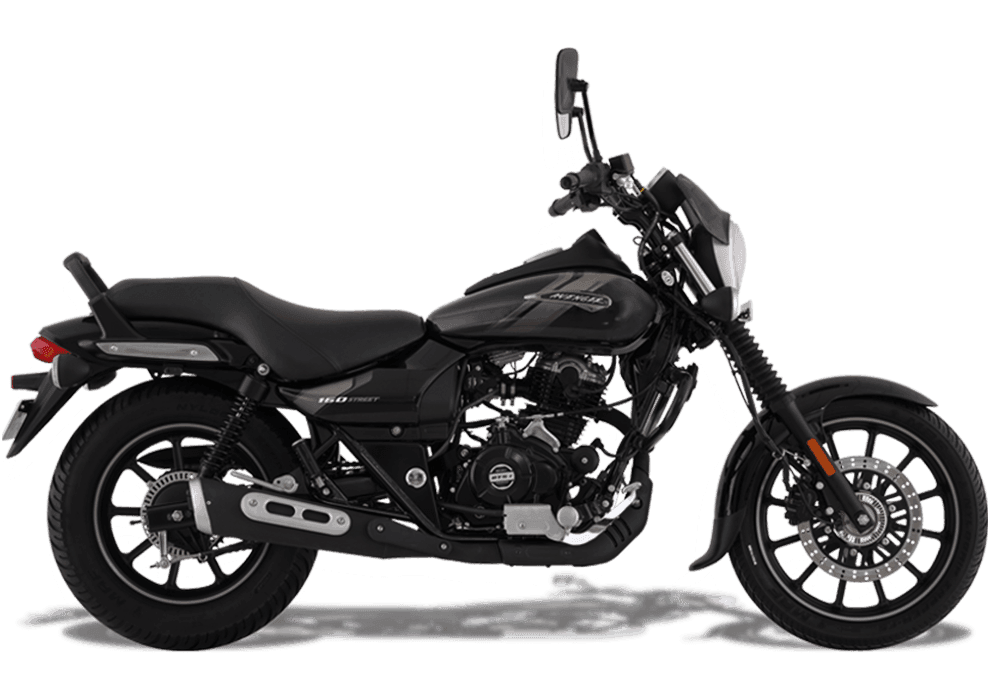 right side view
---
Bajaj Avenger 160
Street ABS
---
Bajaj Avenger 160 Street ABS Colors
Bajaj Avenger 160 Variants with Price
On-road Price
Apply for Loan
---
---
---
Overview of
Bajaj Avenger 160 Street ABS
| | |
| --- | --- |
| Mileage | 45 kmpl |
| Displacement | 160 cc |
| Max Power | 14.79 bhp @ 8,500 rpm |
| Max Torque | 8.8 Nm @ 5500 rpm |
| Braking Type | Single Channel ABS |
| Starting | Kick and Self Start |
| ABS | No |
| Speedometer | Digital |
---
About
Bajaj Avenger 160 Street ABS
The Bajaj Avenger 160, a member of the iconic Avenger family, is a cruiser motorcycle designed to offer a liberating riding experience to the urban adventurer. The Bajaj Avenger 160 is powered by a 160cc BS6 engine that develops a power of 14.79 bhp and a torque of 13.7 Nm and has a fuel capacity of 13 liters. With its eye-catching design and powerful performance, the Avenger 160 is a perfect amalgamation of style and substance. The refined 160cc DTS-i engine delivers power and fuel efficiency, making it an ideal companion for long-distance journeys and city commutes. It offers a laid-back stance with an aggressive flat handlebar. The dark theme continues to feature black powder-coated components, including the handlebar, exhaust, grab rail, and indicators. The Avenger 160 is engineered to provide a comfortable and confident ride, further solidifying its status as a favorite among cruiser enthusiasts.
You can apply for loan for Avenger 160 - Street ABS on OTO and receive approval within just 30 minutes. The downpayment and EMI for Avenger 160 starts as low as Rs 23416/- and Rs 5143/-.
---
Specs & Features of
Bajaj Avenger 160 Street ABS
Ride Comfort

Ride comfort takes center stage in the Bajaj Avenger 160, providing riders with an exceptional, fatigue-free journey. The bike's relaxed riding position, characterized by its wide handlebars and forward-set footpegs, ensures a laid-back posture that minimizes strain on the back and shoulders, making it an ideal choice for long hours on the saddle. The well-cushioned and contoured seat offers ample support to both the rider and pillion, enhancing comfort during extended rides. The Avenger 160's telescopic front forks and twin rear shock absorbers adeptly absorb road imperfections, delivering a plush and stable ride quality, even on rough terrain. With its smooth handling and effortless manoeuvrability, the Avenger 160 brings joy to every mile travelled.

Bajaj Avenger 160 Maintenance

Bajaj has earned a reputation for manufacturing low-maintenance bikes, and the Avenger 160 is no exception. Routine maintenance tasks like oil changes, chain adjustments, and filter replacements are straightforward and can be performed without extensive technical knowledge. Additionally, the wide availability of Bajaj service centers across the country ensures that riders can access expert service and genuine spare parts conveniently, minimizing downtime during unexpected repairs. The Avenger 160's reliable engineering contributes to a hassle-free ownership experience, allowing riders to focus on the joy of riding rather than maintenance woes.

Safety

Safety is at the forefront of Bajaj's design philosophy, and the Avenger 160 incorporates several features to ensure rider confidence and protection on the road. The bike has disc brakes at the front and drum brakes at the rear, offering precise and responsive braking performance. The Avenger 160 features an Anti-lock Braking System (ABS) variant, with a 230 mm single disc up front, while the rear continues to feature a 130 mm drum brake, further enhancing braking efficiency and preventing wheel lock-ups during sudden stops. The bike's stable handling and tubeless tires add an extra layer of safety, promoting a secure and controlled riding experience.

Colors Available for Bajaj Avenger 160

Bajaj offers a striking range of colors for the Avenger 160, allowing riders to make a statement with their preferred style. The 2 shades available are: 1) Spicy Red 2) Ebony Black Each color accentuates the bike's cruiser persona, adding to its visual allure and allowing riders to ride with pride and distinction.

Best For

The Bajaj Avenger 160 caters to riders seeking a blend of style, comfort, and practicality in a cruiser motorcycle. With its relaxed ergonomics and smooth power delivery, the Avenger 160 is best suited for leisurely long rides, providing an escape from the mundane routines of daily life. Moreover, urban commuters will appreciate its comfortable riding posture and fuel efficiency, making it an excellent choice for easily navigating city traffic. The bike's impressive performance and versatility make it equally appealing to riders who seek adventure on the open highways and those who desire a serene cruising experience. The Avenger 160's versatility extends to both seasoned riders and newcomers to the cruiser segment. With its approachable power delivery and user-friendly features, the bike suits most Indian riders.

Vehicle Height

The Bajaj Avenger 160 boasts a comfortable vehicle height of approximately 1070 mm, and ground clearance of 169 mm, striking a perfect balance between a commanding view of the road and easy manageability. This moderate height enables riders to confidently plant their feet on the ground while stopping, enhancing stability and control, especially during low-speed manoeuvres or when stationary.

Vehicle Weight

The Bajaj Avenger 160 weighs around 156 kg, offering riders a sense of confidence and control on the road. The bike's balanced weight distribution contributes to stable handling, making it a breeze to navigate through crowded city streets or gracefully cruise on winding highways. The well-engineered weight distribution ensures a harmonious riding experience, further complementing the bike's cruiser DNA.

Seat Length

The Bajaj Avenger 160 features a well-crafted seat with a height of approximately 767 mm, providing ample space for both the rider and pillion. The wide and contoured design ensures that riders enjoy comfortable and fatigue-free journeys, even during long-distance rides. The spacious seating also accommodates various rider sizes, offering a relaxed and enjoyable ride for everyone on board.

Seat Width

With a generous seat width of approximately 860 mm, the Bajaj Avenger 160 ensures that riders and passengers experience optimal comfort during every ride. The well-padded seating prevents discomfort and numbness, allowing riders to fully embrace the joys of cruising without any hindrance. The seat width adds to the bike's overall appeal, making the Avenger 160 an inviting choice for riders seeking a relaxing and indulgent riding experience.
---
Bajaj Avenger 160 Street ABS SHOWROOMS
Preferred
Amba Bajaj - Hosur Road
2, 2A AND 2 B, SRI NIDHI COMPLEX, HOSUR MAIN ROAD, HONGASANDRA VILLAGE, G B PALYA, BEGUR , HOBLI, Bengaluru
Khivraj Motors - Hoodi
itpl main road bangalore
Raghavendra Motors - Kengeri Satellite Town
#561,1st Main Road,A.I Rehamath Complex,Opp to Ganesha Play Ground,Kengeri Satellite Town,Bangalore-560060
RV Bajaj - Kengeri
Mysore Rd, Harsha Layout, Kengeri Satellite Town, Bengaluru, Karnataka
Khivraj Motors - Horamavu
No. 118,119 & 130, 131, Banasawadi, Outer Ring Road, Horamavu, Bangalore
Popular Motors - Mekhri Circle
No .19,1st cross,Achaiah Chetty Layout, Rajmahal Vilas Extension, Sadhasivanagar, Mekhri circle, Bangalore
---
FREQUENTLY ASKED QUESTIONS
Bajaj Avenger 160 comes with a on road price of ₹ 1,58,057 in Bangalore

Bajaj Avenger 160 comes with a single variant.

Bajaj Avenger 160 comes with a single variant. It has a max power of 15 PS and comes with tubeless tyres

Bajaj Avenger Street 160 is available in 2 colour options: Spicy Red, Ebony Black.

Bajaj Avenger 160 has a mileage of 45 km/l

Bajaj Avenger 160 comes with engine diceplacement of 160 cc

The exact height of Bajaj Avenger 160 is 1.07 m

Bajaj Avenger 160 comes with self start only

Top competitors of Bajaj Avenger 160 are Bajaj Avenger Cruise 220 and JAWA Forty Two

The Bajaj Avenger 160 is a good cruiser motorcycle known for its comfortable ride, refined engine, and stylish design, making it an excellent choice for riders seeking a relaxed and enjoyable cruising experience. Its budget-friendly pricing also adds to its appeal among cruiser enthusiasts.

Yes, you can avail loan for Bajaj Avenger 160 on OTO. OTO offer competitive discounts and 35% lower EMI which makes it easy for you as a customer to purchase your dream bike.

For Bajaj Avenger 160 it takes approximately 30 minutes for the application to be approved once you have provided all the required details.