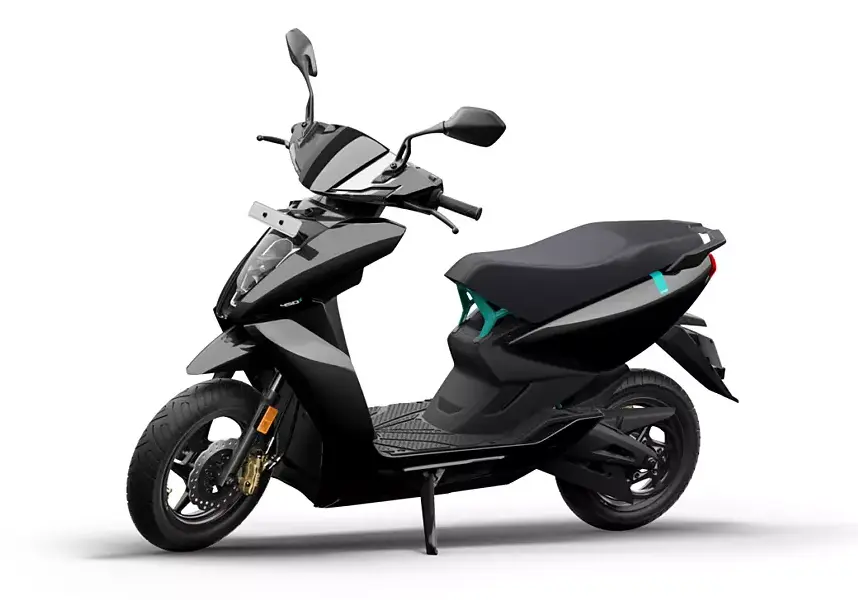 image
---
Ather 450S
Without Pro Pack
Extra 10,000 Cashback Offer Applied!
---
Ather 450S Without Pro Pack Colors
Ather 450S Variants with Price
On-road Price
Apply for Loan
---
---
---
Overview of
Ather 450S Without Pro Pack
| | |
| --- | --- |
| Ride Modes | |
| Range | 115.0 Km/Charge |
| Top Speed | 90.0 Kmph |
| Charging Time | 8.3 Hours |
| Battery Type | Non-Removable |
---
About
Ather 450S Without Pro Pack
The Ather 450 is an electric scooter launched by Ather Energy, a startup based in Bangalore, India. Powered by a 5.4kW PMSM motor and a lithium-ion pack of 3.7kWh, the Ather 450 can accelerate from 0 to 40 km/h in as little as 3.9 seconds. It has a top speed of 90 km/hr. With its subtle style and state-of-the-art features, the electric scooter will captivate the attention of riders of all ages. The Ather 450 has three modes namely Eco, Sport, and Ride. The Sport mode offers the maximum performance, the Eco mode offers maximum range, and the Ride mode offers a convenient combination of both. Ather 450S gives an impressive ARAI certified range of 115 km/charge. The Ather 450 is not just stylish; it has modern features that have the potential to give the other scooters in this category a run for their money. It comes with a first-in-category DeepView Display (TM) which is bluetooth enabled and includes turn-by-turn navigation, automatic brightness settings along with displaying essential information like battery level, odometer, speedometer, range and bluetooth call notifications. Ather Energy offers regular over-the-air updates which keep the system updated with all the latest available software.
You can apply for loan for 450S - Without Pro Pack on OTO and receive approval within just 30 minutes. The downpayment and EMI for 450S starts as low as Rs 21302/- and Rs 4609/-.
---
Specs & Features of
Ather 450S Without Pro Pack
Ride Comfort

The Ather 450 has a mono-shock suspension that ensures a comfortable ride even on bumpy and rough roads. It has a low center of gravity that allows the rider to remain in balance despite taking sharp turns or leaning a little more. The suspension especially helps in handling the scooter during traffic. It has an apt weight distribution ratio of 49:51 (front:rear) making it the perfect combination of distribution and balance. The Dual Disk Brakes gives the rider the freedom to enjoy a breezy ride without the fear of losing control of the vehicle. The headlight provides ample illumination without using a lot of energy.

Ather 450S Boot Space

Ample storage is offered by the Ather 450 with a boot space of 22 liters that can easily accommodate a full-face helmet as well as required essentials, regardless of whether your destination is the office, college, or the outskirts of town.

Ather 450S Leg Space

The Ather 450 gives enough leg space to the rider to sit comfortably while simultaneously allowing them to carry a laptop bag, purse, or schoolbag. There are add-on accessories that can be purchased to increase storage. If you are a tall rider, you do not need to worry about knocking your knees into the front panel, thanks to the sufficient space available on the Ather 450.

Ather 450S Maintenance

The Ather 450 can be maintained with ease in the comfort of your home. It offers an Ather Dot home charger that can fully recharge the battery within 5 hours and 15 minutes. This can be installed through Ather or your trusted local electrician. The Ather Grid infrastructure available at the right places is installed by the brand which allows for fast charging of the battery safely and reliably. It can be easily charged literally anywhere via a 5A socket. The 450S comes with upto 5 years extended battery warranty. Buyers can also choose to subscribe to Ather servicing including the convenience of having the scooter picked up and dropped from their doorstep.

Safety

The Ather 450 makes rider safety a top priority. It has a dedicated app that allows for live location tracking of the scooter in addition to the standard features like remaining charging time and odometer reading. There is a 'Park Assist' feature that lets you move the scooter forward or back at limited speeds for convenience in a narrow space. The LED indicators also come with an auto-off feature which helps save power. The Ather app makes sure that your everyday rides with the Ather 450 scooter are untroubled and glitch-free. It lets you store and display all the important documents including digital copies of your driving license, registration information, and insurance. The technology studies the riding style of the user and then calculates the distance that can be covered in the remaining battery. It will immediately notify the display if there is a need to charge the battery.

Colors Available for Ather 450S

The Ather 450 is available in the following color options- Cosmic Black, Salt Green, Space Grey, and Still White.

Vehicle Height

The Ather 450 has an overall height of 1250 mm, ground clearance of 160 mm, and a wheelbase of 1278 mm. It has an overall length of 1800 mm and a width of 700 mm.

Vehicle Weight

The Ather 450 has a kerb weight of 118 kg. This means that anybody can balance the vehicle well if the rider is expected to hit the brakes within a short distance.

Seat Length

The seat height of the Ather 450 is 765 mm. This means that anyone around and above 5 feet tall can ride the Ather 450 easily without facing any discomfort.
---
Ather 450S Without Pro Pack SHOWROOMS
Bellad Enterprises Pvt Ltd - Electronic City
96/2 Srinivasa Nagar, Hal Layout, Singasandra, Hosur road, Bengaluru, Karnataka 560068
Bia Ventures Pvt Ltd - Jayanagar
Door no. 49, 1st main road, RV road, Jayanagar 2nd Block, Bangalore 560004
D & V GREEN - WHEELS PRIVATE LIMITED - Hebbal
#27, Hebbal, Vinayak Nagar, Bellary Main road, Hebbal Bangalore, Karnataka -560024
Ather Space -Ather Energy's Experience Center - Indiranagar
No. 54, 3rd Floor, MSK Plaza, 100 Feet Road, 3rd Main, Defence Colony, Indiranagar, Bengaluru, Karnataka 560038
Bia Ventures Pvt Ltd - JP Nagar
Sriram Mandir, 0025 (Old No.1003), 59th C Cross, Dr Rajkumar Rd, 4th M Block, Rajajinagar, Bengaluru, Karnataka 560010
Jubilant Motorworks Private Limited - Marathahalli
Jubilant motorworks private limited, Ground Floor , Khata No.310/35,Kadubeesanahalli village, Varthur Hobli,Bengaluru East taluk, Karnataka 560103.
---
FREQUENTLY ASKED QUESTIONS
The on road price of Ather 450S in Bangalore is ₹ 1,37,014.

The variants of Ather 450S include - Ather 450S Standard and Ather 450S Pro Pack

Thether 450S Pro Pack is the best variant among the two options. It offers additional features such as the smart helmet, a vehicle subscription plan, and unlimited public charging. These extra features enhance the overall ownership experience and provide added convenience and value to the customers.

450S is available in 4 colour options: Salt Green, Space Grey, Cosmic Black, Still White.

The range of Ather 450S is 115 Km/Charge

Ather 450S comes with motor power of 5400 watts

The exact height of Ather 450S is 1114 mm

Ather 450S comes with self start only

Top competitors of Ather 450S are TVS iQube Electric and Ola S1 Air

The Ather 450S is a commendable electric scooter, offering a powerful motor, impressive acceleration, and advanced features, providing a smooth and enjoyable ride for urban commuters. Its eco-friendly nature and smart functionalities make it a top choice for environmentally-conscious riders seeking a high-performance electric scooter.

Yes, you can avail loan for Ather 450S on OTO. OTO offer competitive discounts and 35% lower EMI which makes it easy for you as a customer to purchase your dream bike.

For Ather 450S it takes approximately 30 minutes for the application to be approved once you have provided all the required details.