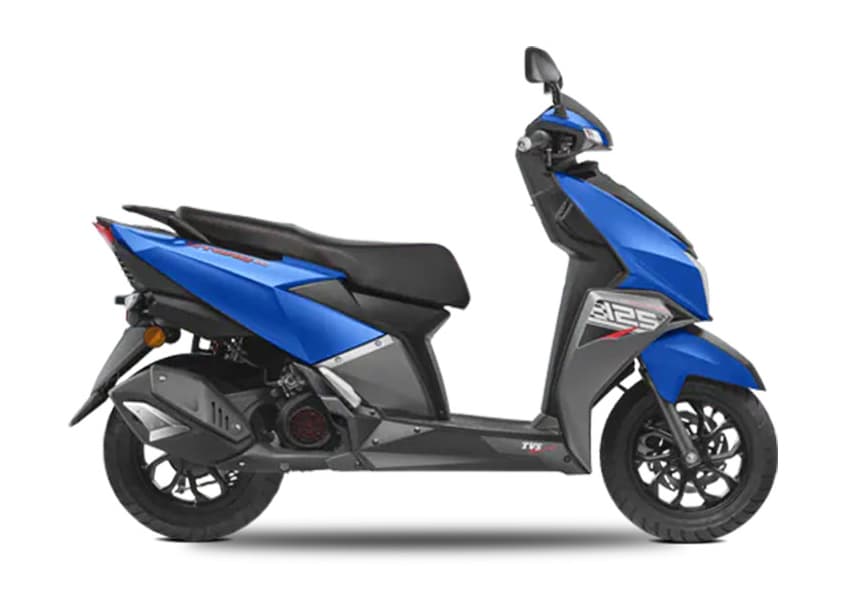 image
---
---
TVS Ntorq 125 Drum Colors
TVS Ntorq 125 Variants with Price
On-road Price
Apply for Loan
---
---
---
Overview of
TVS Ntorq 125 Drum
| | |
| --- | --- |
| Mileage | 40 kmpl |
| Displacement | 124.8 cc |
| Max Power | 9.25 bhp @ 7000 rpm |
| Max Torque | 10.5 Nm @ 5500 rpm |
| Braking Type | Synchronized Braking Technology |
| Starting | Kick and Self Start |
| ABS | No |
| Speedometer | Digital |
---
TVS Ntorq 125 is an innovative, robust, and stylish scooter for the young and the young at heart. It has a 125cc engine that delivers excellent performance and gives a mileage of 47 kmpl. The scooter has many features that make it a great choice for both the young, and the young at heart. The TVS Ntorq 125 is available in a variety of colors. Besides this, the TVS Ntorq 125 is one of the most stylish scooters in town. The scooter also comes with an LED headlamp that takes the looks of it to the next level. It has various features that make it an ideal choice for any rider. The scooter has an intelligent digital instrument cluster, Bluetooth connectivity, and a mobile charging socket. TVS Ntorq 125 also has a unique single-cylinder engine with a BS-VI emission rating. This makes the scooter environmentally friendly as well. In 2023, the TVS NTorq model underwent impressive updates, cementing its status as a frontrunner in the scooter market. Let's delve into these enhancements that define the scooter's allure. As for efficiency, the 2023 NTorq model showcases remarkable progress with its mileage, achieving an enviable 40 kmpl. This commendable figure not only underscores TVS's commitment to environmental consciousness but also ensures that riders can journey farther without worrying about constant refueling. When it comes to braking technology, the 2023 NTorq proudly incorporates Synchronized Braking Technology, a feature that elevates safety and control. This advanced braking system enhances the scooter's responsiveness, providing riders with the confidence to maneuver through various terrains and traffic conditions. As for technology, the 2023 NTorq integrates a Digital Speedometer, a pivotal addition that aligns with the scooter's modern design and forward-thinking approach. This digital display not only enhances visibility but also complements the scooter's contemporary aesthetic. The TVS Ntorq 125 comes in 5 variants: 1. TVS Ntorq 125 2. TVS Ntorq 125 Race Edition 3. TVS Ntorq 125 Super Squad Edition 4. TVS Ntorq 125 Race XP 5. TVS Ntorq 125 Race XT The first model of Ntorq comes with a diamond-cut alloy wheel. It has a sporty stubby muffler along with a digital speedometer. TVS Ntorq 125 also has a fuel alarm that notifies about the lower fuel level. The powerful 3-valve engine makes the ride faster and even more enjoyable. The speed can go from 0 to 60 kmph in less than 10 seconds. TVS Ntorq 125 has a fully developed and in-built speedometer which has about sixty features. TVS Ntorq 125 Race Edition comes with bold and heavy-looking tyres, giving the vehicle a sporty and bold look. It has a gaming console type of speedometer, which is fully digital. Your phone can also be connected to the vehicle while you are driving. TVS Ntorq 125 Race Edition has a double-stitched hysteresis seat, giving a refined look and better comfort. The under-seat space is enough to keep your helmet and other belongings if you go for a longer ride. TVS Ntorq 125 Super Squad Edition is specially designed for Marvel enthusiasts. It was launched in 2020, and the superhero of Marvel inspired it. It comes in colors and designs which look like the marvel superheroes. The engine kill-switch makes it easier to start the vehicle, and the powerful engine ensures a higher performance throughout the ride. In the boot space, TVS Ntorq 125 Super Squad Edition has a USB charger-cum-light which gives space for charging your phone if you are stuck in a difficult situation. In the TVS Ntorq 125 Race XP, the XP stands for extra power. It is the first two-wheeler to have a 125 cc engine. It comes with various new features. The most notable and uncommon feature is the voice assist function. You can now control your vehicle with your voice. TVS Ntorq 125 Race XP has sporty red wheels to give an attractive look. It also has a street race mode to give a fun ride on the streets. The telescopic suspension gives an extra safety measure and shock-free rides. Finally, TVS Ntorq 125 Race XT is the latest edition of Ntorq. It is provided with a fully digital speedometer along with Bluetooth connectivity. The speedometer also flashes social media notifications. TVS Ntorq 125 Race XT shows the e-commerce notification as well as food delivery notifications. Through the mobile application, the rider can also track where the vehicle was parked and the current location of the vehicle.
You can apply for loan for Ntorq 125 - Drum on OTO and receive approval within just 30 minutes. The downpayment and EMI for Ntorq 125 starts as low as Rs 16022/- and Rs 3519/-.
---
Specs & Features of
TVS Ntorq 125 Drum
Ride Comfort

TVS Ntorq 125 is designed to provide the utmost comfort. The LED headlight makes it easier to see clearly on the darkest nights. The seat is comfortable and wide enough to give a good driving experience. The disc breaks and tubeless tyres ensure a smooth ride with the most negligible chances of accidents.

TVS Ntorq 125 Leg Space

TVS Ntorq 125 comes with sufficient leg space. It has a broader footrest area to keep your legs comfortable while riding longer. The knees do not touch handles; hence, there are fewer chances of injury or discomfort.

TVS Ntorq 125 Maintenance

TVS Ntorq 125 is an average maintenance vehicle. Regular servicing and checking up to see if everything is working fine will keep it in top-notch condition. The maintenance is not very expensive, too.

Safety

TVS Ntorq 125 pays due importance to the safety of the rider. The vehicle has strong brakes to ensure there are negligible chances of accidents and the rider is safe. The vehicle has tubeless tyres known for durability and does not get punctured even if you drive on bumpy roads.

Colors Available for TVS Ntorq 125

The TVS Ntorq 125 model is available in four colors: Matte Red, Metallic Red, Metallic Blue, and Metallic Gray. The Ntorq race edition is available in two colors: Race Edition Red and Race Edition Yellow. Ntorq 125 super squad edition comes in four magical colors: Excellent Red, Lightning Gray, Combat Blue, and Stealth Black. Ntorq XP and Ntorq XT are available in attractive colors: Red, Black and Neon.

TVS Ntorq 125 is Best For

This vehicle is best for people who wish to ride the extra mile comfortably daily. TVS Ntorq 125 is not gender-specific, but women will feel more comfortable driving this vehicle as it has a sleek body.

Vehicle Height

TVS Ntorq 125 has a height of 1164 mm and a ground clearance of 155 mm. It ensures that the lower body is not harmed on bumpy roads or speed breakers.

Vehicle Weight

TVS Ntorq 125 weighs around 110 kg, which makes it heavier and more sturdy than its peers in the market. This will ensure that your vehicle will not be easily swerved by potholes on the road.

Seat Length

TVS Ntorq 125 has a medium-length seat which is comfortable for two people. The seat gets narrowed at the end, which makes it comfortable to carry backpacks or little bags.

Seat Width

The seat is wide enough to accommodate you comfortably. Proper space is available for both the passengers, and the foaming on the seat provides extra comfort.
---
USER REVIEWS & RATINGS OF
Brand Rating
(4.2 Ratings, 1 Reviews)
---
1 month ago
|
Using this from > 1 Year
Overall good scooter but vibrations are there at lower speeds if the clutch shoe is not cleaned.
Was this review helpful ?
---
TVS Ntorq 125 Drum SHOWROOMS
Preferred
Solar TVS - Nayandahalli
9/1-2, opposite RR NAGAR Arch, Nayandahalli, RR NAGAR
Preferred
Bengaluru Motors - Harlur
Komal Tower 117/115A,2nd Cross Vidya Nagar,Opp SKF,Hosur Main Road ,Bommasandra Industrial Area,Bangalore-560099
Dhancharan TVS - Doddakalsandra
kanakapura road bangalore
Suryaprathap Automobiles - Ramamurthy nagar
No.1, Ramamurthy Nagar Main Road Opp SAIL, next to UNILET Showroom, Bengaluru,
Hemanth TVS - Yehlahanka, New Town
17-9, 10,11 and 12 opp. Railwheel Factory Doddaballapura Road A Sector, Yehlahanka New town
Bridgewell motors LLP
No. 615, Dr Rajkumar Rd, Prakash Nagar, Rajajinagar, Bengaluru, Karnataka
---
FREQUENTLY ASKED QUESTIONS
TVS Ntorq 125 is available in colour options - Metallic Grey, Metallic Red, Combat Blue, Stealth Black, Race Red Black, Race Edition Red, Race Edition Yellow, Amazing Red, Lightning Gray, Combat Blue, Matte Red, Metallic Grey (Disc), Metallic Blue (Disc) and Neon.

The TVS Ntorq 125 is powered by 124.8cc engine.

The height of TVS Ntorq 125 is 1.164 m

TVS Ntorq 125 is equipped with kick and self start.

The TVS NTorq competes with the Honda Grazia 125, Aprilia SR 125, Yamaha RayZR 125, and Suzuki Burgman Street 125. For a similar price range, you could also buy the Honda Shine, Bajaj Pulsar 125, Hero Super Splendor, and Yamaha Fascino 125.

The Ntorq 125 is one of the most value for money scooters in the market. The scooter offers some outstanding features, and performance for a price that makes it an enticing scooter

Yes, you can avail loan for TVS Ntorq 125 on OTO. OTO offer competitive discouns and 35% lower emi which makes it easy for you as a customer to purchase your dream bike.

TVS Ntorq 125 price starts at Rs. 1,07,217 in India.

TVS Ntorq 125 is available in 6 variants - Ntorq 125 Drum - BS VI, Ntorq 125 Disc - BS VI, Ntorq 125 Race Edition - BS VI, Ntorq 125 Super Squad Edition - Disc, Ntorq 125 Race XP, Ntorq 125 XT.

The best variant is Ntorq 125 Race XP.

The mileage of TVS Ntorq 125 is 56.23 kmpl.

For TVS Ntorq 125 it takes approximately 30 minutes for the application to be approved once you have provided all the required details.