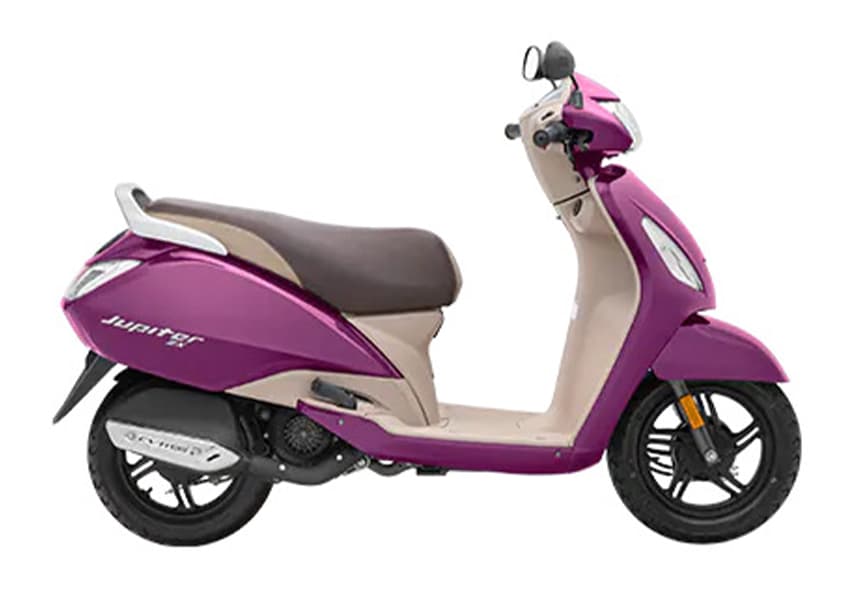 image
---
---
TVS Jupiter ZX Ref Colors
TVS Jupiter Variants with Price
On-road Price
Apply for Loan
---
---
---
Overview of
TVS Jupiter ZX Ref
| | |
| --- | --- |
| Mileage | 50 kmpl |
| Displacement | 109.7 cc |
| Max Power | 7.77 bhp @ 7500 rpm |
| Max Torque | 8.8 Nm @ 5500 rpm |
| Braking Type | Synchronized Braking Technology |
| Starting | Kick and Self Start |
| ABS | No |
| Speedometer | Analogue |
---
TVS Jupiter is a revolutionary scooter from TVS Motors designed to provide riders with a comfortable and convenient ride. With its advanced technology and features, the scooter offers riders smooth and safe travel. The TVS Jupiter is one of the most popular scooters on the market today, with a mileage of 50 to 62 kmpl. The TVS Jupiter offers several features that make it a great choice, such as a sleek body design, a fuel-efficient engine, and generous storage capacity. It also offers excellent safety features, dual-channel brakes, an adjustable rear-view mirror, and a mobile charging port. The scooter has a powerful engine that provides a smooth ride even in the most challenging terrains. Its ergonomic design provides riders with a comfortable seating position, allowing them to ride for extended distances without feeling fatigued. TVS Jupiter Reviews - What the Riders Are Saying Riders have praised the scooter's comfortable seating, ergonomic design, and user-friendly features. The scooter's handling and maneuverability, especially in urban settings, have also received commendations. Reviewers have highlighted its stability, which is essential for both novice and experienced riders alike. The TVS Jupiter 125's impressive mileage has been a recurring theme in reviews. Riders appreciate the scooter's ability to cover longer distances on a single tank of fuel, making it an economical choice for daily commutes and leisure rides. Different variants of models There are 6 variants for TVS Jupiter that the company has launched till date: 1. TVS Jupiter This is one of the first models introduced by the company. TVS Jupiter is made of an all-black theme, making it look compatible with working and leisure moods. It has LED headlamps which make the visibility better. It is suitable for riders who might have to face foggy or rainy weather. The TVS Jupiter has a 109.7 cc engine, which is considered robust, and it has a kickstart and an electric starter as the starting system. It comes with tubeless tires that do not need frequent inspection and are highly durable as they do not get punctured. 2. TVS Jupiter ZX The TVS Jupiter ZX comes with a digital analog speedometer which helps maintain a safe speed. It has dual-tone seats, which makes it look elite yet perfect. It has hydraulic brakes, which can control your speed and improve your safety. It has tubeless tires, which are low maintenance and show higher performance. It has dual drive modes. The first is 'eco,' which saves fuel and increases mileage. The second one is 'power', which gives a smoother ride. The TVS Jupiter ZX has a larger leg space and a carrier hook under the front part of the seat, making it easy to carry large packages or bags. 3. TVS Jupiter ZX Disc The TVS Jupiter ZX Disc model comes with an intelligent system that switches off the engine when at a traffic signal or when you stop for a significant time. It saves fuel which results in higher mileage. The BS-VI compliance gives a smoother ride and better durability. Its 3-step adjustable rear suspension gives a bump-free and comfortable life. TVS Jupiter ZX Disc eliminates even the slightest jerk and protects your back or shoulders from injury. It has the unique feature of an all-in-one lock. Operating the ignition, seat lock, and handle lock is more accessible in a single space. 4. TVS Jupiter ZX SmartXonnect The TVS Jupiter ZX SmartXonnect model comes with a fully digital speedometer that shows all the details digitally. It has premium silver oak panels to give it a subtle and elegant look. It has tubeless tires with super grip technology, which helps in reducing the chance of slipping, especially in the rainy season. TVS Jupiter ZX SmartXonnect also has dual side locks making parking easier in narrow lanes. The best feature is the application you can download if you are a SmartXonnect user. It keeps you informed about your driving history, performance metrics, etc. 5. TVS Jupiter Classic The TVS Jupiter Classic model has a modern design, making it highly preferable to users. It has tinted visors and blackened mirrors to add a touch of elegance to the vehicle. The inner panels are chocolate brown, which looks appealing. Premium leather seats are another classic element of the vehicle. The LED headlamp lets the rider see clearly in the dark and foggy nights. 6. TVS Jupiter SMW The TVS Jupiter SMW is one of the most popular two-wheelers in India today. SMW stands for its Sheet Metal Wheel. This model comes with Eco Thrust Fuel Injection technology to help the rider enjoy smoothness over long distances. It also comes with a front utility box.
You can apply for loan for Jupiter - ZX Ref on OTO and receive approval within just 30 minutes. The downpayment and EMI for Jupiter starts as low as Rs 11379/- and Rs 2499/-.
---
Specs & Features of
TVS Jupiter ZX Ref
Ride Comfort

TVS Jupiter has a powerful engine and tubeless tires, making your rides jerk accessible. The hydraulic brakes make it suitable for longer rides as it reduces the chance of accidents on bumpy roads. The rides are comfortable due to the long seats and increased leg space in all the models.

TVS Jupiter Boot Space

The models come with considerable 33L boot space. TVS Jupiter can hold large-size carry bags and helmets as well. It can also keep your bags and wallets if you are out for longer.

TVS Jupiter Leg Space

All TVS Jupiter models have a leg space of 375 mm, which is more than enough to keep your legs comfortable. The firm footrest can also hold bags as it has hooks as well.

TVS Jupiter Maintenance

TVS Jupiter does not require high maintenance or costly repairings. Moreover, TVS offers a 5-year robust warranty policy for all its scooters.

Safety

To increase safety while riding, the TVS Jupiter vehicles have hydraulic disc brakes and super-grip tires to avoid accidents. The LED lights make the wide roads visible and make driving easy on rainy days.

Colors Available for TVS Jupiter

Different models are available in various colors. TVS Jupiter is available in 5 colors: New Metallic Blue, Midnight Black, Pristine White, Titanium Gray, New Metallic Black, and Walnut Brown. Jupiter ZX and Jupiter ZX Disc are available in Royal Blue and Straight Wine colors. Jupiter ZX SmartXonnect is available in Copper Bronze and Matte Black, while the Jupiter Classic is available in Mystic Gray and Regal Purple.

TVS Jupiter is Best For

The two-wheeler is suitable for every age group as it is light in weight. TVS Jupiter has convenient features, which makes it compatible with people who frequently ride for longer distances and on bumpy roads.

Vehicle Height

It has a height of 1115 mm with 163 mm ground clearance, so you don't have to worry about getting the underside of the vehicle scratched by high bumps. Such a ground clearance is considered high amongst its fellow competitors in the market.

Vehicle Weight

The vehicle weighs around 107 kg and is manageable for all riders alike.

Seat Length

TVS Jupiter has extended seats, accommodating a passenger and a backpack. Its seats are considered to be more comfortable than its peers on the road.

Seat Width

TVS Jupiter has wide seats to give utmost comfort and your legs a proper space to relax on a long drive.
---
USER REVIEWS & RATINGS OF
Brand Rating
(4.4 Ratings, 1 Reviews)
---
1 month ago
|
Using this from > 1 Year
Buying experience was smooth, like the suspension set up and bigger 12 inch tyres , they absorb bumps flawlessly.
Was this review helpful ?
---
TVS Jupiter ZX Ref SHOWROOMS
Preferred
Solar TVS - Nayandahalli
9/1-2, opposite RR NAGAR Arch, Nayandahalli, RR NAGAR
Preferred
Bengaluru Motors - Harlur
Komal Tower 117/115A,2nd Cross Vidya Nagar,Opp SKF,Hosur Main Road ,Bommasandra Industrial Area,Bangalore-560099
Dhancharan TVS - Doddakalsandra
kanakapura road bangalore
Suryaprathap Automobiles - Ramamurthy nagar
No.1, Ramamurthy Nagar Main Road Opp SAIL, next to UNILET Showroom, Bengaluru,
Hemanth TVS - Yehlahanka, New Town
17-9, 10,11 and 12 opp. Railwheel Factory Doddaballapura Road A Sector, Yehlahanka New town
Bridgewell motors LLP
No. 615, Dr Rajkumar Rd, Prakash Nagar, Rajajinagar, Bengaluru, Karnataka
---
FREQUENTLY ASKED QUESTIONS
TVS Jupiter is available in India in 6 variants - Jupiter Sheet Metal Wheel, Jupiter Standard, Jupiter ZX, Jupiter ZX Disc with IntelliGo, Jupiter ZX SmartXonnect, Jupiter Classic.

TVS Jupiter is available in 15 different colours - Autumn Brown, Indi Blue, Matte Blue, Midnight Black, Pristine White, Sunlit Ivory, Titanium Grey, Volcano Red, Walnut Brown, Copper Bronze, Matte Black, Mystic Grey, Regal Purple, Royal Wine and Starlight Blue.

The mileage of TVS Jupiter is 50 kmpl.

TVS Jupiter is powered by 109.7 cc engine.

The height of TVS Jupiter is 1.115 m

TVS Jupiter is equipped with kick and self start.

The Top competitors for TVS Jupiter are Hero Destini 125 XTEC, Honda Activa 6G, Honda Activa 125, Honda Dio, Suzuki Access 125, Honda Grazia, TVS NTORQ 125, TVS Jupiter 125, Suzuki Avenis, Hero Maestro Edge 125.

The TVS Jupiter is a great option if you are out in the market for a scooter with a suitable-for-all design, refined engine, telescopic forks, 12-inch wheels and convenience of an external fuel filler cap.

Yes, you can avail loan for TVS Jupiter on OTO. OTO offer competitive discouns and 35% lower emi which makes it easy for you as a customer to purchase your dream bike.

TVS Jupiter price in Bangalore starts from Rs. 94,483

TVS Jupiter Classic is the best variant.

For TVS Jupiter it takes approximately 30 minutes for the application to be approved once you have provided all the required details.