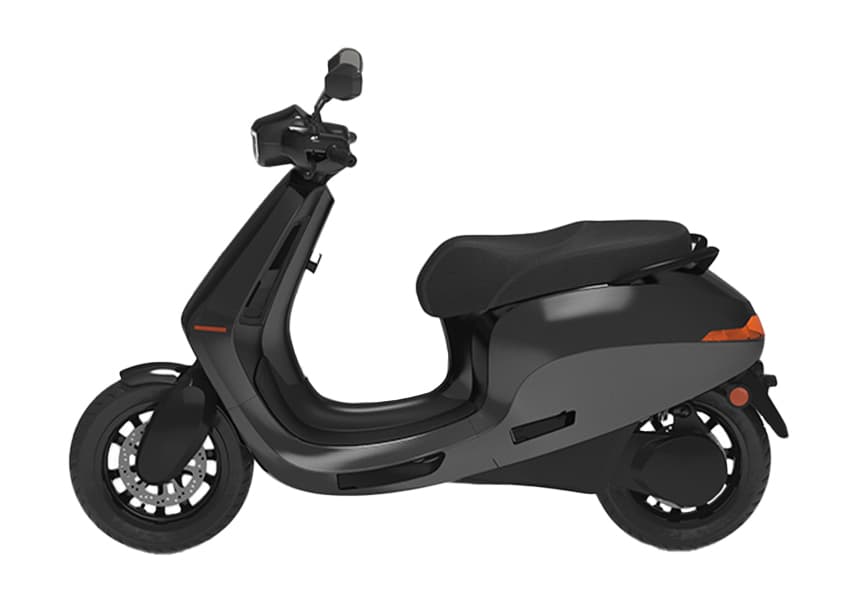 image
---
Ola Electric S1 Pro
4 kWh
---
Ola Electric S1 Pro 4 kWh Colors
Ola Electric S1 Pro Variants with Price
On-road Price
Apply for Loan
---
---
---
Overview of
Ola Electric S1 Pro 4 kWh
Ride Modes

Hyper Mode:

96 km/charge

,

Sports Mode:

120 km/charge

,

Range
181.0 Km/Charge
Top Speed
116.0 Kmph
Charging Time
7.0 Hours
Battery Type
Non-Removable
---
About
Ola Electric S1 Pro 4 kWh
The Ola e-scooter was launched by the erstwhile cab aggregator as a part of its mission to electrify the nation and has been termed as Mission Electric by the company. The vehicle was announced by the company as part of this mission on the 75th Independence Day of the country. The Ola S1 Pro has a power-packed battery with a capacity of 4 kwH which provides the vehicle a range of 181 kms/charge certified by the ARAI. The larger range of the vehicle accompanied with a powerful engine and a top speed of 116 kmph makes Ola S1 Pro an ideal foil to its erstwhile petrol predecessors and fellow electric vehicles. The Ola S1 Pro offers an eco-friendly alternative as environmental concerns have truly been a huge part in today's era. The vehicle, while being eco-friendly, does not hold back on style or appearance. With a powerful engine that reaches 40 kmph within 2.9 seconds and a sleek design, the Ola S1 Pro is a worthy addition to your garage. The Ola S1 pro has four driving modes which includes the Eco, Normal, Sports, and Hyper; the user can switch between these depending on the situation.
You can apply for loan for S1 Pro - 4 kWh on OTO and receive approval within just 30 minutes. The downpayment and EMI for S1 Pro starts as low as Rs 22899/- and Rs 5029/-.
---
Specs & Features of
Ola Electric S1 Pro 4 kWh
Ride Comfort

The Ola S1 Pro offers a luxury riding experience with ample space for both you and your pillion rider. Plus, you also get a digital display as well as the ability to charge your mobile on the go with the facility of fast charging. This coupled with mono-shock suspension and the large range of the vehicle ensures that rides within or outside the city are a breeze for the user. The vehicle even features a Cruise Control Mode for long rides and empty roads.

Ola Electric S1 Pro Boot Space

The Ola S1 Pro has a boot space large enough to carry your weekly groceries and more easily. The vehicle has a boot space of 36 L which is more than adequate to carry helmets, groceries and a bit more without any hassle or needing multiple trips.

Ola Electric S1 Pro Leg Space

The vehicle is ergonomically designed which provides ample space for your legs and ensures that there is no cramping in case of a longer drive.

Ola Electric S1 Pro Maintenance

The vehicle has few moving parts and hence it makes the maintenance of the vehicle quite easy as compared to petrol vehicles which usually contain many more parts than an electric one. The company provides a warranty up to 3 years or 40,000 kms, which makes it easier for the durability and maintenance of the vehicle. The vehicle has an option for an extended warranty as well if needed as well as tie-ups for insurance which includes own-damage cover, third party cover and zero depreciation. The battery is removable and can be charged anywhere, making it easy for the user. The battery has various sensors to alert the user about any requirement, thus ensuring that there is no long-drawn cost on the battery for the user. Plus, all problems are detected at an early stage. This also comes with an AI maintenance system which predicts if the vehicle is in need for maintenance.

Safety

The vehicle comes with a LED panel and Bluetooth connectivity which allows you to navigate easily and in a safe manner. The vehicle has been tested both in terms of strength and harsh weather conditions by the company to ensure that the vehicle does not cause any problem for the user and they are not stranded regardless of the weather condition. _x0001_ The battery of the Ola S1 pro has a safety rating of IP67. The battery is fitted with a proprietary battery management system which ensures that the battery is working properly and provides an advance warning if the system detects any problem. The battery has also been subject to a flame-thrower test to ensure that there is no thermal problem and has a cold wire bonding process for its fitting which is unique to Ola S1 Pro amongst all its competitors. The vehicle has an automatic side-stand alert which provides an alert if the side-stand is kept hanging. This would provide the user an advance warning and avoid any harm to them or any bystanders around.

Colors Available for Ola Electric S1 Pro

The vehicle is available in 11 colors allowing the user the choice to design the vehicle the way they want to. These include Marshmallow, Neo Mint, Porcelain white, Coral Glam, Jet Black, Liquid Silver, Matt Black, Anthracite Grey, and Millennial Pink.

Best For

The Ola S1 Pro can be used across age spectrums with the vehicle having features which are useful for each and everyone. The sleek style makes it a favorite amongst the younger audience whereas the large boot space and comfort in riding makes it ideal for the older generation. The vehicle with Bluetooth connectivity, easy navigation, fast charging and music playing capability appeals to each and every user without any bias or prejudice. It is a classic combination of advanced technology and basic design features like the higher boot space to make it a crowd-favorite.

Vehicle Height

The Ola S1 Pro has a height of 1160 mm and a seat height of 792 mm, making it a comfortable seat for everyone.

Vehicle Weight

The Ola S1 Pro has a kerb weight of 125 kgs. This, along with its powerful engine, allows it to carry the load of the rider and the pillion with ease.

Seat Length

The Ola S1 Pro has an overall length of 1859 mm and a seat length of 738 mm. The length of the vehicle and the seat size allows for two people to ride easily with ample leg space for comfort.

Seat Width

The vehicle has a width of 712 mm, thus making it easy for the user to grip the vehicle without overextending their legs and providing the comfort for a longer ride without any fatigue to their muscles.
---
Ola Electric S1 Pro 4 kWh SHOWROOMS
Ola Electric - RR Nagar
Bhoopanna Building, Kenchena Halli Rd, Janankshi Layout, 5th Stage, RR Nagar, Bengaluru, Karnataka 560098
Ola Electric - Bilekahalli
#514/2, Bannerghatta Main Road, Sundar Ram Shetty Nagar, Bilekahalli, Bengaluru, Karnataka 560076
Ola Electric - Rajajinagar
80-187, Dr Rajkumar Rd, 2nd Block, Rajajinagar, Bengaluru, Karnataka 560010
Ola Electric - Banashankari
Ground Floor, 01, 100 Feet Road, 5th Block, Phase 3, Banashankari, Bengaluru, Karnataka 560085
Ola Electric - Kengeri
#2084, 1st Main Road, Stage I, Kengeri Satellite Town, Bengaluru, Karnataka 560060
Ola Electric - Yelahanka
290-284, 15th A Cross Rd, Yelahanka Satellite Town, Yelahanka, Bengaluru, Karnataka 560064
---
FREQUENTLY ASKED QUESTIONS
Ola S1 Pro price starts from Rs. 1,55,550

Ola S1 Air is offered in 1 variant - Ola S1 Pro.

Ola S1 Pro comes in only one variant. it has the top speed of 116kmph with rated power of 5500W

Ola S1 Pro is available in 12 colours - Porcelain White, Neo Mint, Millenial Pink, Midnight Blue, Matte Black, Marshmellow, Liquid Silver, Khaki, Jet Black, Gerua, Coral Glam, Anthracite Grey.

The range of Ola S1 Pro is 181 Km/Charge.

The Ola S1 Pro is powered by 8500 watt Mid Drive IPM Motor.

The height of Ola S1 Pro is 1.160 m

Ola S1 Pro is equipped with remote start - push button start.

The Top competitors for Ola Electric S1 Pro are Hero Vida V1, Bajaj Chetak, Ather 450X Gen 3, Okinawa iPraise, M2GO X1, Ather 450 Plus Gen 3, Ola Electric S1 Air, Komaki DT 3000, TVS iQube Electric, Simple Energy Simple One.

The Ola S1 Pro is a commendable electric scooter with powerful performance, extended range, and smart features, making it a practical and attractive choice for eco-conscious urban riders.

Yes, you can avail loan for Ola S1 Pro on OTO. OTO offer competitive discounts and 35% lower EMI which makes it easy for you as a customer to purchase your dream bike.

For Ola S1 Pro it takes approximately 30 minutes for the application to be approved once you have provided all the required details.