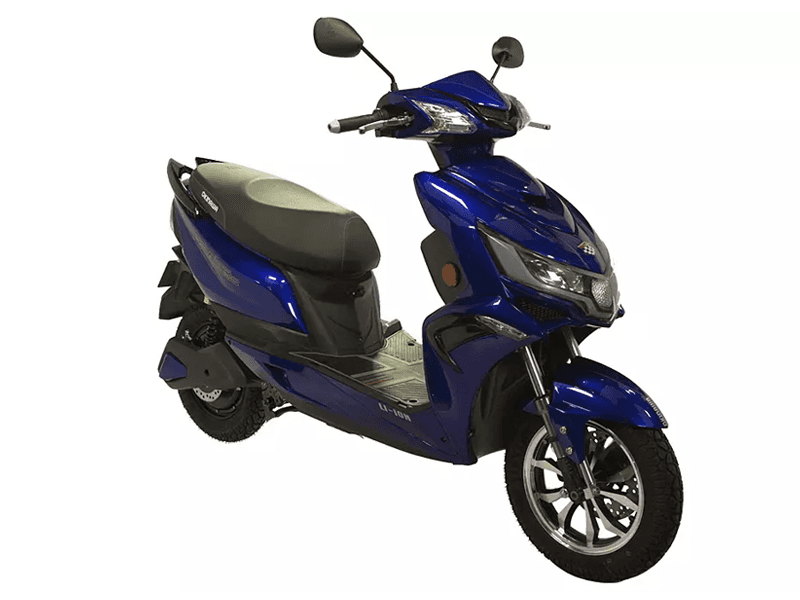 image
---
---
Okinawa Praise Pro Colors
Okinawa Praise Variants with Price
On-road Price
Apply for Loan
---
---
---
Overview of
Okinawa Praise Pro
Ride Modes

Sports Mode:

88 km/charge

,

Range
88.0 Km/Charge
Top Speed
58.0 Kmph
Charging Time
3.0 Hours
Battery Type
Removable
---
The Okinawa Praise Pro is an electric scooter that combines cutting-edge technology with stylish design, making it a sophisticated and efficient choice for urban commuting. It features a 1000 W BLDC motor that can reach a top speed of 56 km/h, and an impressive peak power output of 2700 Watts. This eco-friendly scooter costs only 17 paise per km, making it a cost-effective choice for those who want to save money while reducing their carbon footprint. Operating at a voltage of 72V, the Praise Pro maintains a balance between performance and efficiency, further enhancing its overall appeal. The Praise Pro has a range of 81 km per charge, making it a versatile option for daily commutes. It can also support a loading capacity of up to 150 kg, catering to a wide range of riders and cargo requirements. Charging the Praise Pro is easy and safe, thanks to its Micro-Charger with Auto Cut Function. The digital speedometer provides real-time information, and the detachable lithium-ion battery aligns with AIS 156-3 Step-1 Battery Compliance standards for added convenience. With a charging time ranging between 2 to 3 hours, users can experience minimal downtime and maximize their time on the road. The Praise Pro prioritizes security and convenience with features such as Central Locking, Anti-theft Alarm, Keyless Entry, and Find My Scooter Function. The Motor Walking Assistance feature offers forward and reverse motion capabilities for easy maneuvering. Additionally, riders can stay connected on the go with the Mobile Charging USB Port. Overall, the Okinawa Praise Pro is a high-performing, stylish, and innovative electric scooter that offers an appealing solution for modern urban transportation needs.
You can apply for loan for Praise - Pro on OTO and receive approval within just 30 minutes. The downpayment and EMI for Praise starts as low as Rs 16552/- and Rs 3635/-.
---
Specs & Features of
Okinawa Praise Pro
Ride Comfort

The Okinawa Praise Pro electric scooter is impressive, prioritizing the rider and passenger's comfort and safety. It has advanced features like Hydraulic Telescopic suspension system at the front and Double Shocker configuration at the rear, ensuring a smooth ride even on uneven surfaces. This makes it perfect for modern urban transportation needs, providing a comfortable journey with reduced jolts and vibrations. The scooter's lighting system is also designed to optimize visibility and aesthetics. The LED headlight with Daytime Running Light (DRL) function enhances visibility for the rider, making it more noticeable to other road users, promoting safety. Overall, the Okinawa Praise Pro is a high-performing, stylish, and innovative electric scooter that offers an appealing solution for those who prioritize comfort and safety.

Okinawa Praise Boot Space

Okinawa Praise Pro has 7 liters of boot space and is a significant advantage for the Okinawa Praise Pro. This ample storage capacity allows riders to carry their belongings conveniently, whether it's a backpack, groceries, helmet or other essentials.

Okinawa Praise Leg Space

It provides ample legroom, ensuring a comfortable and relaxed riding experience. The thoughtfully designed footboard offers ample space for riders of different heights to stretch their legs and discover their optimal riding position for utmost comfort.

Okinawa Praise Maintenance

Okinawa will replace or repair the defective part(s) at their Dealerships and Authorized Service Center, free of charge within 36 months for battery and 36 months or 30,000 km for motor from the date of sale, whichever is earlier. The warranty shall be applicable only if both the free services & paid services are availed in the respective period/kilometer ranges as per the schedule in the owner's manual from Okinawa Authorized Dealer / Service Center. The first free service is recommended at 500-1,000 kms or within 30-45 days, whichever is earlier. The second free service is recommended at 3,500-4,000 kms or 120-135 days, whichever is earlier. Following the initial free services, regular paid services should be conducted every 15 days or 500 kilometers, whichever comes earlier than the last service.

Safety

The Okinawa Praise Pro employs an innovative E-ABS (Electronic Assisted Braking System) that not only ensures secure braking but also harnesses regenerative energy. This dual-purpose system contributes to a safer ride for both the rider and passenger. By regenerating energy during braking, it prolongs the scooter's range, providing extended journeys without compromising on comfort. Introducing the Micro-Charger with an Auto Cut Function, designed to prevent issues like overcharging, short circuits, and overheating. The motor of this device boasts an IP65 water resistance rating, indicating a sturdy construction capable of enduring dust and low-pressure water jets. This level of protection guarantees that the battery remains safeguarded against the infiltration of solid particles and exposure to moderate water levels, effectively shielding it from environmental factors. This attribute proves to be exceptionally valuable across a range of conditions as it preserves the battery's performance and lifespan, minimizing the potential for harm arising from dust or minor water exposure.

Colors Available for Okinawa Praise

The Okinawa Praise Pro is available in a stunning range of seven vibrant and eye-catching colors, offering riders the opportunity to choose a style that suits their personality and preferences: Glossy Red Black Glossy Sparkle Blue Glossy Sparkle Black Military Green Mocha Brown Seafoam Green Sun Orange Whether you prefer bold and energetic tones or classic and sophisticated shades, the Okinawa Praise Pro has a color to match every taste and style.

Best For

For individuals who prioritize eco-consciousness, urban mobility, and sophisticated aesthetics in a scooter, the Okinawa Praise Pro presents is a perfect choice. Its diminutive dimensions, exceptional maneuverability, and remarkable agility render it exceptionally well-suited for seamlessly navigating city traffic and tight spaces within urban landscapes. Moreover, the electric scooter's environmentally considerate design align with the escalating emphasis on sustainable transportation solutions. Whether one's daily routine involves commuting to the workplace, running errands, or simply going on a ride , the Okinawa Praise Pro stands ready to provide a pleasant travel experience, all while upholding an unwavering commitment to both elegance and comfort.

Vehicle Height

With a vehicle height of 1165 mm, the Okinawa Praise Pro offers an ergonomic riding stance that enables most riders to effortlessly reach the ground while maintaining a clear sight of the road ahead. The scooter boasts a ground clearance of 175 mm, ensuring a seamless journey over diverse road surfaces by effortlessly maneuvering over speed bumps and road imperfections.

Vehicle Weight

The Okinawa Ridge Plus' impressively lightweight design is a key factor in enhancing the overall riding experience. This electric scooter effortlessly combines agility and efficiency. The reduced weight contributes to improved maneuverability, making it easy for riders to navigate through urban traffic and tight spaces.

Seat Length

The Okinawa Praise Pro boasts a well-designed seat with a length of 800 mm that prioritizes comfort on long rides. This seat offers ample support for both the rider and passenger, allowing for extended periods of relaxed riding and minimizing strain on the lower back.

Seat Width

With a generously wide seat of 745 mm, the Okinawa Praise Pro enables riders to shift positions and find a comfortable posture. The combination of its length and width creates a supportive platform that accommodates various body sizes, significantly enhancing the overall riding experience.
---
USER REVIEWS & RATINGS OF
Brand Rating
(4 Ratings, 1 Reviews)
---
1 month ago
|
Using this from 3-6 months
Purchase expierence was good, however service center quality is not upto the mark, staff is bit arrogant.
Was this review helpful ?
---
Okinawa Praise Pro SHOWROOMS
AA Enterprises - Yeshwantpura
Shop No.1, Ground Floor, 778/44, 8th Cross, Triveni Road, Yeshwanthpur
Tanishka Hero - M.S. Palya
No-66, 67 M.S. Palya Main Road, Vidyaranyapura Post, Bangalore
Shivganga Okinawa - Bagalgunte
18 MEI LAYOUT, Hesaragatta main road, Bagalgunte
Shrusha Business Solution Pvt Ltd - Kottige Palya
No.57-2, Kale Gowda Complex, Magadi Main Road, Kottigepalya
Preferred
R G Motors - Yelahanka New Town
Ground Floor, No.200, SFS 208, 4th Phase, Yelahanka New Town, Bengaluru (Bangalore) Urban
SMR Motors - Devanahalli
Ground Floor, SY No 121/6, BB Road, Ward No 11, Devanahalli, Devanahalli Town
---
FREQUENTLY ASKED QUESTIONS
Okinawa Praise is the only variant

Okinawa Praise is the only variant

The Okinawa Praise is available in three colours- Purple with Black, Blue with Black and Gold with Black

Okinawa Praise comes with a on road price of ₹ 1,59,462 in Bangalore

The range of Okinawa PraisePro is 88 Km/Charge

The Okinawa PraisePro is powered by 2500 watt BLDC Motor

The exact height of Okinawa Praise is 1.165 m

Okinawa Praise comes with self start only

Top competitors of Okinawa Praise are Ola S1 Air and Ampere Magnus EX

Okinawa Praise is a good electric scooter known for its impressive range, comfortable ride, and modern features, making it an excellent choice for eco-conscious riders seeking a reliable and efficient electric two-wheeler for daily commuting and city rides.

Yes, you can avail loan for Okinawa Praise on OTO. OTO offer competitive discounts and 35% lower EMI which makes it easy for you as a customer to purchase your dream bike.

For Okinawa Praise it takes approximately 30 minutes for the application to be approved once you have provided all the required details.