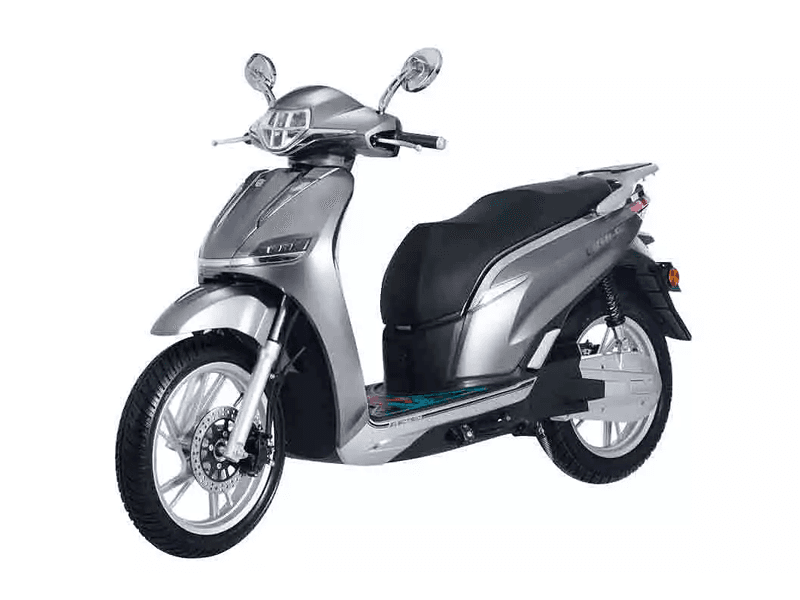 image
---
Okinawa OKHI-90
Std
Applied ₹2600 OFF on EMI.
---
Okinawa OKHI-90 Std Colors
Okinawa OKHI-90 Variants with Price
On-road Price
Apply for Loan
---
---
---
Overview of
Okinawa OKHI-90 Std
Ride Modes

Sports Mode:

120 km/charge

,

Range
160.0 Km/Charge
Top Speed
90.0 Kmph
Charging Time
4.0 Hours
Battery Type
Removable
---
The Okinawa OKHI-90 is a cutting-edge electric scooter that seamlessly blends advanced technology with impressive performance, offering a remarkable riding experience that caters to both urban commuters and environmentally conscious riders. Boasting a peak power of 3800 W, the OKHI-90 delivers a level of performance that ensures swift acceleration and confident handling. One of the standout features of the OKHI-90 is its exceptional range, allowing riders to travel up to 160 kilometers on a single charge. This impressive range is achieved under ideal test conditions, and the actual range may vary depending on factors such as riding conditions and road terrain. The OKHI-90 is equipped with a digitally informative speedometer that provides real-time updates on your riding speed, ensuring you stay informed and in control at all times. Additionally, the speedometer offers detailed battery voltage information, allowing you to closely monitor the scooter's power level and plan your rides accordingly. Enhancing both safety and aesthetics, the LED headlamp with DRL (Daytime Running Light) function ensures optimal visibility for both the rider and surrounding traffic. The convenience of the OKHI-90 is further amplified by its key-less remote system, which allows you to effortlessly start and stop the scooter without the need for traditional keys. For those who are always on the go, the OKHI-90 incorporates a mobile charging USB port, enabling you to charge your smartphone or other electronic devices while on the move.
You can apply for loan for OKHI-90 - Std on OTO and receive approval within just 30 minutes. The downpayment and EMI for OKHI-90 starts as low as Rs 21752/- and Rs 4708/-.
---
Specs & Features of
Okinawa OKHI-90 Std
Okinawa OKHI-90 Ride Comfort

The Okinawa OKHI-90 is equipped with a sophisticated suspension system that effectively absorbs road imperfections and enhances overall ride quality. At the front, the OKHI-90 features a Hydraulic Telescopic suspension system. This advanced front suspension setup utilizes hydraulic damping to provide a controlled and responsive ride. It effectively absorbs bumps, potholes, and uneven surfaces, minimizing jolts and vibrations that could otherwise disrupt the rider's comfort. The rear suspension of the OKHI-90 is equally impressive. It employs a Double Shocker configuration with dual tube technology. This design further enhances the scooter's ability to absorb shocks and vibrations from the road, contributing to a plush and comfortable ride experience.

Okinawa OKHI-90 Boot Space

With an under-seat storage capacity of 40 liters, the OKHI-90 offers ample room to stow away essentials, groceries, a helmet, or even a small backpack. This spacious boot ensures that riders have the freedom to carry their belongings without the need for additional bags or accessories.

Okinawa OKHI-90 Leg Space

The well-designed leg space not only contributes to rider comfort but also enhances maneuverability and control. With enough room to adjust your leg position as needed, you can easily handle the scooter's controls and make confident movements, whether it's navigating tight corners or gliding through traffic.

Okinawa OKHI-90 Maintenance

The OKHI-90 comes with an impressive motor warranty that covers a period of 3 years or 30,000 kilometers, whichever comes earlier. This warranty underscores the manufacturer's confidence in the durability and reliability of the electric motor. The battery, a critical component of any electric vehicle, is also well-covered under the OKHI-90's warranty program. The scooter comes with a battery warranty that extends for 3 years. This warranty speaks to the manufacturer's commitment to the quality and performance of the battery system.

Okinawa OKHI-90 Safety Features

Safety is a paramount consideration in the design of the Okinawa OKHI-90 electric scooter, and its braking system plays a pivotal role in ensuring rider confidence and security on the road. The front and rear braking systems of the OKHI-90 consist of disc brakes, which are known for their exceptional braking efficiency and responsiveness. Disc brakes provide a consistent and powerful stopping force, enabling riders to effectively control their speed and come to a halt quickly when needed.

Okinawa OKHI-90 Colors

The Okinawa OKHI-90 offers a delightful array of color options, allowing riders to express their personal style while adding a touch of vibrancy to their journeys. 1. Red 2. Blue 3. Grey 4. White Each of these color options offers a unique way to personalize your OKHI-90, allowing you to make a statement that resonates with your personality and preferences.

Okinawa OKHI-90 is Best For

If you're passionate about reducing your carbon footprint and contributing to a cleaner environment, the OKHI-90's electric propulsion aligns with your values. Moreover, the OKHI-90's ease of use, affordability, and compact size make it a practical choice for college students navigating campus or commuting to nearby locations. Its portability and storage space can accommodate textbooks, laptops, and other essentials.

Okinawa OKHI-90 Height

The vehicle's height of 1160 mm with a ground clearance of 175 mm provides a balanced and upright riding position, promoting better visibility of the road ahead and the surrounding traffic. This positioning enhances safety and allows riders to anticipate and react to potential obstacles or changing road conditions more effectively.

Okinawa OKHI-90 Weight

The Okinawa OKHI-90's manageable vehicle weight ensures that riders can easily control and maneuver the scooter, making it particularly suitable for urban environments and tight spaces.

Okinawa OKHI-90 Seat Length

The Okinawa OKHI-90's seat length of 803 mm is designed to provide riders with an exceptional level of comfort and support during their journeys. This means ample space for riders to find their preferred seating position, reducing the likelihood of discomfort during longer rides.

Okinawa OKHI-90 Seat Width

The Okinawa OKHI-90's seat width of 710 mm is crafted to enhance rider comfort and stability, ensuring that every ride is a smooth and enjoyable experience. The seat's ample width offers riders enough room to sit comfortably without feeling confined.
---
Okinawa OKHI-90 Std SHOWROOMS
Tanishka Hero - M.S. Palya
No-66, 67 M.S. Palya Main Road, Vidyaranyapura Post, Bangalore
AA Enterprises - Yeshwantpura
Shop No.1, Ground Floor, 778/44, 8th Cross, Triveni Road, Yeshwanthpur
Shivganga Okinawa - Bagalgunte
18 MEI LAYOUT, Hesaragatta main road, Bagalgunte
Shrusha Business Solution Pvt Ltd - Kottige Palya
No.57-2, Kale Gowda Complex, Magadi Main Road, Kottigepalya
Preferred
R G Motors - Yelahanka New Town
Ground Floor, No.200, SFS 208, 4th Phase, Yelahanka New Town, Bengaluru (Bangalore) Urban
SMR Motors - Devanahalli
Ground Floor, SY No 121/6, BB Road, Ward No 11, Devanahalli, Devanahalli Town
---
FREQUENTLY ASKED QUESTIONS
kinawa OKHI-90 is a good electric scooter known for its eco-friendly operation, decent performance, and budget-friendly pricing, making it a practical and convenient choice for short urban commutes and daily use.

Yes, you can avail loan for Okinawa OKHI-90 on OTO. OTO offer competitive discounts and 35% lower EMI which makes it easy for you as a customer to purchase your dream bike.

Okinawa OKHI-90 comes with a on road price of Rs. 2,29,700 in Bangalore

Okinawa OKHI-90 is an electric scooter available in only 1 variant

Okinawa OKHI-90 is an electric scooter available in only 1 variant

OKHI-90 is available in 4 colour options: Red, Blue, Grey, White.

The ARAI claimed mileage of Okinawa Okhi90 is 160 Km/Charge.

The Okinawa Okhi90 is powered by 3800 watt watt Motor.

The exact height of Okinawa OKHI-90 is 1.16 m

Okinawa OKHI-90 comes with self start only

Top competitors of Okinawa OKHI-90 are Ather 450X Gen 3, Bajaj Chetak, Hero Vida V1

For Okinawa OKHI-90 it takes approximately 30 minutes for the application to be approved once you have provided all the required details.