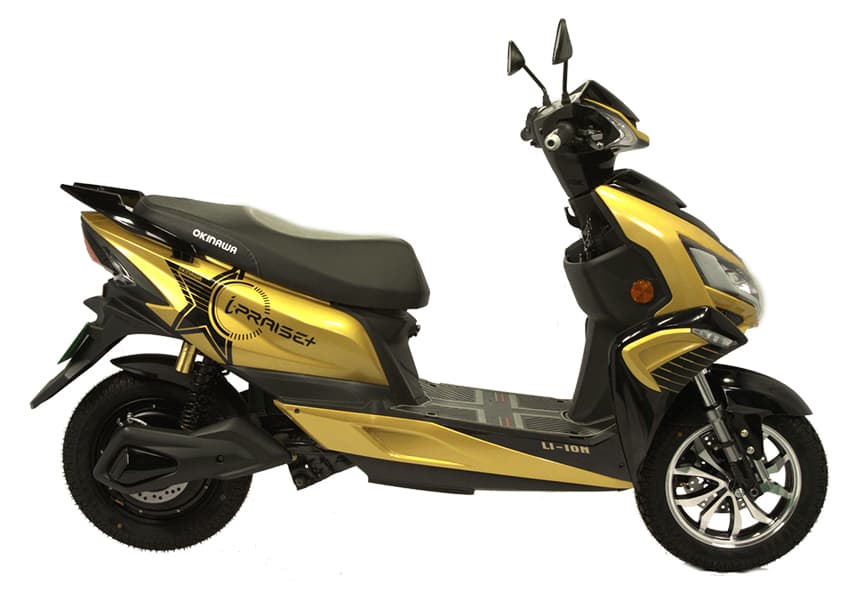 image
---
Okinawa i-Praise
Plus
Applied ₹2600 OFF on EMI.
---
Okinawa i-Praise Plus Colors
Okinawa i-Praise Variants with Price
On-road Price
Apply for Loan
---
---
---
Overview of
Okinawa i-Praise Plus
| | |
| --- | --- |
| Ride Modes | |
| Range | 139.0 Km/Charge |
| Top Speed | 58.0 Kmph |
| Charging Time | 5.0 Hours |
| Battery Type | Removable |
---
About
Okinawa i-Praise Plus
The Okinawa i-Praise is an electric scooter launched by one of India's fastest-growing electric two-wheeler manufacturing companies. It has the best-in-class features, making it an ideal vehicle for individuals not wanting to compromise on quality and technology while simultaneously making environmentally friendly choices and going green. It offers an impressive mileage of 139 km per full charge. The detachable battery in the Okinawa i-Praise is one of its strongest features. The 1000W lithium-ion battery can be easily charged via a 5A power socket making it possible to charge the Okinawa i-praise in areas where sufficient infrastructure for charging electric vehicles is not present. It can even be charged in the comfort of the rider's home and that too as conveniently as charging mobile phones. The charging time of the battery is as little as two to three hours. The Okinawa i-Praise generates 1000 W power from its motor which is a Brushless Direct Current Motor [BDLC]; it is waterproof and generates direct current electricity. The stator in it is equipped with coils wound with electromagnets while the rotor has permanent magnets attached to it. The commutation between the two leads to conversion of electrical energy into mechanical energy. The torque of the brushless motor is created by the magnetic interaction of the permanent magnets with the electromagnets. The benefit of the motor of the Okinawa i-Praise is that the overall space of the vehicle is reduced while still achieving adequate torque. Further, it makes the Okinawa i-Praise move more quietly as it generates a lesser mechanical voice. The Okinawa i-Praise has an electronically assisted braking system with both front and rear disc brakes. The speed limit in the Okinawa i-Praise can be customised. So if you are a parent whose child uses the vehicle, the app will automatically send you an alert in case the speed limit is crossed. The Okinawa i-Praise features can be accessed through its 'Okinawa Eco' application available on the PlayStore.
You can apply for loan for i-Praise - Plus on OTO and receive approval within just 30 minutes. The downpayment and EMI for i-Praise starts as low as Rs 23575/- and Rs 5109/-.
---
Specs & Features of
Okinawa i-Praise Plus
Okinawa i-Praise Ride Comfort

The Okinawa i-Praise has an electronic anti-brake system which assists in the braking system and makes the process smooth. The overall status of the vehicle including battery voltage, ignition status, and average speed is displayed. The Okinawa i-Praise also has an accurate GPS making your ride to unknown areas easy and worry-free. The "Find My Scooter" feature makes it easier to track the vehicle including its parking location. The geo-fencing allows a perimeter to be set which if broken generates an alert thereby creating safety from unwarranted movement.

Okinawa i-Praise Boot Space

The boot space of the Okinawa i-Praise is about 7 litres. This is enough space for storing essentials like folded documents and a wallet, but is very low compared to other 20+ litre storage boot spaces offered by petrol-driven vehicles.

Okinawa i-Praise Leg Space

The vehicle has ample width and height providing sufficient leg space to the rider without the rider feeling cramped.

Okinawa i-Praise Maintenance

The Okinawa i-Praise boasts a very long battery life and warranty for both battery and motor for three years. This makes it easier to maintain the vehicle in the long run without frequent visits to the workshop. The vehicle also reminds you of regular maintenance and insurance making it less likely for you to be stuck somewhere on the road. Okinawa i-Praise is truly a two-wheeler for the modern-day driver.

Okinawa i-Praise Safety Features

Apart from the on-road assistance, the vehicle ensures safety off-road too. It also lets you set curfew hours for the vehicle which continue until they are set off by the user. In case of distress or emergency, the Okinawa i-Praise has an SOS feature that sends the listed emergency contacts an email or message if generated by the user. The Okinawa i-Praise has a special continuous driving behaviour-motoring system rating the driver's performance over time. Additionally, it shows the exact number of trips taken by the user on a particular date, the start and end point of these trips as well as the kilometres travelled. The vehicle also reminds the rider regarding insurance thus ensuring that they do not forget one of the pivotal functions of a rider, securing the safety of the users as well as others.

Okinawa i-Praise Colors

The Okinawa i-Praise comes in three colours: Glossy Red, Glossy Golden Black and Glossy Silver Black. However, there is a surprise in store for users. The user can get their vehicle customised wherein it would be hand-painted and it would consist of the initials of the user. The users can select from a variety of colour themes including Super Hero theme, galaxy theme, honeycomb theme, and crumbled gold theme. The option to get it customised at a premium price is a nice addition for users who are particular about their colour palette.

Okinawa i-Praise is Best For

The Okinawa i-Praise is for users who have a soft heart for the environment as the electric vehicle emits fewer pollutants as compared to your regular vehicle. It is best usable for young students as their first vehicle as it limits the overall speed thus securing the parents of the kids as well as teaching safe driving to first-time riders. The Okinawa i-Praise is suitable for driving both within the city as well as outside with its appropriate wheel size and suspension technology.

Okinawa i-Praise Height

The vehicle has a height of 1165 mm and a ground clearance of 175 mm ensuring that your vehicle is safe and secure from scratches or damages due to speed-breakers or bumps on the road.

Okinawa i-Praise Weight

The Okinawa i-Praise has a kerb weight touching almost 150 kg, allowing it to carry load easily, making it suitable for two people to ride on it without impeding the speed in any manner.

Okinawa i-Praise Seat Length

The vehicle has a length of 1970 mm which provides ample leg space for the driver and a proper seat for the pillion rider. Such a comfortable length is also why people choose this scooter over its peers in the market.

Okinawa i-Praise Seat Width

The vehicle has an overall width of 745 mm which allows for a comfortable driving experience without any discomfort to the body.
---
USER REVIEWS & RATINGS OF
Okinawa i-Praise Plus
(4.3 Ratings, 1 Reviews)
---
3 months ago
|
Using this from 6-12 months
Comfortable riding, Low maintaince, Speed is average, Should not be used on frequent highway ridings.
Was this review helpful ?
---
Okinawa i-Praise Plus SHOWROOMS
Tanishka Hero - M.S. Palya
No-66, 67 M.S. Palya Main Road, Vidyaranyapura Post, Bangalore
AA Enterprises - Yeshwantpura
Shop No.1, Ground Floor, 778/44, 8th Cross, Triveni Road, Yeshwanthpur
Shivganga Okinawa - Bagalgunte
18 MEI LAYOUT, Hesaragatta main road, Bagalgunte
Shrusha Business Solution Pvt Ltd - Kottige Palya
No.57-2, Kale Gowda Complex, Magadi Main Road, Kottigepalya
Preferred
R G Motors - Yelahanka New Town
Ground Floor, No.200, SFS 208, 4th Phase, Yelahanka New Town, Bengaluru (Bangalore) Urban
SMR Motors - Devanahalli
Ground Floor, SY No 121/6, BB Road, Ward No 11, Devanahalli, Devanahalli Town
---
FREQUENTLY ASKED QUESTIONS
Okinawa i-Praise comes with a on road price of ₹ 1,59,462 in Bangalore

Okinawa iPraise+ is offered in 1 variant - Okinawa iPraise+ STD

Okinawa iPraise+ is offered in 1 variant - Okinawa iPraise+ STD. It comes with 1000 W rated power

Okinawa i-Praise is available in red

Okinawa i-Praise has a mileage of 170 km/full charge

The Okinawa iPraise+ is powered by 2500 watt BLDC Motor

The exact height of Okinawa i-Praise is 1.15 m

Okinawa i-Praise comes with self start only

Top competitors of Okinawa i-Praise are Okaya Electric Faast F3 and Ampere Magnus EX

Okinawa i-Praise is a good electric scooter known for its eco-friendly nature, smooth performance, and practical features, offering a quiet and efficient urban commuting experience for eco-conscious riders. Its long-range capabilities and affordable pricing make it an attractive choice for those seeking a reliable and cost-effective electric scooter

Yes, you can avail loan for Okinawa i-Praise on OTO. OTO offer competitive discounts and 35% lower EMI which makes it easy for you as a customer to purchase your dream bike.

For Okinawa i-Praise it takes approximately 30 minutes for the application to be approved once you have provided all the required details.