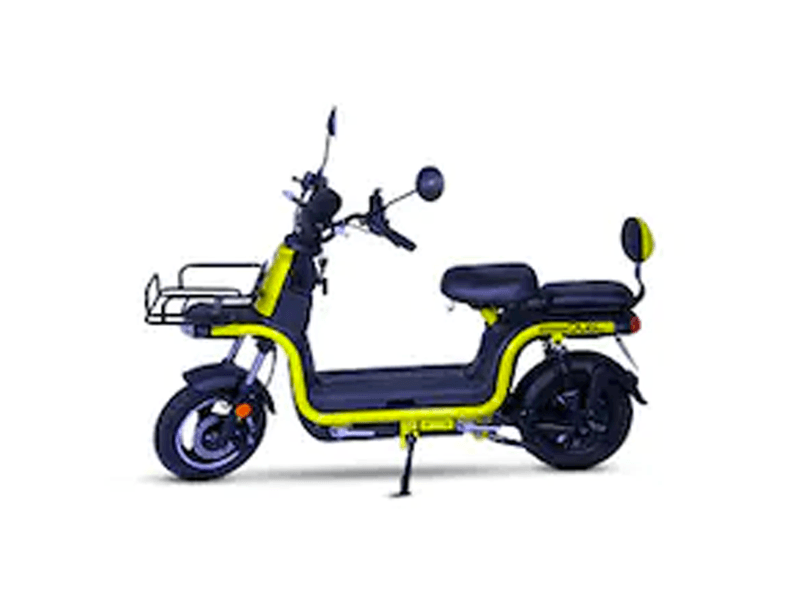 image
---
Okinawa Dual
100 std
Applied ₹2600 OFF on EMI.
---
Okinawa Dual 100 std Colors
Okinawa Dual Variants with Price
On-road Price
Apply for Loan
---
---
---
Overview of
Okinawa Dual 100 std
Ride Modes

Normal Mode:

120km/charge

,

Range
120.0 Km/Charge
Top Speed
25.0 Kmph
Charging Time
5.0 Hours
Battery Type
Removable
---
About
Okinawa Dual 100 std
The Okinawa Dual electric scooter stands as a testament to modern innovation and efficiency, offering a harmonious blend of power, range, and cutting-edge features. The Okinawa Dual is powered by a robust electric motor that boasts a peak power of 3000 W. Complementing its power is a noteworthy range of up to 129 kilometers per charge. This substantial range allows riders to embark on longer journeys without the worry of running out of charge, making the Dual a reliable companion for both short commutes and extended rides. Crafted from specialized alloy steel, the Dual's body is a testament to durability and strength. This construction not only ensures the scooter's longevity but also contributes to its agile maneuverability. The Dual's modern design is illuminated by advanced LED lighting equipped with Daytime Running Light (DRL) functionality. This not only enhances the scooter's aesthetics but also improves visibility, ensuring that riders are noticed by other road users. Taking convenience to the next level, the Dual is equipped with a "Find My Scooter" function. This feature utilizes technology to help riders locate their scooter in crowded parking areas or unfamiliar environments.
You can apply for loan for Dual - 100 std on OTO and receive approval within just 30 minutes. The downpayment and EMI for Dual starts as low as Rs 13472/- and Rs 2890/-.
---
Specs & Features of
Okinawa Dual 100 std
Okinawa Dual Ride Comfort

The ride comfort of the Okinawa Dual electric scooter is an excellent fusion of engineering excellence and modern technology, ensuring that every journey is not only efficient but also incredibly smooth and enjoyable. This is achieved through a meticulously designed suspension system that caters to various road conditions and rider preferences. The front suspension of the Okinawa Dual features a hydraulic telescopic design. This advanced suspension system is engineered to absorb road imperfections, bumps, and undulations with remarkable efficiency. At the rear, the Okinawa Dual employs a double shock absorber setup with dual tube technology. This innovative rear suspension configuration further enhances ride comfort by distributing the impact of uneven terrain more evenly across the scooter's rear end.

Okinawa Dual Boot Space

The Okinawa Dual 100 electric scooter is ingeniously engineered to cater to commercial needs, making it an ideal choice for businesses and enterprises. At the front, the Dual 100 features a massive luggage rack that embodies practicality. This spacious rack serves as a versatile cargo area, accommodating packages, deliveries, and essential items that commercial users need to transport. The purposeful design ensures that businesses can efficiently carry out their operations, making the Dual 100 an indispensable asset for commercial endeavors.

Okinawa Dual Leg Space

The Dual 100 is crafted to provide riders with a relaxed riding posture, minimizing strain on the legs during both short commutes and longer journeys. This ergonomic design fosters a comfortable and enjoyable riding experience.

Okinawa Dual Maintenance

The Okinawa Dual electric scooter is designed to offer a convenient and worry-free ownership experience, backed by comprehensive warranties that underline the manufacturer's commitment to quality and customer satisfaction. The Dual's motor, the heart of its electric propulsion system, is covered by a generous warranty period of 3 years or 30,000 kilometers, whichever comes earlier. This warranty speaks to the confidence Okinawa has in the durability and performance of the motor. The electric scooter's battery, a critical component that dictates its range and overall performance, is also covered by a 3-year warranty. This warranty assures the owner that the battery is designed for longevity and reliable operation.

Okinawa Dual Safety Features

The safety features of the Okinawa Dual electric scooter are designed to provide riders with a secure and controlled riding experience, prioritizing the well-being of both the rider and other road users. The Okinawa Dual is equipped with drum brakes both at the front and rear wheels. This braking setup offers reliable stopping performance while maintaining simplicity and effectiveness. The front drum brake and the rear drum brake work in tandem to provide balanced braking force, allowing riders to modulate their speed and bring the scooter to a controlled stop, even in various road conditions.

Okinawa Dual Colors

The Okinawa Dual 100 electric scooter is available in two vibrant and distinctive colors to choose from: 1. Red 2. Yellow These color options add a personal touch to the Dual 100, making it an unmistakable presence on the road while fulfilling its role as a dependable and efficient mobility solution.

Okinawa Dual is Best For

The Dual 100's design, including its spacious front luggage rack, makes it a perfect fit for commercial riders and delivery services. Businesses that require efficient and eco-friendly transportation for deliveries and shipments will find the Dual 100 to be a valuable asset that enhances their operations. Riders who navigate through bustling city streets and congested traffic can benefit from the Dual 100's compact size, maneuverability, and low maintenance costs. The scooter's electric propulsion system contributes to reduced congestion and environmental impact in urban areas.

Okinawa Dual Height

The 1120 mm height with a ground clearance of 205 mm gives the Dual 100 a commanding presence on the road, ensuring that it stands out in traffic and offers good visibility to both the rider and other road users. Riders can enjoy a clear view of the road ahead while maintaining a relaxed stance that minimizes strain during daily commutes.

Okinawa Dual Weight

The scooter's weight distribution is engineered to ensure stability during rides, especially when carrying cargo. This stability contributes to a secure and confident riding experience.

Okinawa Dual Seat Length

The 770 mm seat length provides riders with ample space to settle into a comfortable riding position. This allows for relaxed posture during both short rides and longer journeys.

Okinawa Dual Seat Width

The 700 mm seat width ensures that riders can plant their feet securely on the ground, enhancing stability during stops and providing a sense of control.
---
Okinawa Dual 100 std SHOWROOMS
Tanishka Hero - M.S. Palya
No-66, 67 M.S. Palya Main Road, Vidyaranyapura Post, Bangalore
AA Enterprises - Yeshwantpura
Shop No.1, Ground Floor, 778/44, 8th Cross, Triveni Road, Yeshwanthpur
Shivganga Okinawa - Bagalgunte
18 MEI LAYOUT, Hesaragatta main road, Bagalgunte
Shrusha Business Solution Pvt Ltd - Kottige Palya
No.57-2, Kale Gowda Complex, Magadi Main Road, Kottigepalya
Preferred
R G Motors - Yelahanka New Town
Ground Floor, No.200, SFS 208, 4th Phase, Yelahanka New Town, Bengaluru (Bangalore) Urban
SMR Motors - Devanahalli
Ground Floor, SY No 121/6, BB Road, Ward No 11, Devanahalli, Devanahalli Town
---
FREQUENTLY ASKED QUESTIONS
Okinawa Dual comes with a on road price of ₹ 1,30,964 in Bangalore

Okinawa Dual have two variants namely Okinawa Dual STD and Okinawa Dual LX

Okinawa Dual STD is a good choice for those looking for an affordable electric scooter with a good range. It is also a good choice for those who do not need a very high top speed. The Okinawa Dual LX is a good choice for those looking for a more powerful electric scooter with a longer range, and also for those who need a high top speed for highway riding.

Okinawa Dual is available in 5 different colours - Metallic Black, Matte Red, Mejesty Red, Dark Matte Blue and Metallic Grey.

The exact height of Okinawa Dual is 1.08 m

Okinawa Dual comes with self start only

Okinawa Dual has a mileage of 45 km/l

Okinawa Dual comes with engine diceplacement of

Top competitors of Okinawa Dual are

The Okinawa Dual is an exceptional motorcycle that combines style, performance, and reliability. It offers a thrilling riding experience with its powerful engine, agile handling, And comfortable ergonomics.

Yes, you can avail loan for Okinawa Dual on OTO. OTO offer competitive discounts and 35% lower EMI which makes it easy for you as a customer to purchase your dream bike.

For Okinawa Dual it takes approximately 30 minutes for the application to be approved once you have provided all the required details.