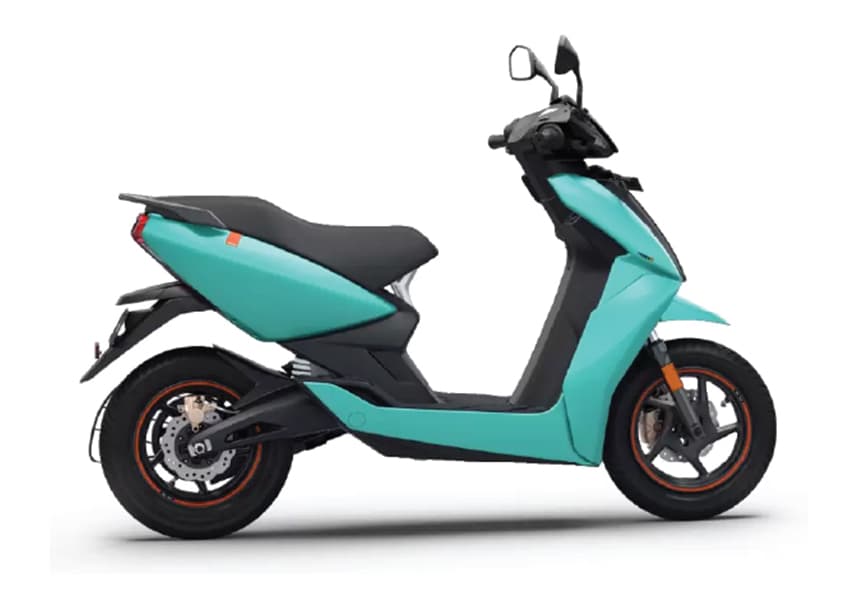 image
---
---
Ather 450 Variants with Price
On-road Price
Apply for Loan
---
---
---
Ride Modes

Sport Mode:

75 km/charge

,

Range
165.0 Km/Charge
Top Speed
90.0 Kmph
Charging Time
6.0 Hours
Battery Type
Non-Removable
---
The Ather 450X is a high-performance electric scooter that is designed for both urban and long-distance travel. It works on a PMSM motor with a 3.7 kWh lithium ion battery. The scooter is an absolute pleasure to ride with its stylish looks, premium features, and a top speed of 80 kmph. Ather 450X comes with both front and rear disc brakes and a connected braking system for both wheels. The scooter accelerates 0-40 kmph in 3.3 seconds. It has a torque of 26Nm and an IP67 motor IP rating. The Ather 450X gives an impressive ARAI-claimed mileage of 146 km/charge. The Ather 450X comes in two variants: 1. The Ather 450X Gen 3 2. The Ather 450X Pus Gen 3 The company Ather Energy has a trademark for the word 'TrueRange' which signifies the range offered by the Ather electric scooter in real-world conditions. The Ather 450X has the TrueRange of 146 kms per charge while the Ather 450X plus has the 'TrueRange' of 108 kms. The Ather 450X Plus offers a torque of 22 Nm whereas the Ather 450X offers a torque of 26 Nm. Both variants have an automatic transmission, fast charging, tubeless tires and precision machined hybrid chassis. The Ather 450X is one of the quickest scooters in the 125CC scooter category. The Ather 450X is perfect for individuals looking for an eco-friendly and economic way of transportation without compromising on features, technology, or style. Ather 450X promises to revolutionize your daily ride with utmost convenience and reliability. It has features that stand out including side stand sensors so that you never forget to take off the side stand, a go-incognito mode to disable location tracking, and reverse-assist to help you take the vehicle out from tight spots. The Ather 450X is truly a marvel of modern engineering guaranteed to give its rider an effortless riding experience.
You can apply for loan for 450 - X on OTO and receive approval within just 30 minutes. The downpayment and EMI for 450 starts as low as Rs 19751/- and Rs 4338/-.
---
Specs & Features of
Ather 450 X
Ride Comfort

The Ather 450X has a mono-shock suspension that ensures you are comfortable even on rough roads. It is designed for both urban and long-distance travel. The push-button to start is convenient and easy to use. Thanks to its lightweight construction, it requires minimal effort when making sharp turns. The seat is wide enough for two riders to sit comfortably and has a passenger footrest and grab-rail too.

Ather 450 Boot Space

The Ather 450X offers a boot space of 22L that can easily fit a full-facing helmet in addition to the daily big and small utility bags. It is the perfect companion for a grocery run because it will carry everything for you.

Ather 450 Leg Space

The Ather 450X has a flat floor that helps with carrying luggage easily. There is an option for the riders to get additional storage accessories installed.

Ather 450 Maintenance

Maintaining the Ather 450X is easy. Whether you are at home or away from home, the Ather 450X can be charged effortlessly. At home, you can get the charger installed by staff from Ather or your electrician at a fixed spot. If you are away from home, you can charge the Ather 450X with a portable charger by using any 5A socket. The portable charger has a 3 m long cord for easy reach. Both the chargers, whether fixed installed or portable, charge from 0 to 80% in about four hours and thirty minutes. The charging status can be easily checked on the Ather app. The battery and motor both come with a three-year manufacturer warranty. The inbuilt auto cut-off stops charging the moment the scooter reaches 100%. In case of power fluctuation, the surge protection feature cuts power immediately.

Safety

The Ather 450X has a 7-inch touch screen dashboard display with Bluetooth connectivity. It has a 1.3 GHz Snapdragon processor and 2GB of RAM. It further offers GPS and navigation, geo-fencing, and a low battery indicator. The Ather 450X Gen 3 plus has four riding modes which include Sport, Ride, Eco, and Smart Eco whereas the Ather 450X Gen 3 has a warp ride mode in addition to the previously existing four ride modes. The dashboard allows for call and SMS alerts. It can show ride statistics and has music controls. The Ather app keeps an eye on the scooter for you virtually. It has a tow and theft alert notification system, locate your scooter feature, and helps you find Ather grids that offer fast charging near your location. This Ather 450X scooter is incredibly safe thanks to its disc brakes on both wheels, and advanced safety features like a side-stand sensor, traction control, and regenerative braking. It even lets you send important documents to the dashboard. Without question, the Ather 450X is setting a new standard in terms of performance and convenience for electric scooter enthusiasts everywhere.

Colors Available for Ather 450

The Ather 450X is available in three striking colors: Space Grey, Mint, and White.

Best For

The Ather 450X is best for daily commuting in the city due to its light weight and agility. Due to it being equipped with a big motor and battery, it has great speed and acceleration. Ather 450X is ideal for people wanting to switch to zero carbon emission with optimum speed. The design has an apron-mounted LED headlight setup, an LED turn light indicator, and a stylist tail light perfect for the trend-setting and elegant rider in you. The Ather 450X scooter is very responsive and can easily keep up with the metro city traffic.

Vehicle Height

The Ather 450X has a height of 1250 mm with a seat of 780 mm height and ground clearance of 153 mm. This means that you can drive above speed-breakers without hesitation.

Vehicle Weight

The Ather 450X has a kerb weight of 108 kg. The overall weight of the vehicle has been reduced by installing a lighter instrument cluster, installing a tubular light handlebar, removing the onboard charger, and instead providing a convenient portable battery charger.

Seat Length

The entire vehicle is 1800 mm in length and the seat is comfortably long enough. Two adults can comfortably travel, each carrying a shoulder bag.

Seat Width

The seat width while talking about the Ather 450X is a great factor in determining the comfort level of the two-wheeler. The sleek design and ideal width makes it so much easier to ride for long distances as compared to other vehicles of the same level.
---
USER REVIEWS & RATINGS OF
Brand Rating
(4.6 Ratings, 1 Reviews)
---
1 month ago
|
Using this from 6-12 months
I ride daily around 50 to 60km. Using smart eco you can get a range between 85 and 105km. The first service cost was around 600rs. The charging time is 4.5hrs.
Was this review helpful ?
---
Ather space Indiranagar - Indiranagar
Ather space Indiranagar 3, 100 Feet Rd, Defence Colony, Indiranagar, Bengaluru,
ATHER KOCHI - Begur Hobli
New Municipal No.1 (Old Municipal No.8/9), Ground Floor, Ns Palya, Begur Hobli, Bengaluru, 1st Cross Road, Bangalore - 560076
Bia Ventures Pvt Ltd - J P Nagar
60/60/1/27/2, RAGHUVANAHALLI MAIN ROAD, J P NAGAR, BENGALURU
Punitha Motors - Nagarbhavi
#500,outer ring road,mallathahalli bus stop,Nagarbhavi,Bangalore 560056.
Smriti Motors - Varthur Road
#520,ground Floor,Ajagondanahalli Cross, Varthu Road, Bangalore 560066
Jubilant Motorworks - Electronic City Post
NO 6/1,BERATANA AGRAHARA , 15TH KM HOSUR MAIN ROAD ELECTRONIC CITY POST,BANGALORE-560100
---
FREQUENTLY ASKED QUESTIONS
Ather 450 comes with self start only

The Ather 450 is a commendable electric scooter, offering a powerful motor, impressive acceleration, and advanced features, providing a smooth and enjoyable ride for urban commuters. Its eco-friendly nature and smart functionalities make it a top choice for environmentally-conscious riders seeking a high-performance electric scooter.

Ather 450 comes with a on road price of ₹ 1,52,109 in Bangalore

Ather Electric Scooters. Ather scooters are available in two variants - Ather 450 Plus and the Ather 450X.

Ather 450X is the top variant. it comes with the battery capacity of 3.7 kWh and motor power of 6400

Ather 450X is available in 6 different colours - Cosmic Black, True Red, Salt Green, Still White, Lunar Grey, Space Grey

The range of Ather 450X is 165 Km/Charge

Ather 450 comes with motor power of 6400w

The exact height of Ather 450 is 1.250 m

Top competitors of Ather 450 are TVS iQube Electric and Ola S1 Air

Yes, you can avail loan for Ather 450 on OTO. OTO offer competitive discounts and 35% lower EMI which makes it easy for you as a customer to purchase your dream bike.

For Ather 450 it takes approximately 30 minutes for the application to be approved once you have provided all the required details.