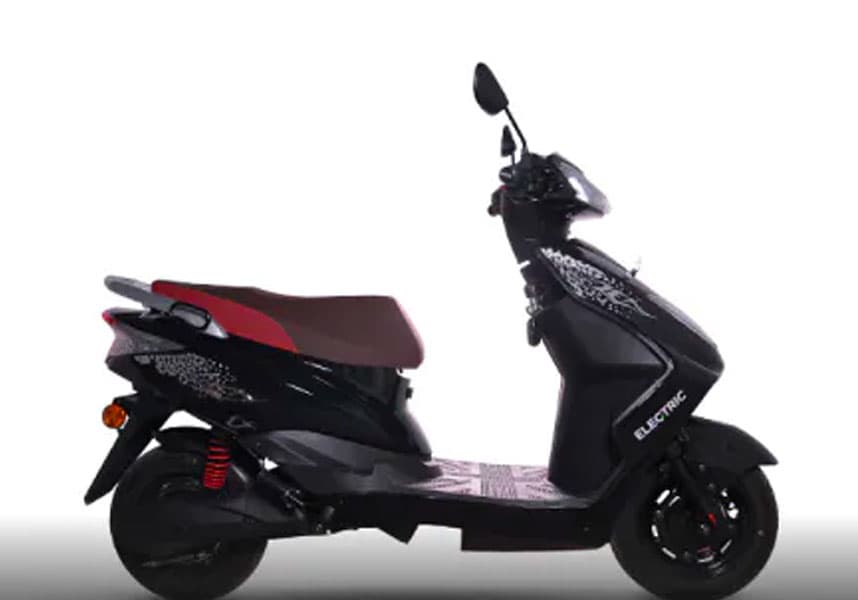 image
---
Ampere Zeal
Li Battery
Applied ₹2600 OFF on EMI.
---
Ampere Zeal Li Battery Colors
Ampere Zeal Variants with Price
On-road Price
Apply for Loan
---
---
---
Overview of
Ampere Zeal Li Battery
Ride Modes

Economy mode:

39 km/hour

,

Range
120.0 Km/Charge
Top Speed
53.0 Kmph
Charging Time
5.0 Hours
Battery Type
Removable
---
About
Ampere Zeal Li Battery
The Ampere Zeal is a pioneering electric scooter that epitomizes the future of urban mobility. Designed to address the growing demand for eco-friendly transportation solutions, the Zeal combines cutting-edge electric technology with a stylish and practical design. The Zeal runs a 12kW brushless DC motor that draws power from a 60V/30Ah lithium-ion battery. The battery is detachable, which makes it convenient to charge at home or office. The Ampere Zeal is the company's flagship e-scooter offering. It has several additional features that add to the electric scooter's convenience. In terms of design, the Zeal keeps to its compact dimensions like other Ampere models. It has an arrow-head-shaped headlamp with LED DRLs mounted flush with the front apron and handlebar-mounted turn indicators. Its sleek and contemporary aesthetics are complemented by thoughtful features, making it a compelling choice for those seeking an efficient and responsible mode of transportation.
You can apply for loan for Zeal - Li Battery on OTO and receive approval within just 30 minutes. The downpayment and EMI for Zeal starts as low as Rs 9877/- and Rs 2100/-.
---
Specs & Features of
Ampere Zeal Li Battery
Ampere Zeal Ride Comfort

Ride comfort takes center stage in the Ampere Zeal, offering a smooth and serene journey through city streets. The Zeal is suspended by telescopic forks at the front and dual shock absorbers at the back. The suspension system is tuned to absorb road imperfections, delivering a comfortable and controlled ride. Whether navigating through congested traffic or cruising along open roads, the Zeal glides effortlessly, providing a pleasantly cushioned experience that minimizes fatigue and enhances the joy of riding.

Ampere Zeal Boot Space

Practicality is a hallmark of Ampere Zeal, as it offers a convenient storage solution for everyday essentials. The scooter features a dedicated under-seat storage compartment, allowing riders to securely stow personal belongings such as a helmet, documents, or small bags. This functional boot space adds a layer of utility to the Zeal, making it well-suited for short trips, errands, and daily commuting needs.

Ampere Zeal Leg Space

The Ampere Zeal provides ample leg space, allowing riders to stretch comfortably and find their preferred riding posture. The spacious footboard accommodates varying leg lengths, ensuring that riders can find a relaxed and natural position. This thoughtful design element contributes to overall ride comfort, enabling riders to enjoy a fatigue-free journey even during extended commutes.

Ampere Zeal Maintenance

The Ampere Zeal's electric powertrain translates into a remarkably low-maintenance ownership experience. Unlike other scooters, this one doesn't have any routine maintenance, with the exception of brakes. With fewer moving parts compared to traditional internal combustion engines, the scooter requires less frequent servicing and upkeep. Routine maintenance tasks such as battery checks and occasional software updates can be easily managed at authorized service centers. This translates into reduced maintenance costs and minimal downtime, allowing riders to focus on enjoying their rides without the hassle of frequent servicing.

Ampere Zeal Safety Features

Safety is paramount in the design of the Ampere Zeal, ensuring that riders confidently embark on their journeys. The scooter is equipped with essential safety features, including responsive brakes and regenerative braking technology with a Combined Braking System that aids in controlled deceleration and energy recovery. Additionally, the Zeal incorporates modern lighting systems, including LED headlights and taillights, to enhance visibility and promote safer riding in various lighting conditions. These safety-centric features contribute to a secure and confident riding experience.

Ampere Zeal Colors

The Ampere Zeal offers a range of contemporary and appealing color options, allowing riders to personalize their scooter to suit their preferences. Ampere offers the Zeal in 5 color options: 1) Blue 2) Silver 3) Red 4) White 5) Yellow This enables riders to make a unique statement on the road, expressing their individuality while zipping through urban landscapes.

Ampere Zeal is Best For

The Ampere Zeal is ideally suited for urban dwellers seeking a practical and eco-friendly mode of transportation. It excels in navigating through congested city streets, offering a convenient solution for short commutes, daily errands, and urban explorations. The Zeal's compact dimensions, comfortable ride, and low maintenance requirements make it an excellent choice for students, professionals, and anyone looking to effortlessly maneuver through the urban jungle while contributing to a greener future.

Ampere Zeal Height

The Ampere Zeal features an approachable seat height, ensuring that riders of varying statures can comfortably handle the scooter. With a height of approximately 1115 mm and a ground clearance of 145 mm, most riders will find it easy to place their feet on the ground when at a stop. This height promotes stability during stops and slow-speed maneuvers, enhancing rider confidence, particularly in congested urban environments.

Ampere Zeal Weight

Striking a balance between agility and substance, the Ampere Zeal boasts a manageable weight of around 78 kg. The construction contributes to nimble handling, allowing the scooter to navigate tight spaces and urban traffic easily. The Zeal's light weight makes it an approachable option for riders of various skill levels, providing a reassuring and enjoyable ride experience.

Ampere Zeal Seat Length

Designed with rider comfort in mind, the Ampere Zeal features a well-proportioned seat length. The generously padded saddle enables riders to shift positions during extended rides, promoting comfort and reducing fatigue. This seat length accommodates both rider and pillion, making the Zeal a convenient choice for shared journeys and short commutes with a companion.

Ampere Zeal Seat Width

The Ampere Zeal's seat width is thoughtfully crafted to provide a comfortable yet controlled riding experience. With a width of approximately 670 mm, the seat design encourages a balanced posture, allowing riders to comfortably place their feet on the ground while maintaining optimal control over the scooter. The seat's width enhances rider confidence and contributes to an enjoyable and engaging ride.
---
Ampere Zeal Li Battery SHOWROOMS
BMS E-Bikes - Bagalgunte
#25,Defence Colony,Bagalgunte Main Road,Nagasadndra Post,Bangalore
Active Ampere - Banashankari
549/c, 14th Main Rd, 1st Block, Hanumanthnagar, Banashankari Stage I, Banashankari, Bengaluru
EV Moto Park Private Limited - Bommanahalli
NO. 70/4, EV MOTO PARK PRIVATE LIMITED, HOSUR ROAD, BOMMANAHALLI, Bengaluru Urban, Karnataka, 560068
RR Motors - Laggere
47/4, Dr Puneeth Rajkumar Rd, Premanagar, Laggere, Bengaluru, Karnataka
Punitha Motors - Nagarbhavi
#500,outer ring road,mallathahalli bus stop,Nagarbhavi,Bangalore 560056.
Smriti Motors - Varthur Road
#520,ground Floor,Ajagondanahalli Cross, Varthu Road, Bangalore 560066
---
FREQUENTLY ASKED QUESTIONS
Ampere Zeal comes with a on road price of ₹ 1,07,223 in Bangalore

Ampere Zeal EX comes in single variant that is Zeal EX STD

Zeal EX STD is the best variant. With 2.2 kWh battery capacity, it takes 5 hours fot a full charge

The Ampere Zeal EX offers customers a choice of 4 different colours to choose from. These colors include Red, White, Black and Blue

Ampere Zeal has a range of 120 km/charge

Ampere Zeal comes with motor power of 1800 w

The exact height of Ampere Zeal is 1.115 m

Ampere Zeal comes with self start only

Top competitors of Ampere Zeal are Ola S1 Air and Hero Electric Optima

The Ampere Zeal is a commendable electric scooter with a powerful motor, smooth ride, and practical features, making it ideal for urban commuting and short trips. Its eco-friendly nature and competitive pricing make it an attractive option for riders seeking a reliable and budget-friendly electric two-wheeler.

Yes, you can avail loan for Ampere Zeal on OTO. OTO offer competitive discounts and 35% lower EMI which makes it easy for you as a customer to purchase your dream bike.

For Ampere Zeal it takes approximately 30 minutes for the application to be approved once you have provided all the required details.