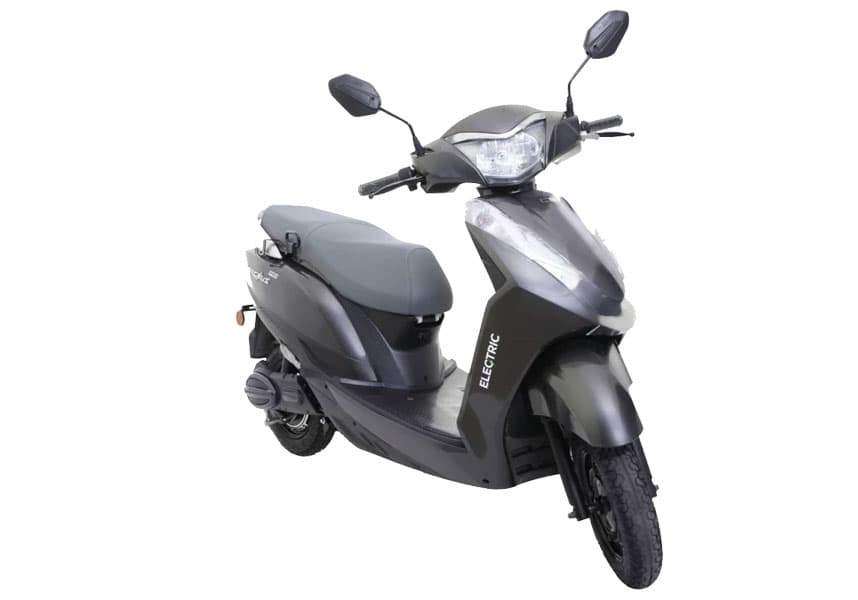 image
---
Ampere Magnus EX
LI
Applied ₹2600 OFF on EMI.
---
Ampere Magnus EX LI Colors
Ampere Magnus EX Variants with Price
On-road Price
Apply for Loan
---
---
---
Overview of
Ampere Magnus EX LI
Ride Modes

Cruise Mode:

80 km/charge

,

Range
121.0 Km/Charge
Top Speed
50.0 Kmph
Charging Time
6.0 Hours
Battery Type
Removable
---
The Ampere Magnus EX stands as an epitome of electric mobility, seamlessly blending advanced technology, impressive performance, and cost-effective operation. This electric scooter has been thoughtfully engineered with a range of specifications that enhance its utility, convenience, and environmental friendliness. One of the standout features of the Ampere Magnus EX is its impressive range of 80 to 100 km on a single charge. This extended range is a game-changer for urban and suburban commuting, allowing riders to accomplish their daily tasks without the constant need for recharging. This means reduced downtime and enhanced productivity. With a rapid 0-40 kmph acceleration in just 10 seconds, the Ampere Magnus EX ensures agile and confident maneuvering in city traffic. This quick acceleration not only enhances the riding experience but also contributes to smoother traffic integration and increased safety. A standout feature of the Ampere Magnus EX is its new Reverse mode, which simplifies parking and maneuvering in tight spaces. This innovative addition ensures effortless handling, eliminating the need for complex maneuvers to reposition the scooter. The Ampere Magnus EX achieves a top speed of 50±3 kmph, striking a balance between swift travel and maintaining safety standards. This speed range ensures a comfortable and controlled ride, contributing to the overall riding experience. Boasting a maximum loading capacity of 150 kg, the Ampere Magnus EX can effortlessly accommodate both the rider and additional cargo. With a charge time of 6 to 7 hours, the Ampere Magnus EX offers a convenient solution for keeping the scooter ready for action. This relatively short charging duration allows users to easily charge overnight, ensuring a full battery for the next day's travels. The scooter is equipped with a high-capacity 60V, 38.25AH advanced lithium battery. This modern battery technology not only offers an extended range but also guarantees longevity, minimizing the need for frequent replacements. The new instrument panel offers the advantage of real-time information at a glance, enabling riders to stay well-informed about their ride's performance. On the other hand, the strong body design guarantees the scooter's longevity, reducing maintenance requirements and providing added peace of mind for riders. With these features, the Ampere Magnus EX delivers a seamless blend of technology and reliability, enhancing the overall riding experience.
You can apply for loan for Magnus EX - LI on OTO and receive approval within just 30 minutes. The downpayment and EMI for Magnus EX starts as low as Rs 17308/- and Rs 3732/-.
---
Specs & Features of
Ampere Magnus EX LI
Ampere Magnus EX Ride Comfort

The Ampere Magnus EX is designed to prioritize rider comfort. Equipped with Telescopic suspension on the front and Coil Spring suspension on the rear, the Magnus EX ensures a smooth and stable ride, absorbing road imperfections and minimizing the impact of bumps and rough surfaces. This means reduced vibrations and jolts, offering a more comfortable journey for riders. Through its durable shock absorbers, generous legroom, and advanced suspension systems, it delivers a smooth, stable, and enjoyable ride.

Ampere Magnus EX Boot Space

The Ampere Magnus EX offers generous boot space. The ample storage capacity allows riders to carry their belongings conveniently, whether it's a backpack, groceries, helmet or other essentials.

Ampere Magnus EX Leg Space

The Ampere Magnus EX has sufficient leg space, so the rider can enjoy a comfy and relaxed ride. The footboard is designed well, giving enough room for riders of different heights to stretch their legs and ride in a comfy position.

Ampere Magnus EX Maintenance

Maintaining the Ampere Magnus EX is convenient and hassle-free thanks to Amepere's comprehensive service offerings. Upon purchasing the scooter, owners are entitled to free services for a specific period or kilometer range, whichever condition gets satisfied earlier from the date of purchase. This period is designed to cover the initial stages of ownership and ensure that the scooter operates at its optimal performance.

Ampere Magnus EX Safety Features

The Ampere Magnus EX excels in safety with its advanced features. The combined braking system ensures balanced stopping power, distributing brake force for controlled halts. The side stand sensor prevents accidental engagement while riding, enhancing rider safety. The 130mm HBS mechanical drum brake offers reliable braking, promoting secure stops. The 10-inch wheels contribute to stability and control, especially on diverse surfaces. With a spacious 1390mm wheelbase, stability is further reinforced, delivering a safe and confident ride. The Ampere Magnus EX prioritizes safety through these features, making it a reliable choice for riders seeking peace of mind on the road.

Ampere Magnus EX Colors

The Ampere Magnus EX is available in a stunning range of five vibrant and eye-catching colors, offering riders the opportunity to choose a style that suits their personality and preferences: Metallic Red Galactic Grey Graphite Black Glacial White Ocean Blue Whether you prefer bold and energetic tones or classic and sophisticated shades, the Ampere Magnus EX has a color to match every taste and style.

Ampere Magnus EX is Best For

The Ampere Magnus EX is made for people who are environmentally conscious and want a convenient and comfy way to get around the city. It's great for riding in busy cities and nearby places. The scooter is electric and doesn't make noise, which is good for people who like things easy and green. Its compact size makes it ideal for moving around in traffic and tight spots. The Ampere Magnus EX shines in cityscapes, enabling riders to effortlessly weave through traffic and conquer congested roads, while its eco-friendly nature aligns with urban sustainability initiatives.

Ampere Magnus EX Height

The vehicle height of the Ampere Magnus EX is 1120 mm, providing a suitable riding position that allows most riders to comfortably reach the ground while keeping a good view of the road ahead. To ensure a smooth ride over various road conditions, the Ampere Magnus EX offers a ground clearance of 147 mm, allowing the scooter to navigate speed bumps and road irregularities with ease.

Ampere Magnus EX Weight

The Ampere Magnus EX has a vehicle weight of 90 kgs. The scooter's lightweight construction adds to its agility and ease of handling, making it even more suitable for urban commuting and city riding.

Ampere Magnus EX Seat Length

The Ampere Magnus EX features an extended seat length of 780 mm, ensuring ample space for both rider and passenger. This design promotes comfort during rides, preventing any feeling of confinement. The extended seat encourages a relaxed posture, making longer journeys more enjoyable.

Ampere Magnus EX Seat Width

With its well-designed seat width of 685 mm, the Ampere Magnus EX offers a comfortable and accommodating seating area for both rider and pillion. This ensures a relaxed and spacious feel, enhancing overall ride comfort. The optimal seat width strikes a balance between rider comfort and scooter maneuverability, allowing riders to easily control the vehicle while enjoying a relaxed seating position.
---
Ampere Magnus EX LI SHOWROOMS
BMS E-Bikes - Bagalgunte
#25,Defence Colony,Bagalgunte Main Road,Nagasadndra Post,Bangalore
Active Ampere - Banashankari
549/c, 14th Main Rd, 1st Block, Hanumanthnagar, Banashankari Stage I, Banashankari, Bengaluru
EV Moto Park Private Limited - Bommanahalli
NO. 70/4, EV MOTO PARK PRIVATE LIMITED, HOSUR ROAD, BOMMANAHALLI, Bengaluru Urban, Karnataka, 560068
RR Motors - Laggere
47/4, Dr Puneeth Rajkumar Rd, Premanagar, Laggere, Bengaluru, Karnataka
Punitha Motors - Nagarbhavi
#500,outer ring road,mallathahalli bus stop,Nagarbhavi,Bangalore 560056.
Smriti Motors - Varthur Road
#520,ground Floor,Ajagondanahalli Cross, Varthu Road, Bangalore 560066
---
FREQUENTLY ASKED QUESTIONS
As an EV, Ampere Magnus EX has the option of electric start only

The top 3 competitors of Ampere Magnus EX are Ola S1 Pro, Ather 450X and Hero Electric Photon

Good seat posture. Great perfomace of braking system make ride safe & secure. Amazing torque power and smooth driving experience. Features and technolgoy gives extra performance, convience and comfort.

The on road price of Magnus EX is ₹ 1,15,926

Ampere Magnus EX is an electric scooter available in only 1 variant

Yes, you can avail loan for Ampere Magnus EX on OTO. OTO offer competitive discounts and 35% lower EMI which makes it easy for you as a customer to purchase your dream bike.

For Ampere Magnus EX it takes approximately 30 minutes for the application to be approved once you have provided all the required details.

Ampere Magnus EX is an electric scooter available in only 1 variant

Ampere Magnus EX is available in 5 different colours - Graphite Black, Metallic Red, Galactic Grey, Ocean Blue and Glacial White.

The range of Ampere Magnus EX is 121 Km/Charge. This is the claimed ARAI mileage for all the variants of Magnus EX.

The Ampere Magnus EX is powered by 2100 watt BLDC Motor.

The exact height of Ampere Magnus EX is 1.12 m